Activity of the Week
Memory Books
Last updated: Apr 23, 2012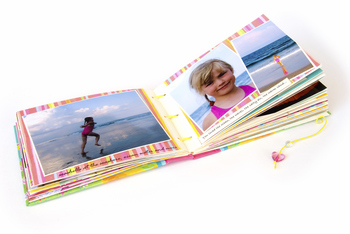 Memory books provide an easy and touching way to remember loved ones. Less busy than a traditional photo or scrapbook, a memory book can bring comfort to those who have dementia or other memory impairment, can be used as a prayer book, or can simply be a way to remember those we love.
What you'll need:
A scrapbook, blank art book, or small photo album (the kind you can fit in your purse or bag)

Glue, scissors, tape, other ways to affix your photo or items to your pages
Why it's great:
Photos spark memories. They can comfort, encourage conversations, and soothe us when we're frazzled.

Someone with memory impairment can begin to forget how a loved one looks, and a photo (particularly one that includes the person with memory impairment) can help bridge that gap.

Creating a book, choosing a photo, and returning to this book again and again reinforces memories.

A memory book prompts you to ask questions (what people in the photos used to do together, trips they took, times they got in trouble) -- use it as a way to tap into old stories and memories.

It provides a visual way to share important events and connections with the new people in your life (care aides, neighbors, new friends). You can even include a photograph of your home, your favorite car, or a vacation destination that means a lot to you.

A memory book can be used in the evening as a prayer book, to remember loved ones far away.

It's portable and provides continuity. Even if your loved one changes homes often (lives with different adult children, travels, or moves to a care facility), he or she can take the book along.
How to do it:
Choose an album. You can make it out of a blank book, a scrapbook album, or a small photo flip-book.

Choose who you want in the memory book, then gather photos of them.

If you don't have a photo of someone you want to include, check with other relatives and look online.

Does your loved one want photos of people who have already died? That's OK; be sure to include them.

Discover what time of day your loved one enjoys leafing through the memory book. Is it a bedtime ritual? Is it something comforting when he or she is feeling agitated? Does your loved one like sharing it with new people?

Resist the urge to "fix" it once your loved one has put it together. Let this be his or her book -- not your art project.