Activity of the Week
Ice Cream Social
Last updated: Oct 01, 2012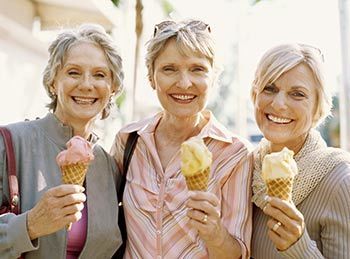 I scream, you scream, what's better to eat than ice cream? Don't go out to buy a ten-dollar banana split when you can enjoy an ice cream social right at home. Whether indoor or out, whether you've got fancy bowls or paper ones, ice cream and toppings are delicious and easy. You can invite a crowd, create a special atmosphere, or just prop your feet on the coffee table and dig in.
What you'll need:
As many ice cream flavors and toppings as you'd like
Why it's great:
Gathering to share food is the most natural way for family and friends to get together.
Creating an ice cream social creates a festive occasion that can be as simple or as creative as you choose.
Kids, teens, parents, and grandparents all love ice cream, and there's a flavor and topping sure to delight all.
An ice cream social is an inexpensive gathering with no cooking involved.
How to do it:
Consider a theme. Do you want to recreate a '50s diner or a turn-of-the-century ice cream parlor? Buy a red checkered or striped plastic tablecloth for easy cleanup, make simple soda jerk hats, pile up your hair like a Gibson girl. Don't forget to add music -- play Chubby Checkers, or the Dominoes. All ages will enjoy singing along to "A Bicycle Built for Two" or trying the Twist.
You can use paper bowls and plastic spoons or go all out and use your vintage cups or bowls and silver service.
Don't think you need to do it all yourself. Divvy up the list: whipped cream, maraschino cherries, chocolate and caramel sauce, fresh fruit, and chopped nuts are some of the toppings that make for a great sundae. Each guest can bring something. Or ask someone to bring balloons or help with the setup or cleanup. People feel needed when they're asked to help, so reach out and get some buddies to pitch in.
Go all out and ask someone to bring an ice cream churner! Go online and find different flavors -- Snickers or Heath bar, crushed peppermints, fresh peaches and basil -- there are many unusual and great flavor combinations to try.
Add a fun movie to the event. Go retro with Cheaper by the Dozen (the 1950s version), Father of the Bride (you can play the older or the newer version), Evan Almighty, We Bought a Zoo, or other movies that feature families.
Be sure to take photos. Ice cream socials are the kind of family-and-friends fun you'll want to remember.