Activity of the Week
How Do I Love You?
Last updated: Sep 10, 2012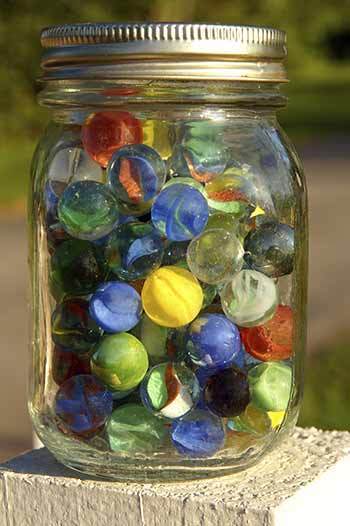 Celebrating a loved one's birthday doesn't necessarily mean you have to buy a gift, but it's important to show how much that person means to you -- and to others. One thoughtful way to celebrate is to focus on how many years he or she has been around and use this as a catalyst for all sorts of thoughtful and fun ways to commemorate the special person and his or her day.
What you'll need:
His or her age
A variety of items such as M&M's, marbles and a jar, sea shells, a large card or poster, markers, fabric pens, a video camera, or a collection of photographs. Your items will be determined by what you choose to focus on (read more in How to Do It).
Why it's great:
Instead of dreading how many years have passed, this is a way to celebrate that number.
It's a visual reminder of a lifetime of not only years but memories.
Collecting a large number of something small -- like candies, shells, or marbles -- is inexpensive and can be shared by other family and friends.
How to do it:
Choose how you'd like to celebrate your loved one's birthday number. Do you want to place candies in a large jar? Or use pennies, shells, marbles (as in "in case you lose your marbles, here are a few extra"), or find other small item that might have a particular meaning for your loved one.
Another approach is based on a list. Purchase or make a large card. Consider foam core since it's sturdy and holds up well to markers. List "89 (or whatever number) Reasons We Love Dad." Have everyone come up with their own reason or memory to share. Sign the card, and if you choose to have a gathering, have a few people share their reasons.
The list idea can also be written on a T-shirt, a lap blanket, or a photo mat. Or get creative and sign a pair of sneakers, a jacket, a baseball cap, or a scarf. Go back over the items with a fabric pen.
You can also make a video of everyone sharing the reason they love Mom/Grandma/Paps. Have a party or gathering, set up a backdrop, and let people take turns sharing their memories and wishing the birthday person one love and good health. You can even make copies on a CD or flash drive so that everyone has something to take home and cherish.