Activity of the Week
Easy-Knot Fleece Lap Blanket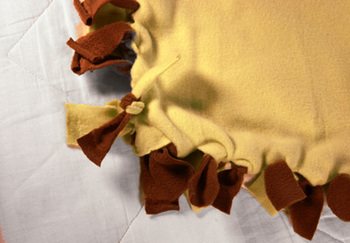 All Rights Reserved
Want a simple project you can make together? Try an easy-knot lap blanket. If you can tie a knot, you can make this colorful and cozy throw. It encourages small-motor skills and can be completed in just a couple of hours. And there's nothing like that feeling of "I made it myself!"
What you'll need:
1-2/3 yards of print or solid-color microweight fleece

1-2/3 yards of a solid-color microweight fleece

Tape measure

Safety pins

Scissors
Step-by-step instructions:
Cut the fabric so it measures 54 inches square. Remove any extra material.

Place the fabric squares together, matching corners, with the right side of fabric facing out.

Pin the pieces together to help keep fabric from shifting, and place the fabric on a solid surface (floor or table, not your lap).

Cut a 4-inch square from each corner.

Cut fringe 1 inch wide and 5 inches deep on all sides.

Make an overhand knot to tie the front and back fringe together. Start at one corner and tie every other fringe.

Flip the blanket and finish tying the rest of the fringe. Try not to pull too hard on any one knot, so it lies neatly.
Why it's great:
Many older adults will be able to make the easy-knot lap blanket alone, but it's more fun if you work as a team.

It's a gift friends, grandchildren, or family members will appreciate, or it's a good donation to a shelter or other nonprofit organization.

You don't need to learn a new skill -- you just need to be able to tie a knot.

You don't need a sewing machine or hot glue; fleece doesn't unravel.

Working together is bonding. You sit close and have the chance to have a quiet conversation or the contentment of not talking at all.

Men and women can make this blanket -- it isn't too "girlie."

Crafts encourage creativity. You get to pick out the colors and patterns, and you gain a sense of pride in what you create.

Crafts spark memories. Your loved one might remember a time he or she made something by hand or gave or received a special gift.