Activity of the Week
Chalk Paint a Wall
Last updated: Jul 16, 2012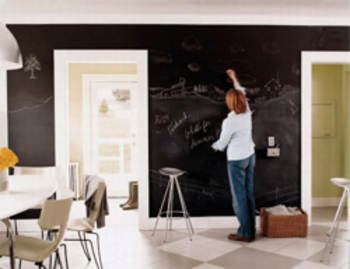 Do you have a crazy-busy life with lots of appointments, deadlines, and lists? Why not chalkboard a wall, so you can see all you do all at once? Chalk paint comes in lots of colors, and it's perfect for a child's room or a kitchen or bathroom wall. That way, when you run out of toilet paper or coffee cream, anyone in the house can go write it on the wall. Get the whole family involved in choosing a wall and a color, and get rolling!
What you'll need:
Chalk paint
A drop cloth
Painter's tape
A roller
An edger
An "oops" wipe cloth
Why it's great:
Color perks up any room and just about any mood.
There's something fun about drawing on the wall. It brings out your inner rowdy kid.
Use the wall for grocery lists, appointments, jokes, quotes, and family pictures. Nothing will brighten your day like an "I [heart] you" on the wall!
It's a perfect way to keep a multigenerational house -- with kids and adults coming and going -- organized.
Consider chalk painting only the bottom of a wall that tends to get scuffed with chair or door marks.
Paint is one of the most inexpensive ways to spruce up a room.
How to do it:
Don't get too project-crazy. Start with one wall. You can even do the bottom half of a wall and top with a border or piece of trim.
You can buy chalk paint in many premixed colors, and a chalk compound can now be added to many types of indoor paints. Be sure to ask your hardware/paint store professional to help you choose which is best for your project.
Use an edger, a cool little device with sponge-like pads that make it super-easy to go around edges, trim, or doors. You don't even have to buy a brush if you get an edger and roll the rest.
Consider a pop of color. Why not go for a cheery sunflower yellow or kiwi green? Take a risk! (You can always paint over it).
Blue painter's tape is completely worth it. It only takes a few minutes and can save your molding. After that, roll first, then edge. If you're covering a dark wall, you may have to apply more than one coat. Keep a damp cloth handy to wipe up mistakes.
Even if an older family member doesn't want to roll, bring his or her chair close and ask for input every step of the way. (If he or she starts "managing" the project, just smile.)
Chalkboard a door, a table, an old mirror, or a cabinet!