Activity of the Week
Brownies in a Jar
Last updated: Feb 27, 2012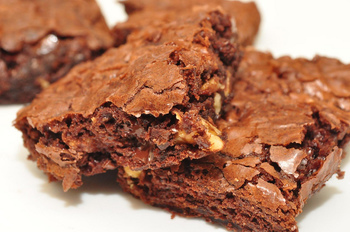 Need an inexpensive but thoughtful gift? Brownies in a jar are perfect. They're easy to assemble for all ages and physical abilities. Just don't give them all away -- you'll want to keep a few for your pantry.
What you'll need:
Quart-size jars

Measuring cup

A scooper or large spoon

Ingredients:

2 cups brown sugar

2/3 cup cocoa powder

1-1/4 cups self-rising flour

1/2 cup chips (chocolate, white chocolate, peanut butter, butterscotch -- your choice)

1/2 cup chopped nuts (optional)

Recipe (listed below)

Ribbons, tags, and/or stickers to decorate your gift
Why it's great:
Giving gifts connects us to others. You and your loved one will reap smiles and hugs for your thoughtfulness.

Making a gift is more personally rewarding. Whether it's for Christmas, a birthday, or simply a random act of gratefulness, giving something you made feels good.

It's economical. Brownies in a jar cost less than three dollars to make, and that's including the jar, ingredients, and decorations.

Creating brownie jars makes it easier to make brownies later. If your loved one wants a quick treat, he or she only has to add two ingredients and it's ready to pop in the oven.

It's a multigenerational project you can do with teens, kids, or other adults.
How to do it:
Any quart-size container will work, but a Mason jar or repurposed mayonnaise jar works best. Remember that for a gift, presentation matters.

Collect your ingredients (listed above).

Create an assembly line. Line up your jars and your ingredients. In each jar, scoop ingredients, and tamp down each layer as you add them. Halve the amounts, so you can create layers -- and be sure to wipe the inside of the jar after the cocoa, since it's powdery and will cloud your presentation. Finish with chips and nuts.

It's time to decorate! You can cut a square of material to screw into the lid (gingham or flowers look good), tie with a ribbon, decorate with stickers, or even create your own label. You can also use twine to tie a wooden spoon to the side, and include a card with directions for how to bake the brownies (see below). For a nicer gift, include a brownie pan.
Directions to bake:
Dump ingredients into bowl.

Add one cup of softened butter.

Add 4 eggs, slightly beaten.

Mix gently and place in 9 x 13 pan.

Bake at 350 for 30 minutes.

Cut into two-inch squares.
Image by Flickr user jeffreyw under a Creative Commons Attribution licensing agreement.