Activity of the Week
Antiquing With Mom
Last updated: Apr 09, 2012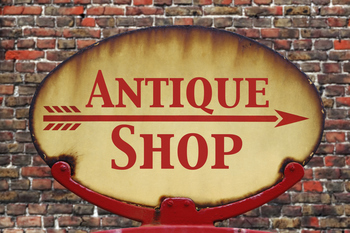 Want to make your mother's eyes light up? Suggest that the two of you spend an hour or two antiquing. Most communities have antique stores, and it's not as much about what you buy as it is about strolling down the aisles, remembering once-familiar items, and perhaps finding that one special trinket you want to take home.
What you'll need:
An hour or two

Your car (and some gas)

The locations of a few antique stores
Why it's great:
It's a frugal way to spend time together. You can find a postcard, a collectible spoon, or a small brooch for just a few dollars.

Don't think that antiquing is just for older adults. Kids and teens enjoy antique finds as well. You can find vintage purses, hats, records, games, jewelry, and quirky items that make fun conversation starters.

"Remember these?" Antiques are perfect story sparks -- you never know what item might trigger a memory.

Every antique has a story -- a child's cradle, a girl's engagement ring, a man's tweed coat he wore the day he left for his first job. When you pick up an antique, you have a sense that a memory comes along with it.

Antiques make terrific gifts. If you're wondering what to get a loved one, check and see if he or she is missing a piece of china, a chess piece, or a doll to add to a beloved collection.
How to do it:
Check online. There may be an antique store nearby that you didn't even know was in your area.

Many car shows, craft fairs, and festivals include antique booths.

Venture out. Nearby towns have antique stores, destinations that could make a fun half-day or day trip.

Check out specialty stores. There are antique doll stores, train and toy stores, jewelry stores, and more.

Encourage collections. Yes, it can add to the clutter, but hobbies have wonderful benefits. We use our brains to keep lists, categorize, and share our enthusiasm.

Consider joining an online forum or attend a club meeting related to your collection.

Not only can you buy antiques, you can sell them! Many antique shops are consignment shops, so consider taking a few items to sell, or check out eBay and other online selling sites.