Activity of the Week
Airfield Picnic
Last updated: May 28, 2012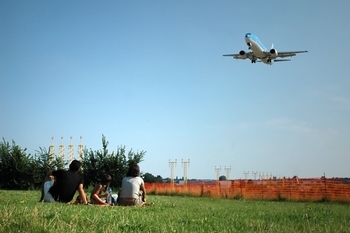 Need some Dad-time? Why not plan an airfield picnic? Pack some goodies and head out to your local/smaller airfield to watch the planes take off and land. It's a super way to get out of the house and enjoy the weather, without spending a dime.
What you'll need:
Check the location of your closest airport. Go online or ask around if you're not sure. Pack a blanket, some lawn chairs, binoculars, and whatever snacks sound good. You might enjoy a thermos of hot chocolate, some pretzels, and a sandwich. Or make it fancy and pack a bottle of wine, some grapes, and cheese.
Why it's great:
There's something wonderful about just sitting together and enjoying the view.

Even if money is tight, you can pack whatever you have and spend an hour or two watching the planes take off and land.

Many older adults spend most of their time indoors and don't always get the vitamin D they need. Heading to your local airport is a good way to get out of the house. Find some shade, or take your beach umbrella.

Is walking an issue? Sit by the car, or just stay inside and open the windows and/or doors if it's too chilly or humid to be outside.

Most everyone has stories about the first time they flew in a plane. Taking the time to just sit together allows the tales to emerge naturally. Ask about the war, about a favorite vacation, or whether he or she ever thought of taking flying lessons.

Some small airports have a restaurant with windows to enjoy the view.
How to do it:
Choose your airport. Smaller is often better.

Pack your supplies: lap blankets, binoculars, an umbrella, a thermos, snacks, and even the newspaper for a few hours of easy enjoyment.

Choose the perfect music for your loved one -- there's nothing like being surprised by your favorite music. Do a bit of sleuthing and include some jazz, '40s tunes, Beatles . . . whatever your loved one enjoys. Throw in some of your own favorites as well!

Don't forget your camera, and maybe even a video recorder, so you'll always remember this special day.