Activity of the Week
Activity of the Week: Handprint Art
Last updated: Sep 24, 2012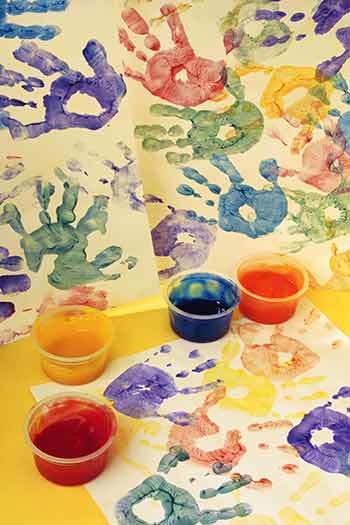 If you're fortunate enough to have a multigenerational family, then why not capture everyone's hands? We've all made handprints, but what makes this special is to see the generations, the sizes, and to capture them in a way that's permanent. There's nothing like seeing the old and the new, the big and the small together, to remind you that you're part of an amazing and growing family.
What you'll need:
Fabric paints
A paint or foam brush
A T-shirt, an apron or solid color canvas bag, or a stepping stone kit from a craft store (think about who the gift is for and what item they might like best)
Why it's great:
Handprints are a great way to capture a new baby's print or to commemorate a family reunion.
Capturing a handprint doesn't take long. Even if you have several family members to include, you can complete this project in just a few minutes.
Kids love to see how much they've grown, so this project can be repeated throughout the years.
Handprints make great Mother's Day or Father's Day presents.
How to do it:
Cover your working surface with a plastic cloth (a cut-open trash bag will do).
Assemble your supplies: fabric paint, brushes or rollers, paper plates, some wet and dry paper towels or baby wipes for cleanup.
Purchase (or gather) t-shirts, canvas bags or aprons, or a blank canvas. Stepping stones are reasonably priced (about $10).
Create a generational effect by place smaller hands within bigger hands, or by varying color or placement.
Be sure to note the year and name either on the art or when you take a photo, because you'll forget later.