Oticon Hearing Aid Review
Best Sound Quality
Although his father had begun the import and distribution of hearing devices to Denmark in 1904, over 40 years would pass before William Demant officially established the American-Danish Oticon Corporation in partnership with the American hearing aid producer Charles Lehman. By 1965, Oticon had expanded globally with companies in the USA, throughout Europe, and in parts of Asia. Today, it continues to have an international presence, with dozens of offices around the globe and a large network of qualified hearing care professionals that sell Oticon hearing aids and accessories.
Customers are sure to find a hearing aid to meet their needs, as Oticon has more than 30 devices. Models also come in different levels of included technology, and devices with the most advanced technology are the most expensive. Wearers of Oticon hearing aids share that they can clearly hear conversations in a variety of challenging situations, such as when speakers are wearing masks or in noisy environments. Sound is also well balanced so that subtle tones are not too soft and loud sounds are not too loud. In other words, Oticon hearing aids provide an ideal listening experience. With innovative technology and superior sound quality, Oticon devices are included on our list of The Best Hearing aids of 2022.
What You Should Know About Oticon Hearing Aids
Oticon prides itself on designing brain-friendly hearing aids fitted with BrainHearing technology. This means that its devices provide users' brains with more high quality sound information so they can make better sense of speech and their surroundings.
Oticon does not sell its hearing devices directly through its website. Instead, it has an online search tool where prospective customers can search by their zip code or address to find an Oticon hearing care professional. This professional can test their hearing, provide advice, and sell Oticon hearing aids and accessories.
Oticon offers prospective customers a chance to test their own hearing for free at their convenience with its three minute online hearing test.
Oticon may offer risk-free trials on some of its products. It currently allows individuals to try Oticon More devices free of cost after completing an online questionnaire and requesting a free trial with the hearing professional they are matched with.
Oticon has a support page that explains how to pair hearing aids with different devices, covers hearing aid care and use, and addresses the most common problems customers encounter. It also provides links to its blog and download center, where customers can find helpful instruction manuals and videos for products.
Oticon Audiologist Safety Score
Caring.com worked with two expert audiologists to research and evaluate popular hearing aid brands for safety. The resulting Safety Scores are calculated using a system of three core metrics and 11 subcategories covering access to professional care, accuracy of the brands' hearing tests, and more. You can find a detailed explanation of Caring.com's Hearing Aid Safety Scores by reading our Methodology.
Oticon Safety Score:

Hearing Test & Consultation:

Hearing tests and consultations for Oticon hearing aids are conducted in person by licensed hearing healthcare professionals.
Fitting & Follow-Up Care:

Oticon hearing aids are always programmed by a licensed professional and typically include access to both in-person and remote follow-up care. Patients can visit clinics in person for real-time device repairs and adjustments.
Device Safety:

Meets industry standards for device safety, including safe decibel limiting.
Oticon Hearing Aid Models
Oticon Hearing Aid Device Features
Rechargeable lithium ion battery
Rechargeable lithium ion battery
Auto Adjusts
To Changing
Environments
* Hearing device cost and number of processing channels varies by the level of each model. Each model has three different levels of included features.
Oticon More miniRITE R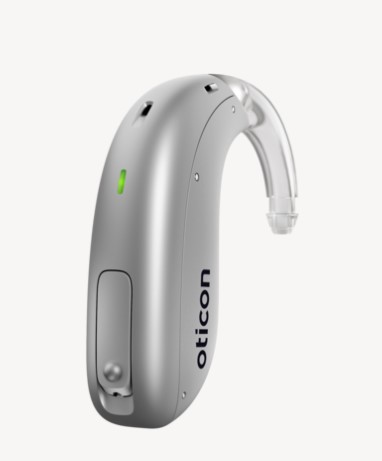 Oticon More hearing aid technology scans for surrounding sounds 500 times a second, analyzing sounds and the complexity of surroundings. An embedded Deep Neural Network that has been trained to identify millions of real-life sounds then takes this information and creates appropriate sound contrast and balance. Finally, sounds are amplified so they are audible, while their contrast and balance remains unchanged. The result is lots of meaningful sound information delivered to users' brains so sounds are clearer and speech is easier to understand. Available in three different feature levels, Oticon More miniRITE R devices have a sleek, discreet design and are offered in several colors.
Oticon More miniRITE R Highlights
Device Type: RIC
Battery Type: rechargeable lithium-ion battery
Standout Features:

Two-way, hands-free phone and video calls from select iPhones, iPads, and Android devices
Powerful, fast-charging batteries provide a full day of power
Custom Programming: Yes
Cost: $3,850-$4,450 per pair
Pros and Cons of Oticon More miniRITE R
Pros:
Speech understanding, noise control, and sound clarifying technology
Available in three levels of features at a range of prices
Designed for hearing loss ranging from slight to profound
Bluetooth enabled with a telecoil
Cons:
Level 3 device is less advanced with fewer personalization option
Android devices must have American Speech-Language-Hearing Association (ASHA) technology for direct streaming
Those using Veterans Health Administration (VHA) benefits cannot participate in the Oticon More risk-free trial
Oticon Opn S
Oticon Opn S devices operate on a Velox S platform, capable of processing sounds 56,000 additional times a second compared to Option Opn devices. These more advanced Oticon Opn S hearing aids feature technology that analyzes all surrounding sounds while reducing noise, preventing feedback, and supporting optimal balance. As a result, Oticon Opn S hearing aids provide users with a rich and complete open sound experience and the ability to understand multiple speakers in different situations. In fact, Oticon shares that Opn S users can understand speech in noisy environments at the same level as individuals without any hearing loss. However, the least advanced level of this device functions better in relatively quiet environments.
Oticon Opn S Highlights
Device Type: RIC
Battery Type: rechargeable lithium ion battery
Standout Features:

Booster option provides users with more support in noisy environments
Hands-free smartphone streaming using Oticon ConnectClip
Custom Programming: Yes
Cost: $4,150-$4,750 per pair
Pros and Cons of Oticon Opn S
Pros:
OpenSound Optimizer technology prevents feedback
Improved speech understanding with multiple speakers
Booster option provides additional clarity and balance
Wind noise suppression and soothing sound generation technology
Cons:
Its least advanced device level works best in quieter environments
May require a ConnectClip to stream conversations from mobile devices
Older technology than Oticon More devices
Buying Hearing Aids from Oticon
Oticon does not sell its hearing aid devices or accessories directly. Instead, its website helps prospective customers search for a local hearing clinic to find a nearby Oticon hearing care professional. This professional is responsible for administering a hearing test, making hearing health recommendations, and selling, fitting, and adjusting Oticon hearing aids. Oticon has published an article on what people should expect during their first appointment with a hearing care professional.
Alternatively, individuals have the option of purchasing Oticon hearing devices from an authorized and licensed retailer. These retailers will connect them with affiliated hearing care professionals who will discuss their hearing health and offer product recommendations before hearing aids are ordered. Once the hearing aids arrive, they will be professionally adjusted and fitted, and customers will continue to receive on-going aftercare. However, it is important to check with Oticon that the company used for ordering its devices is actually an authorized dealer. Unauthorized vendors typically fail to offer hearing device fitting or on-going care to their customers, and devices purchased through them may not qualify for warranty coverage.
Following a hearing aid purchase, continued care and support are easy for Oticon customers. While follow-up care can be completed in a clinic setting, Oticon gives its customers the option of virtual follow-up appointments using the RemoteCare App, compatible with Bluetooth-enabled hearing aids. This app lets hearing care professionals set up online appointments to provide advice, test hearing aid settings, and provide remote hearing aid adjustments. Wearers of Oticon devices can therefore complete their follow-up visits virtually at a time that is convenient and from any place – from their homes to their workplace.
Oticon's Mobile App and Accessories
Mobile Apps
Oticon has mobile apps to assist customers with device use and follow-up care, as well as several hearing aid accessories. However, these may not be compatible with certain mobile devices or hearing aids. Oticon's compatibility page provides further details.
Oticon RemoteCare App: The Oticon RemoteCare App lets hearing professionals schedule virtual follow-up care appointments with patients to test hearing aid settings, provide expert advice, and perform remote adjustments. This mobile app works with all Oticon Bluetooth hearing aids, including the Oticon More and Oticon Opn S models. Using the latest version of Android OS is recommended.
Oticon ON App: This app functions as a discreet remote control, allowing hearing aid wearers to adjust hearing aid volume, change listening programs, check battery levels, and handle paired wireless accessories. It also provides users with access to programs that improve tinnitus, lets users set listening goals, connects to the Internet of Things, and more. The Oticon ON app is compatible with all Oticon Bluetooth hearing aids, including Oticon More and Oticon Opn S models, though certain Firmware is required. Using the latest version of Android OS will provide the best user experience.
Accessories
ConnectClip: The ConnectClip is an accessory that transforms hearing aids into a wireless stereo headset. Using the ConnectClip, individuals can make hands-free phone calls and stream music from their iPhone or Android smartphone devices, as well as use it as a remote microphone to hear sounds in the distance. The ConnectClip also allows users to make video calls and chat over the computer and can function as a remote control for adjusting hearing aid settings.
Remote Control 3.0: Users can adjust the volume and programming of their hearing aids with this wireless remote.
TV Adapter 3.0: The TV Adapter 3.0 transmits sound from a TV or electronic audio device directly to hearing aids.
Adapter 2.0 (requires the ConnectClip): Two-way audio streaming between landline phones and hearing devices is made possible with the Oticon Adapter 2.0.
BTD 800 USB dongle (requires the ConnectClip): This device helps establish a Bluetooth connection between a laptop and hearing aids.
Oticon's Hearing Aid Warranties and Repairs
Opn S and Oticon More devices are covered by a 12-month international warranty. This warranty includes manufacturing and material defects in the hearing aids themselves, but not in any accessories, including batteries or speakers. Problems due to incorrect use, unauthorized repairs, accidents, and other specific situations are not included under this warranty and may void it completely.
In some cases, hearing care professionals or authorized dealers may issue a warranty that extends beyond the international warranty provided by Oticon. In this case, these professionals or dealers should be contacted for further information.
Oticon customers who need hearing aid servicing should take devices to their hearing care professional. Customers may incur a fee for such service, depending on the hearing care professional's policies.
Frequently Asked Questions About Oticon Hearing Aids
Can I buy Oticon hearing aids online?
Oticon hearing aids are not available for purchase through its own website, but can be purchased through an authorized online retailer. Such retailers may also offer convenient in-home hearing tests and fittings. In this case, an individual who wants to buy Oticon hearing aids can purchase them without leaving the comfort of his or her home.
Are Oticon hearing aids good?
Oticon More users love their hearing aids for the natural, balanced sound they produce that is unlike tinny or artificial sounds provided by other alternative devices. Oticon Opn S wearers can hear all sounds around them while focusing on what's most important – even in the most difficult listening situations. Oticon's products meet a range of customer needs, while using innovative technology to provide only the best sound quality.
What types of hearing aids does Oticon sell?
Oticon sells hearing aids for mild, severe, and profound hearing loss and even for those with single-sided deafness. It also has pediatric hearing devices. It offers discreet in-the-ear and behind-the-ear devices, often in several different color options.
Do Oticon hearing aids have Bluetooth?
Both Oticon More and Oticon Opn S hearing aids are fitted with Bluetooth technology. This allows them to be paired with iPods, iPhones, iPads, and certain Android devices as well as with wireless accessories. Visit the Oticon compatibility page for information about all Oticon hearing aid connectivity options.
Are Oticon hearing aids rechargeable?
Some Oticon hearing aids, such as the Oticon More miniRite R, are rechargeable and feature a powerful lithium-ion battery. When fully charged, this battery can provide all-day-long power. However, Oticon also manufactures hearing aids with non-rechargeable batteries, such as some of its Zircon hearing devices.