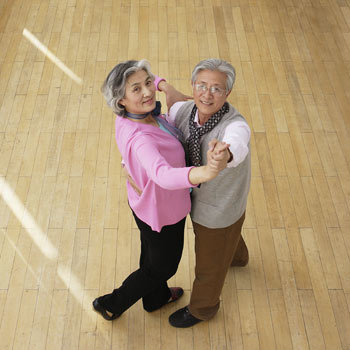 All Rights Reserved
Quick: Who will take care of you as you get older? If you're like most Americans, you may hope you'll never need care, and you'd rather not think about it.
In a 2013 Merrill Lynch-Age Wave study, just over a third (37 percent) of those over 50 thought they'd need long-term care someday. In reality, statistics show that twice as many will, about 70 percent. Thanks to expanding longevity, people over 85 make up the fastest-growing segment of the population. And two-thirds of those in this age group have functional limitations that require help.
"Planning for your own care is one of the smartest decisions you can make. It's a gift for your own family, too," says Lynn Feinberg, senior strategic policy adviser at the AARP Public Policy Institute.
Next Up: Turning 65, How I Age Is a Choice -- I Choose Vigor
You'll be more likely to live the old age of your dreams if you take these steps:
Find Out What Services Are Offered in Assisted Living
1. Start by not playing ostrich.
Be willing to acknowledge that you probably will need help. If you're currently a caregiver, you're ahead of the game. "People who have experience as family caregivers are more likely to start thinking about what they see in their own futures," Feinberg says.
You can't be certain what your needs will be, of course. Planning is about preparing for multiple possibilities.
Hate to dwell on what you fear may happen? Here's a silver lining: Older adults who have lower expectations for their futures tend to live longer, healthier lives, according to a 2013 German study in the journal Psychology and Aging. It seems that those who blithely overestimated their future life satisfaction had more disability; those with more realistic expectations fared better.
2. Picture who might help you.
Two-thirds of Americans believe they'll be able to rely on their own family and friends, Feinberg says. "That's a myth," she adds.
The number of 45- to 64-year-olds (who provide most care now) for every person age 80 or older -- known as the "caregiver support ratio" -- is falling. In 2010, it was 7:1 (seven people in prime caregiver years per 80-plusser). By 2030, when today's vast boomer generation starts to blow out 80 candles, it will be just 4:1, according to a 2013 AARP Public Policy Institute report. Smaller families, longer lives, and more singletons account for the widening gap. Many more of the potential family caregivers (i.e., your sons, daughters, and grandchildren) are apt to still work full time. And if they live clear across the country, their potential to be of real help shrinks further.
This gap might necessitate creative thinking. Many observers expect a surge in communal living arrangements with built-in assistance, whether formal (like continuing care communities) or informal (like self-governed groups that help neighbors age in place).
3. Talk, talk, and talk some more.
"One of the most important things you can do is have the conversation with your family and friends about what's important to you as you get older," Feinberg says.
Have frank discussions about your preferences and the possibilities. Brainstorm options. Play "what if." What will you do if you can't drive? Can't walk? If you develop cognitive problems? If your partner becomes ill, or if you become ill and have no partner? Be a listener, too -- others will have their own ideas to contribute.
4. Consider realistically where you might live.
Most people intend to grow old in their own homes. In the Merrill Lynch-Age Wave study, just 2 percent wanted to live in a nursing home and another 2 percent in someone else's home.
Aging in place at home has both pros and cons, and it requires planning. Does your current home have grab bars, wide hallways, and other principles of universal design that can help you live there as you grow frail or need a wheelchair? Does your community have transportation, or is there another way for you to get to shops and services once you no longer drive? Will you have access to social services (meal delivery, home health care, aides to help with physical tasks or to manage medication)? Do people live nearby who can help (and can they really)? Becoming isolated, a risk factor for depression and dementia, is a common side effect of remaining at home.
An aging-care community puts you around other people, with other considerations. What's your financial picture? How stressful would a move be? Are there options nearby? Are there different levels of care if you need 24-hour help? Check out both living options and care resources before you need them.
5. Review your finances.
Envisioning care is only half the issue; you also have to be able to afford it. After a lifetime of "saving for a rainy day," a health crisis or a chronic disease like Alzheimer's can be a downpour. A financial planner specializing in eldercare can help you review options. Know that Medicare and Medicaid cover some long-term care options, but health insurance may be only of limited benefit regarding long-term care. AARP offers a long-term care calculator to help.
If you sell your home, be aware that it may not be the piggy bank you're counting on, since large numbers of your age-mates may also downsize while younger buyers are fewer.
6. Put legal paperwork in order.
To further shape your future care, you should set up several types of legal documents now:
HIPAA releases. These enable a close family member to discuss your medical records with doctors.
A health care power of attorney or durable power of attorney for health care. This names who can make medical decisions on your behalf and supervise your care in the event that you're unable to do so yourself.
A living will, POLST (Physicians Orders for Life Sustaining Treatments) or MOLST (Medical Orders for Life Sustaining Treatments). The name varies, but the idea is that your preferred medical treatments are spelled out. The latter two orders are signed by the doctor.
A financial power of attorney. Someone needs to be able to handle your money (paying bills, managing investments) while you're alive if you're unable to do so.
Advance directives can shape both how you live and how you die. People with living wills are more likely to die at home (or in a nursing home) than in a hospital, according to a 2004 Annals of Internal Medicine article. Though 8 in 10 people say end-of-life wishes are important to write down, only 23 percent have done so, according to a 2011 California Health Foundation survey.
Making such paperwork accessible is also key. You can execute copies for your spouse and key family members to have. A newer option is digital storage. The American Bar Association has a new smartphone app called My Health Care Wishes, for example.
Find Out of Assisted Living is Right for You
7. Take care of yourself -- it's never too late to make healthy changes.
Nobody can predict what twists and turns health will take. But basic self-care can increase your odds of staying well longer. Don't think it's "too late." Simple steps like exercising regularly, quitting smoking, staying up to date on immunizations, and careful medication management can reap huge benefits at any age.
If you're already a caregiver now, taking care of yourself can be especially challenging. Or you can think of your front-row seat on old age as extra incentive to do all you can to age well. With planning and luck, the care you'll need might be more about companionship than crisis management.