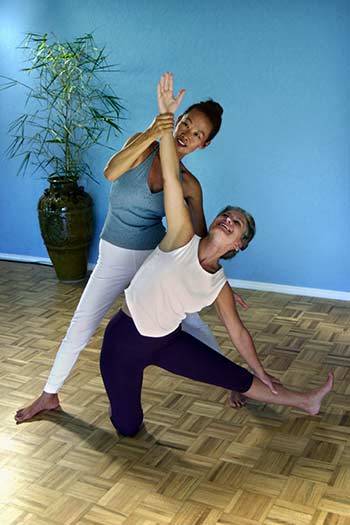 All Rights Reserved
Yoga has moved into the mainstream of American wellness. It's practiced by Seattle Seahawks quarterback Russell Wilson and Michelle Obama, who took on yoga when she reached 50.
But can yoga be beneficial for seniors?
Indeed it can. In fact, elders' yoga is itself becoming mainstream. An article in Yoga Journal stated, "It's become more common for yoga teachers to see older students in their classes." (It's important to note that none of the exercises presented, nor the links to routines, should be practiced by seniors without first consulting a primary physician.)
Why is yoga suitable for seniors?
Yoga, in its Western manifestation, is a low-impact, low-stress physical exercise and meditation practice that nurtures both mind and body. Beyond being a general lifestyle-reboot, here are yoga's other benefits for the elderly:
It provides excellent stretching that is crucial for older adults.
It can be calibrated to the physical condition of the practitioner, focusing on different parts of the body (or practiced simply as mindful relaxation). Most yoga teachers modify their routines to assist their students, especially the elderly.
It can be practiced alone or in groups, at home or in any suitable indoor/outdoor location (any elderly yoga routine or location should be cleared with a primary physician). Yoga is as social or personal as an individual desires.
It is a suitable form of fitness for seniors on a budget (YouTube has several routines, and equipment can be as inexpensive as a mat and comfortable sweats).
Why is yoga beneficial for seniors?
The health benefits of yoga are regularly extolled by doctors, celebrities, and fitness experts (and the First Lady, as mentioned). With the right tailor-made routine -- and a little experimenting -- these are some of the rewards of a senior yoga practice:
Increased flexibility and energy
Boosted immune system
Less joint pain
Improved digestive system
Better memory and physical balance
Relief of menopausal discomfort
Mitigated high blood pressure
Sleep enhancement
Yoga can be a potent conduit for social interaction for seniors, as even during a session communication is possible because of its mild demands on the body. Furthermore, as a form of meditation, yoga has been known to reduce depression, anxiety, and many forms of stress among older adults.
Where can one find elders' yoga?
The rising popularity of yoga, coupled with the Information Age, make finding a suitable senior yoga routine simple:
Yoga studios are widespread in most cities and towns. Yoga is also offered in many community centers and even some hospitals. Private sessions are available for homebound individuals. Consult a local directory or visit a yoga studio for information on elders' yoga.
Oprah.com offers a complete beginner's yoga series with fitness expert Seane Corn.
iTunes and other sites broadcast audio yoga classes, an example being Yoga Download.
Health websites such as Livestrong or HubPages offer basic yoga instructions in blog posts, videos, and educational infographics.
Yoga videos and audio can be easily purchased at many stores (such as Walmart), online at Amazon, or from global yoga companies such as Gaiam.
It should be stressed once more that a primary physician ought to be consulted before any elder undertakes a yoga sequence; and a yoga instructor should be briefly consulted before a yoga class. A primary physician should certainly be contacted if a senior wishes to use a DVD or video stream from the Internet. And it is helpful for a family member or caregiver to be present during a video routine (especially if they want to join in).
But seniors should not make yoga a cause for worry. Remember that in ancient times yogis performed yoga to feel liberated from the world; today, yoga is a wonderful tool that can make seniors feel they fully belong in the world.
Just ask Tao Porchon-Lynch, the 93-year-old yoga instructor who is now in the Guinness World Records!