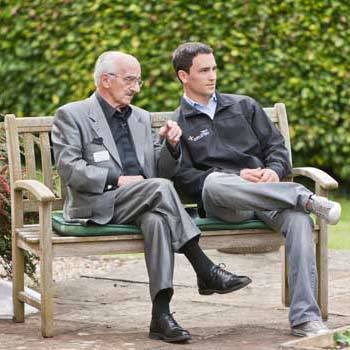 All Rights Reserved
When a good idea presents itself, it usually seems obvious. Such is the case with Wish of a Lifetime. Founded by Jeremy Bloom in 2008, Wish of a Lifetime spreads inspirational stories of hope by granting lifelong wishes to seniors. The organization's goal is to inspire an entire generation to create a cultural shift on how we view aging -- to realize that growing older doesn't mean a senior should stop dreaming and living a life of purpose.
What inspired you to start Wish of a Lifetime?
Jeremy Bloom, Founder: I believe our oldest generation deserves respect, admiration, and support. We live in a country that does a great job supporting our youth but sometimes neglects to help our old. Our mission at Wish of a Lifetime is to foster respect and appreciation for seniors by fulfilling life-enriching wishes.
How many wishes have been granted to date? How often are new wishes granted?
JB: To date we've granted 559 wishes, and we expect to grant wishes at a rate of one per day.
What types of wishes do you grant?
JB: Our wishes fall into four main categories: reconnecting loved ones (reuniting friends and family), fulfilling lifelong dreams (skydiving), renewing and celebrating passions (attend a sporting event of a favorite team), and commemorating service (honoring veterans).
Are certain types of wishes -- like "I'd like a new car" -- simply not eligible?
JB: Wishes that are not experiential and primarily consist of purchasing an item or material generally do not qualify. These include wishes for vehicle modification, home improvement, post-life wishes, etc. WOL strives to honor deserving seniors with life-enriching wishes that will have a profound impact on their life as they anticipate the wish, experience the wish, and remember it after it's completed.
Share with us your favorite granted wishes.
JB:
Bill Tiller
This was one of the first wishes we ever granted and involved purchasing a few rugs for Bill, who suffered from diabetes and whose feet got cold every morning. The gratitude he expressed for this simple wish was awe-inspiring, and his smile was captivating. Fulfilling Bill's wish entailed simply buying rugs for him; however, back then we were a relatively small organization still identifying our role in the community. Today if Bill submitted that wish, not only would we buy him rugs but we'd also learn his life story and provide him a truly once-in-a-lifetime experience. It's a story we like to share, though, because it highlights how anyone can make a profound impact on a senior through a simple act of kindness, and we hope Bill's smile will inspire others to do so.

Tom Burgett
Tom has COPD, and when he submitted his wish, his prognosis was not optimistic -- he was given only a few more months to live. Throughout his life he gave back to his community by teaching Sunday school and being the spiritual director at his local church. He is an all-around humble, loving, and caring member of his community and he had done a decent amount of traveling as a young man. No longer able to travel, his wish was to have people from around the world send him postcards and talk about their travels. In other words, his wish was to experience travel through their eyes. So we helped spread the word, and by the time I visited him two months later, not only did he have close to 2,000 post cards from over 90 countries but also his quality of life had improved significantly. He made a comment to our staff that summed up the whole wish: "These cards have given me hope, hope for my future, hope for everyone's future, because it showed me people are filled with love . . . I will be going out with a heart full of love for everybody." Tom is still dealing with his illness but doing so with a new outlook on life, and he still cherishes every card he receives. (Your readers can write to Tom too.)

The Tuskegee Airmen
We had the opportunity to send four members of the Tuskegee Airmen to Moton Field in Tuskegee, Alabama, to visit the site of their groundbreaking military training. This wish was not only incredibly emotional and meaningful but it provided an incredible opportunity for us to showcase a piece of history. It's a firsthand account of history that will be gone forever once these 80- and 90-year-old gentlemen pass away. Their story is moving and heroic; these were gentlemen whose only hope was to risk their lives in defense of their country. They persevered and suffered through so much in pursuit of that most selfless of goals. When we granted the wish, the local community understood how important the moment was, and the airmen were met at the airport by nearly 300 active-duty service members, escorted by a motorcade, and treated like the heroes they deserved to be.

Virginia Pipes
Virginia's wish is a favorite because it illustrates how important it is to stay young at heart, that age really is all about your frame of mind. Virginia is an outgoing member of her senior community who used to be a teacher and is always thinking of others. She is adventurous, a stranger to no one in her community, and simply approaches life with her unique "You gotta live!" attitude. Her wish was to meet an elephant; she felt it would be unique and interesting and felt the whole experience would provide pleasure to her friends, which is what she lives to do. We sent her on a behind-the-scenes tour of the Houston Zoo, where she met an elephant and many other animals. The smile on her face in every picture is priceless.
What is Project 11?
JB: Project 11 is a program started by WOL in 2011 to commemorate the unique date of Veteran's Day 11.11.11. WOL's goal was to grant as many wishes as possible to veterans in 2011, and that year we granted more than 50. Since the start of Project 11, we've granted nearly 150 wishes to deserving veterans.
How is Wish of a Lifetime funded?
JB: Wish of a Lifetime is a privately funded organization relying on individual, corporate, and foundation support to achieve our mission. From our largest corporate partner, Brookdale Senior Living, to an elementary school penny drive, no donation is too small or too large when it comes to fostering respect and honor for senior citizens.
How can people get involved in or donate to Wish of a Lifetime?
JB: Donating to Wish of a Lifetime is always appreciated and is the fastest way to help fulfill the wishes of the more than 100 seniors whose wishes we're currently working on. However, we also encourage individuals to volunteer for WOL by becoming nominators and submitting a wish for a deserving senior in their community. All the details of how to become a nominator can be found on our website, seniorwish.org.