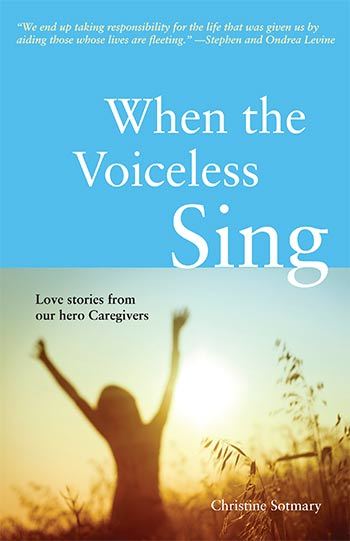 All Rights Reserved
Caring for an ailing or disabled loved one can often be a long, demanding role that gets more difficult and time-consuming with each passing day. Christine Sotmary, in her book When the Voiceless Sing, explores the thoughts, feelings, and observations of 22 different caregivers as they share their experiences.
Why this book now?
Christine Sotmary: There are many how-to books for caregivers, but no one book has looked broadly at the complex emotional challenges that caregivers face in their everyday lives. By going right to the source, it was possible to weave a comprehensive look at the emotional roller coaster that many caregivers face. We may know what families and neighbors do for those they are caring for, but we also need to ask how they feel while they are in this demanding role.
By interviewing 22 caregivers, I was able to go behind closed doors to learn that each person might be different in a given situation but the challenges they faced were very similar. Some caregivers lost their own identities during the many years they were in their role. Others were determined to keep themselves functioning outside of their caregiving even though they might feel guilty going to an occasional movie or dinner with friends. One caregiver even felt guilty about taking a short nap outside in the car while the visiting nurses tended to her mother-in-law in the house. Guilt was a big issue for many caregivers, as was finding patience, asking for help, and finding the courage to care even though the future was uncharted.
You based this book on observations you derived from philosopher Milton Mayeroff's book On Caring. Tell us about his influence.
CS: It is important to step back and figure out how to approach the concept of what goes into good caregiving. In his book On Caring, Mayeroff presents 33 different areas that occur in the world of caring. His book discusses caring in work, hobbies, and artistic interests, along with caring in families, so it was just a short leap to apply what he was saying to caregivers. He spoke of how to care well by watching the effects of care in the person who is being tended to. It's a little like Goldilocks and the three bears -- are we interfering too much, is more guidance needed, or is what we are doing "just right?" The clues are there, and this book helps decipher what good caregiving looks like in a variety of situations.
In the book you piece together the stories of 22 different caregivers. Why did you choose these 22 people?
CS: I not only wanted to show that there were many things that caregivers have in common, but I also wanted to show that even in very different circumstances, the emotional challenges of caregiving are similar. I purposely chose caregivers who cared for children, spouses, parents, or friends. I wanted caregivers who themselves were young, old, male, female, gay, straight, and from different races, religions, and cultures. The caregivers I chose were caring for those with a variety of disabilities, diseases, frailties, mental, and emotional challenges.
What becomes clear from the start of this book is the idea that as soon as you focus the light on the caregiver and not so much on the person they are caring for, you can easily see how similar their emotional challenges are. Having good boundaries, knowing what you can do and when to delegate, and learning how to be more flexible are just a few of these emotional challenges.
Once caregivers discover the "shared knowledge" of caregiving, what are they enabled to discuss that they weren't able to prior?
CS: There was a two-year monthly book club developed using this book at a convent where the nuns were taking care of several of their own. The monthly conversations covered the information in each chapter and the nuns were happy to reflect on their own situations through the inspiration of the stories in the book. In the early days of the book club, the nuns were less inclined to share their stories because they just didn't have the words to discuss their feelings. As the months wore on, with the book to enlighten them, they became fluent in the emotional language of caregiving and were better able to understand and express their feelings.
In a variety of situations, from caring for someone with an addiction to someone with cancer, the caregivers need to understand that they all get to learn about their own strengths and weaknesses. Whether they are advocating for someone who has had a stroke or a child with autism, they are learning how to speak up to get the services they need, and when it is possible, to have these services paid for by government programs or insurance companies. They are all learning to express themselves in areas such as health, healing, aging, medical terms, legal and financial issues, education, and resources. Caregivers are also learning what they are capable of and how to speak about their loyalty, determination, love, affection, and, on the flip side, they learn about sharing their losses, sadness, anger, frustrations, and disappointments.
These are the things that caregivers share that are reflected in the stories in this book. Hopefully caregivers who read this book will recognize their own experiences on the pages of When the Voiceless Sing and will get together to discuss what they are learning about their own feelings.
Of all the elements that go into caregiving, which are most surprising to caregivers?
CS: Uncertainty is the most surprising aspect of caregiving: not knowing how long their situation would go on, not knowing how things would resolve themselves, not knowing if their efforts were helping and making a difference. When we think of the rest of our culture, we have general ideas of how things will turn out. Work hard and graduate from school; be loyal, creative, enthusiastic and we await the rewards. Caregiving magnifies the fact that no life is certain and we go on caring for each other anyway.
Caregiving is viewed by many as a necessary burden. What is there to learn in the caregiving role?
CS: Many of the caregivers interviewed for this book had mixed feelings about whether their role was a burden or a reward. Each told of the many ways their hearts opened to another, even when the relationship was difficult. Being capable of this made them proud. Others discussed the humility of learning a completely new set of skills and needing to ask for help when, in their previous lives, they had been more take-charge. Several caregivers needed to walk away when they realized that their caregiving wasn't helpful and their skills weren't a match for the intensity of the situation.
The last sections of the book talk about the many benefits of being a caregiver. Some of these include a certainty in the present role; a better understanding of life, relationships, and having a sense of wonder; how faith is involved; and, lastly, a deep sense of gratitude for the intimacy and depth of experience that is caregiving.
How do you describe a life built around caring?
CS: Caring connects us to the things and people around us. According to Mayeroff, both the person caring and the receiver of that care have a chance to grow when the caring is done well. When the Voiceless Sing explores how to find meaning and purpose in our lives through the caring we provide for others. Teachers, business owners, and therapists are included in the book and they talk about caring for others as the true richness that life offers. Inspiring others to flourish helps us to reach our potential as caring human beings.
Where can this book be purchased?
CS: When the Voiceless Sing: Love Stories from Our Hero Caregivers can be ordered by sending a check made out to Caregiver Access for $27.95 USD to: Christine Sotmary, PO Box 513, Crompond, NY 10517
You can also donate $30 to Caregiver Access, which goes directly to programs for Family and Informal Caregivers in the New York area and we'll send you a thank-you book for your donation.
If you would prefer a Kindle edition of When the Voiceless Sing, you can order it from Amazon.