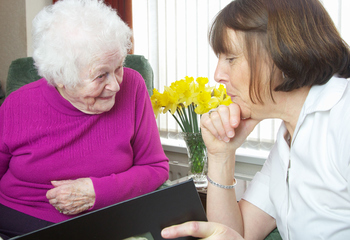 What it does
In-home care is the term that broadly defines the various types of care and services delivered by individuals or agencies to those with mobility limitations or other frailties that make it difficult for them to leave home.
In-home care generally includes help from the following:
How it helps
In whatever capacity the extra care is needed -- from periodic social visits to help with daily medication management to around-the-clock monitoring -- in-home care can help accomplish the goal of allowing a person to stay at home rather than move to a facility. For many people, staying at home among their possessions and in a familiar community is a primal urge and plays a big role in assuring a good quality of life.
What it costs
In-home care ranges in cost from free help from volunteers who provide assistance with visits and chores to live-in care that can run several thousand dollars or more a month for constant monitoring.
How to get started
Caring.com's Senior Living Directory offers a list of local providers by city or zip code, along with ratings and reviews of many of them. For guidance and listings to those offering varying kinds of in-home help, including elder companions, personal care assistants, and live-in care, see local in-home care agencies in your area.
SEE ALSO: Find In-Home Care Help Near You