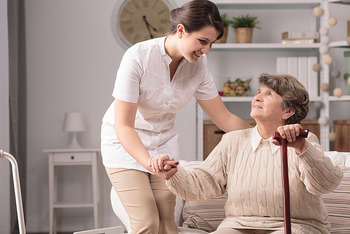 All Rights Reserved
Home health care is short-term, skilled medical care provided by home health agencies at a person's home. It is delivered or supervised by nurses and therapists (physical, occupational, and speech). Often home health agencies can also offer a limited amount of help with what's known as the activities of daily living -- such as bathing, dressing, eating, toileting, and other basic tasks. Home health care is provided while someone is recovering from a serious illness, accident, or surgery. It must be ordered by a physician -- often following a stay in a hospital or skilled nursing or rehabilitation facility. It's intended to ease the transition from inpatient care to home care. Note: Home health care is different from in-home care, which is short- or long-term personal assistance but not medical care. Sometimes the same agency can provide both types of care.
What to Expect From Home Health Care
Home health must be prescribed by a physician. Registered Nurses (RNs), Licensed Practical Nurses (LPNs) and Licensed Vocational Nurses (LVNs) provide the care, sometimes in conjunction with other health professionals. These providers may also enlist the assistance of a home health aide who can help with personal care such as bathing and using the toilet. Home health aides can also administer medication under the supervision of a nurse.
Paying for Home Health Care
Medicare, Medicaid, and most private health insurance policies cover short-term home healthcare prescribed by a physician and provided by a certified agency. If paying out of pocket, expect to spend between $20 and $75 per hour, depending on the location and services provided.
Medicare
What it covers:
Part-time or intermittent nursing care provided by or under the supervision of an RN; up to 35 hours per week combined skilled nursing and home health aide services
Physical, occupational and speech therapies
Medical social services as directed by a doctor
Home health aides providing personal care services (must be administered at the same time as skilled services)
Prescribed medical supplies
Durable medical equipment, such as wheelchairs, hospital beds and oxygen pumps (covered at 80 % of the Medicare-approved amount)
Conditions and limitations:
Doctor must determine need for home health care and prescribe care plan
Beneficiary must be homebound
Beneficiary must require intermittent skilled nursing care, or physical, occupational or speech therapies
Services must be received from a Medicare-certified home health agency
Medigap
What it covers: Medigap policies D, G, I and J have a benefit that covers home health and in-home care. The coverage varies according to the policy you choose. The benefits may include assistance with activities of daily living such as bathing, grooming, medication monitoring, meal preparation, light housekeeping, laundry, errands, grocery shopping and transportation.
Conditions and limitations: In order to be eligible for these benefits, the individual must currently be receiving Medicare-covered skilled home health care.
Managed Care
What it covers: Utilizing its own network of doctors, hospitals and services, Managed Care policies cover everything that Medicare covers (see Medicare), in terms of home health care. You must get authorization from the insurance company before receiving services.
Medicaid
What it covers: Medicaid pays for most skilled nursing services at home, including medical equipment that a doctor deems necessary, as long as it is less expensive than living in a skilled nursing facility. Some states do offer waivers—if an individual can prove a need for home health care and that it will be cheaper than skilled nursing in a facility.
Veterans Benefits
What it covers: Home health care is provided by the VA or through contract agencies to veterans with chronic conditions. The services include skilled nursing, physical and occupational therapies and social services.
Conditions and limitations:
Veteran must meet eligibility criteria for VA benefits
Be homebound
Demonstrate need for home health care
How to Find Home Health Care
The treating physician or the hospital or other facility where you or your loved one is a patient will refer you to a particular certified home health care agency. But if you know a different agency you'd prefer, or if you become dissatisfied with the agency your doctor or hospital chooses (or with the particular nurses, therapists, or home health aides the agency sends), you may be able to switch to a different agency. To search for home health agencies in a particular city or zip code -- and to see ratings and reviews of home health agencies -- use Caring.com's Home Health Agency Directory. You can also compare information about home health agencies by using Medicare's official online Home Health Compare tool.