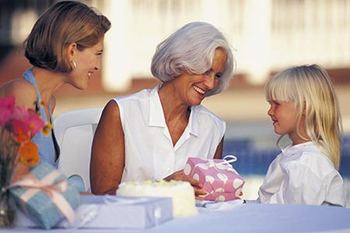 All Rights Reserved
What Is a VoiceQuilt?
"Congratulations," "happy birthday," and "best wishes" are always great words to hear from loved ones. VoiceQuilt allows you to collect these types of messages from friends and family over voicemail to give to a loved one for a special occasion. These messages can be passed along with a CD, in a keepsake box, or simply as an online playlist.
In a nutshell, here's how it works: One person buys the product and distributes a phone number for friends and family to call to leave a thoughtful voice message for a loved one who is being honored (for a birthday, wedding, etc.). VoiceQuilt contains features that allow the buyer to send an automated email through the website, or it simply gives a phone number to be distributed. Friends and family can call the number and leave a message for the person who is being honored with the gift.
One caregiver who ordered the keepsake box described it as "a beautiful wooden box with a place for a picture on the top. It reminds me of a high-quality music box, but it is so much more. When you open the lid you hear the voices of many friends and relatives giving positive affirmations and memories about my husband. He got to hear them all many times before he passed away."
What Type of Person Is This Product For?
This product is designed to honor a loved one during a special occasion. Here are a few types of people who would enjoy it:
1. People who are comfortable using the Internet
When you buy a VoiceQuilt, you'll need to find instructions and compile voice messages online. Caregivers who have confidence in their computer skills may find this product to be easier to use than those who don't.
One reviewer mentioned that the instructions were "somewhat confusing" and added, "Using the automated email was impossible for me." Others didn't have this difficulty and said the instructions were "excellent -- a website and service that is really easy to use." Another added, "This was such an easy-to-use product! The instructions were clear and easy to follow. You absolutely do not need much computer or techy knowledge to create your own personal gift."
Tip: If you're going to use VoiceQuilt, take the time to read the instructions and figure out how it all works. It's pretty straightforward, but it is a unique product. If you're intimidated at all, enlist the help of a computer-savvy friend or relative or call customer service to get the assistance you need.
2. People who are comfortable recording a voice message
If your friends and family members have a lot to say -- and are comfortable expressing themselves on voice messages -- you're likely to have a great result. One caregiver raved about the variety of voice messages that she collected for her dying husband, stating, "Some told stories, grandchildren wrote songs and sang them, many high school friends recalled funny incidents from when he was a kid, employees and business friends honored him. It is a magnificent gift and now provides me with many memories. The legacy it will leave to his grandchildren is priceless."
If, however, your family and friends are on the shy side, you might not have as much luck. One caregiver mentioned that not too many of her friends and family felt comfortable leaving thoughts over a voice message: "I think the overall concept is a nice one, but in reality, I found it extremely difficult to convince friends and family to call in with a message. Even though doing so was easy, it intimidated those that I asked and I had a poor response."
Tip: When asking friends and relatives to leave messages, you might suggest a theme to help spark their creativity. "Tell about the first time you met [loved one]." "Tell him something he did that made you laugh." "Remind him of something you think he's forgotten." "Talk about someone whom you both knew long ago." Also, just as with an RSVP, give a deadline of when you want people to respond, and email or call them when that deadline approaches to remind them.
3. People who are celebrating something positive -- or who are comfortable talking about negative milestones
Some caregivers mentioned that not every occasion is a good fit for this concept. One caregiver had a difficult time getting friends and family to leave a voicemail for a family member with a terminal illness. Her voicemail box remained empty, but she speculated, "The voicemail box wasn't a cultural fit for the friends and family of my dying friend. In some social circles, I think this product is better suited for happy times and milestones. For a dying keepsake, it may be better for those who are familiar with death and dying (such as older Americans) and for those familiar with technology and 'social community.'"
4. People who have time to make something extra-special
Unlike other gifts that you can buy at the store and wrap up, this is a product that requires some planning. If you're buying it to celebrate a holiday, you'll want to get started sooner rather than later (though additional messages can always be added over time.)
Trying VoiceQuilt for Your Loved One
A keepsake box with the voices and messages of loved ones can make a great present. Many moms, dads, grandparents, spouses, and friends would be touched to receive such a thoughtful gift.
If you're considering VoiceQuilt as a gift for a loved one, visit www.VoiceQuilt.com to get started.
Price: Online-only is free; keepsakes range from $19.95 to $99.95.