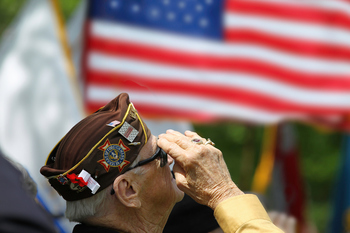 All Rights Reserved
"America's veterans deserve the very best health care—because they've earned it."
These wise words were spoken by Jim Ramstad, a former congressman from Minnesota who championed veterans' issues during his 18 years in office.
Today, this ethos is more important than ever. According to the U.S. Department of Veterans Affairs (VA), there are now more than 12.4 million U.S. military veterans who are 65 or older. They fought in World War II, the Korean War, the Vietnam War and the Persian Gulf War, and protected the homeland at bases throughout the country. They sacrificed, took on great risk and often put their neighbors' safety before their own. Now, America's aging veterans need their neighbors to do the same for them.
At the same time, long-term care costs for seniors are soaring. The average annual cost of adult day health care is $17,680, according to Genworth. A year in an assisted living community costs more than $43,000 per year on average. And a semi-private room in a nursing home will run you about $82,125 on average. That's more than most of America's older veterans can afford on their own.
While Medicare has proven to be an effective source of support for seniors in many ways, it often leaves more than 50 percent of seniors' healthcare costs unpaid. In addition, Medicare often doesn't cover necessary healthcare expenses, such as physical exams, preventive care, dental care or long-term nursing or in-home care.
And unfortunately, some veterans and their families require more healthcare services than what Medicare and basic VA benefits can cover. Often, these veterans are suffering from physical or mental health issues related to their service.
Luckily, there are some VA benefits programs designed to help veterans pay for senior care. One such program, the Aid and Attendance and Housebound Benefit, is for veterans and their spouses or survivors who need the "aid and attendance" of another person in order to meet their health needs as they grow older.
Here's a look at the VA benefits program known as Aid & Attendance and Housebound Benefits—as well as who is eligible and how to apply.
The Aid and Attendance Benefit: What Can it Pay For, Who's Eligible?
Aid and Attendance and Housebound Benefits provide money to qualifying veterans and their survivors that can be used to pay for assisted living, in-home care or nursing home care.
The program aims to help veterans and their spouses who need help performing activities associated with daily living, including bathing, feeding, dressing and protecting themselves from the everyday hazards. It is granted to veterans with both physical and mental health ailments.
There is also a component of the benefit that provides funds for veterans or their spouses who are homebound.
One of the nice things about the Aid & Attendance Benefit is that it's paid in addition to veteran's basic pensions, so it can make a big difference in the type of care a veteran can afford.
Eligibility for the Aid and Attendance Benefit
Generally speaking, The Aid & Attendance and Homebound Benefits are available to veterans who were on active military duty for at least 90 days (one of which was during an active war period) and were discharged from service under conditions other than dishonorable.
To be eligible for the VA benefits, veterans or their spouses need to meet one of the following criteria:
Require the aid of another person in order to maintain a high-quality of life and perform everyday living activities
Have a health condition or disability that requires the veteran or spouse to remain bedridden apart from any prescribed treatment
Be a patient in a nursing home due to a physical or mental disability
Have eyesight that is 5/200 or less in both eyes with corrective lenses
While anyone who served in the U.S. military might be eligible for at least some VA benefits, not everyone qualifies for the Aid and Attendance Benefits. There is a somewhat complicated system for determining who qualifies and how much additional they'll find in their pensions each month.
Generally speaking, VA benefits are prioritized based on service-connected disabilities, other disabilities and incomes. Veterans who have significant health problems that are directly related to their service and little income or investments get top priority. Veterans who have serious service-connected disabilities come next, and low-income vets or those without disability get mid-level priority.
What about spouses?
As mentioned above, spouses of veterans who have died may also apply for the Aid & Attendance and Homebound Benefits. Like other VA benefits programs, spouses must meet certain criteria, which are related to health needs, income and whether or not they were married to their veteran spouse when he or she passed away.
How to apply for VA benefits that cover senior care
The first step to securing Aid & Assistance and Homebound Benefits is to enroll with the VA. It is a free process that includes obtaining an Application for Health Benefits form, which is known as the VA Form 10-10EZ. The form is available on the VA website or by calling 877-222-8387.
Once a veteran is registered, he or she can obtain an application specific to the Aid & Assistance and Homebound Benefits by connecting with the Pension Management Center in the veteran's home state or by visiting a regional benefit office.
The final step in the process is providing the VA with information that clearly shows that benefits are needed. This should include a report from a physician detailing physical or mental impairment, loss of coordination or other conditions that make it impossible for the applicant to care for him or herself without another person's aid or assistance. It should also detail what support the veteran currently receives—how he or she gets around, what the veteran can do for him or herself and whether he or she is confined to their home or immediate premises.
While the process can take some effort, for many vets, it's worth it. Financial help from the VA can mean the difference between having the care and assistance a veteran needs and going without that care.