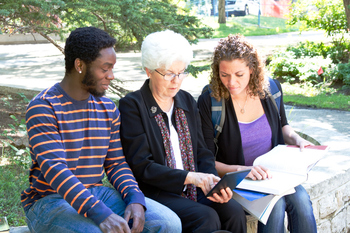 All Rights Reserved

As millions of university students head back to school this fall, some may notice a silver-haired classmate or two sitting nearby.
That's because there's a growing trend among senior living communities to partner with universities. The increasingly popular arrangement provides advantages both for seniors who can access the partner school's amenities and to the students, who can hone their skills by working in a senior living community.
History of Senior Living Partnerships With Universities
The concept of partnering a university with a retirement community dates back to the 1960s, when senior living communities were developed at Iowa State University and Indiana University.
But it took three decades for the idea to really catch on, when senior living communities started popping up at schools like the University of Florida and Oberlin College as well as Pennsylvania State University, the University of Notre Dame and Cornell University, according to Andrew Carle, a professor in the Department of Health Administration and Policy at George Mason University, who has been studying the idea.
Benefits of University-Based Retirement Communities
Carle calls them "University Based Retirement Communities" (UBRCs) and says he sees numerous advantages in the model, particularly for seniors who worry that they'll be isolated in a traditional retirement community.
"Baby Boomers absolutely do not consider themselves old and will refuse to be separated from the rest of society when they need a retirement community," Carle says. "This is not what this generation is looking for."
Carle says he's learned through his research that many people's most powerful and fondest memories happen during their college years, and an active environment can improve people's cognitive and social health. University-based communities offer an escape from what he calls the "elderly island," giving seniors a nostalgic environment with which to engage.
Being close to a university offers access to performing arts, sports, lectures and classes. Professors from partner universities may visit the retirement communities to give lectures and residents of the senior community can visit the school to sit in on courses.
"You can't find those things in a traditional retirement community," Carle says.
Most university-based communities are also continuing care retirement communities or CCRCs, communities that offer adjustments in care as people age and their needs change.
Typically, CCRC residents will start in an independent living arrangement but will move into assisted living later and potentially to specialized services like memory care if they develop dementia later in life. All of these services are available within a single senior living community and in some CCRCs, they just happen to have a university partner nearby.
Characteristics of Great UBRCs
Carle first started researching the university-retirement community pairing about 15 years ago and drove across the U.S. visiting them. Of course, with no particular model to follow, there is a wide variety of partnerships available -- some essentially in name only.
"What I concluded was they can be great if you do them right but there were also some disasters, there were some schools that failed miserably," Carle said.
He's developed five criteria to assess UBRCs:
Formalized programming and classes - Does the school have a written menu of classes available and are the university's classes available to retirees?

Proximity - How far is community from the university? Is transportation provided?

Health services - Is there a full continuum of care provided, from independent living to nursing and memory care?

Alumni - Is a significant population, at least 10 percent, of the retirement community former students or faculty from the university?

Financial planning - What is the financial relationship between the university and the community? Do they have a financial incentive to help each other out?
Carle points out that it's also important that the retirement community residents have access to areas of the university like the dining hall or library. Ideally students would also be coming to the senior living community, participating in health care, giving performances or just volunteering.
And while the university should have some financial stake in the retirement community, it shouldn't own it outright, as the community should be operated by professionals who know how to run a senior living community, Carle said.
Carle says he's aware of three or four dozen communities nationwide that meet four or five of his criteria, and just as many that meet at least one. He's been working on putting together a survey to see exactly which communities meet his definition of a UBRC.
Case Studies: Oak Hammock and Kendal at Oberlin
One example Carle calls "terrific" is the Oak Hammock community in Gainesville, Florida, which is partnered with the University of Florida.
The Oak Hammock community dates back to 1997 when a group of UF alumni and faculty decided they wanted to return to the university. They got to work surveying other alumni to gauge interest, pre-selling units and hiring a staff before finally getting construction under way to open the community in 2004.
"What retirees are looking for is a community that's going to provide them a lifestyle they resonate with, they're looking for access to high quality medical care -- that's not easy and going to become an increasing issue -- and access to high quality long term care," says Star Bradbury, a consultant at Oak Hammock and one of its first employees.
Today Oak Hammock has 269 independent living apartments on 136 acres less than a mile from the university. The residences include about 70 villas and club homes as well as two four-story apartment buildings. The community's fitness center features personalized fitness programs from the university's College of Health and Human Performance and UF's medical school runs an onsite wellness clinic there.
A key aspect is the community's school, which is open to anyone in the Gainesville area over the age of 55. Participants can take part in classes on a wide variety of subjects, including contemporary European politics, Russian violinists, the history of World War II or green energy in Africa.
And if those courses aren't enough, community members can audit any course at the university. Coach buses run regularly there, bringing residents to the university campus for lectures, performances and of course, football games. About half the residents are either alumni, former faculty, or have some other connection to the school, so there are plenty of Gators fans.
"I do hope that universities look at this because it's a fabulous concept," says Bradbury. She speculates that the idea might have already spread further if it wasn't for the Great Recession.
Another senior living community Carle mentioned is the Kendal at Oberlin, a partner with Oberlin College in Ohio, which has some unique amenities because of the college's famous music conservatory. Kendal regularly hosts concerts in its auditorium and some students even stop by the care center to play instruments with the residents, says Maggie Stark, a spokesperson for Kendal at Oberlin.
Kendal at Oberlin, which turns 25 next year, is one of 13 communities run by the Kendal Corporation. It's also about a mile from the college and has professors come for monthly lecture series. Residents there also take classes at Oberlin, something Stark says "adds a lot of spice to the classes."
"There is definitely a strong intergenerational relationship with residents and college students," she says. About 37 percent of the residents there have some connection to Oberlin.