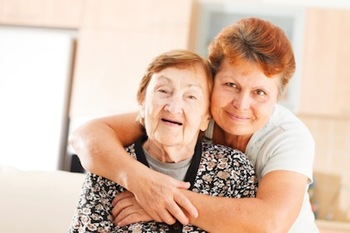 All Rights Reserved
There are many misconceptions about hospice care. What is it, how much will it cost, and what kind of care does hospice offer for loved ones and their families? With more than 5,000 hospice facilities in the United States, it is important to know what hospice is and how to highlight its benefits to those entering the final stages of life. Amy Tucci, president and CEO of the Hospice Foundation, sheds some light on the truths and myths of hospice care.
The Hospice Foundation provides care for loved ones and their families at the end of life. Can you tell us more about what that type of care looks like?
Amy Tucci, president and CEO, Hospice Foundation: Although we do not provide care directly to patients, for more than 30 years we've earned our reputation as a trustworthy public resource -- largely for caregivers -- of accurate, unbiased information about hospice and palliative care, grief, and bereavement. We provide that information through audio, video, and print distributed by a variety of means, including our website http://www.hospicefoundation.org/, radio, and television. We are not a membership or trade organization. Content for our website and programming is developed and written by our staff and consultants in Washington, DC. Hospice Foundation of America recently produced a television program called Hospice: Something More. The one-hour special program underwritten by the John and Wauna Harman Foundation recently aired nationally on cable television. In April 2014, we'll make Hospice: Something More available to the public and to hospices online via our website and on DVD, at no charge.
Hospice Foundation of America also supports the clinicians who provide care to tens of thousands of hospice patients each day by producing low-cost professional education programming about different aspects of hospice care. Our award-winning programs have covered such end-of-life topics as ethics, artificial nutrition and hydration, Alzheimer's disease, and grief and loss. We also fund research about hospice care, financially support children's grief camps, and have provided emergency aid to state hospice organizations following natural disasters.
Hospice care really stands apart in our healthcare delivery system. It is actually a special concept of care focused on maintaining or improving quality of life by providing comfort, relieving pain, and offering support to people with a terminal illness and the families, partners, and friends who care for them. Hospice becomes an option when an illness no longer responds to treatments intended to cure, and when doctors predict that the illness or condition will progress in such a way that the patient has limited time to live. When hospice first came to the U.S. in the 1970s, most of its patients had cancer. In the 1980s, hospices began caring for people with AIDS. Today, hospices also serve those with such illnesses as end-stage kidney, heart, or lung disease and Alzheimer's dementia. Hospice care is medical care toward a different goal: to help people live the remainder of their lives with comfort and dignity. Hospice patients and their loved ones receive support from a whole team of professionals, which includes a physician, nurse, medical social worker, and home health aide. Spiritual counselors and trained community volunteers also are available as needed or desired. In addition, hospice offers grief counseling services to families and loved ones before and after a patient's death. In most instances, hospice care comes to the patient, whether in a private residence, hospital, long-term care facility, or assisted living facility. Hospices have also provided care in nontraditional settings and to the homeless. Hospice staff are available by phone any time, day or night, for assistance and advice.
We have many free resources in the Hospice Information Center portion of our website, http://www.hospicefoundation.org/infocenter, that are particularly helpful for learning more about what hospice care is, how hospice care is paid for, and how to choose a hospice provider. Many of our videos and tip sheets are available in Spanish and Mandarin Chinese.
The word "hospice" is often associated with lots of fear. What are some of the myths the Hospice Foundation can help dispel?
One of the biggest myths about hospice care is that it's a place to go when nothing else can be done. Most hospice care is provided in a variety of settings that a person calls home, and hospice is something more that can be done when curative treatment is not effective. Although hospice care is not intended to prolong life, recent studies show it can give someone more time to live comfortably. Hospice care can provide the support and pain and symptom management necessary to allow individuals to do important things, such as attend a wedding, take a trip, drive a car, or simply be around family. And hospice care can provide really important support for caregivers, not only by teaching loved ones what to do and what to expect but also by providing emotional support and identifying other resources within the community.
Another prevalent myth is that hospice is for the last few days of someone's life. That is especially unfortunate, because what we hear often from people who have experienced hospice care is, "We wish we had known about this sooner." Hospice care becomes an option when a physician believes that a person has six months or less to live if their illness or condition runs its typical course. But neither the physician nor the patient is penalized if the person lives longer than six months; they can still have hospice care, as long as their health is continuing to decline.
Another myth is that hospice is expensive. That myth probably exists because so much is provided with hospice care, along with items that may be necessary, such as a hospital bed, oxygen, and medications. The truth is that hospice is a Medicare benefit, and the cost of care is fully covered by Medicare. In all states but one, hospice is covered by Medicaid. Private insurance also covers hospice care. And many hospices have some mechanism to accommodate patients who meet the medical criteria for receiving hospice services but lack insurance or any means by which to pay for their care.
What type of support does the Hospice Foundation have for families with loved ones in hospice?
We have a lot of free information and tools available on our website, http://www.hospicefoundation.org/, as well as books, guides, brochures, and workbooks. We also provide a free service that we call "Ask HFA" for people with questions about advanced illness, hospice care, or grief and bereavement. You can contact us if you are a family member, an individual who is considering hospice care, a friend of someone with advanced illness, or a clinician. You are not required to leave your name. We try our best to answer questions within 24 hours. If you have a question about hospice care or grief, e-mail us at Questions@hospicefoundation.org.
How can a family member seek out hospice care for their loved one?
It's important for people to know that they do not have to wait for their physician to bring up the idea or even to provide a referral to hospice care. An individual or family member can contact a hospice and initiate the process of hospice admission. There are about 5,500 hospices in the U.S., serving nearly every geographic area. If you need help finding a hospice, call us at (800) 854-3402, e-mail us at Questions@hospicefoundation.org, or use our free, searchable database of hospices at http://www.hospicedirectory.org/.
What do you want people to know most about your foundation and the work it does?
Although hospice care has been available in the U.S. since 1974 and has been a Medicare benefit since the early 1980s, many people still don't understand what hospice does or what it can provide. We're here to answer your questions, provide resources, and be an unbiased source of information at a time when you may be getting a lot of conflicting, possibly inaccurate information from people around you. I also want people to know that we support both lay and professional caregivers by providing the most-up-to-date information about hospice care and grief and bereavement. We do that by bringing together leading experts on topics that are critical to providing excellent end-of-life care. We are supported by the public, as well as through sales of our professional education materials. We put that revenue back into our programming and other resources so more people can learn about hospice and decide whether hospice care makes sense for them now or in the future. We are grateful for continuing public support through donations, and we are grateful for the corporate and other foundation support that helps us continue our mission. Unlike some other nonprofit organizations, 90 percent of our income goes into programming and only 10 percent goes to our administrative costs.
What are some common responses from caregivers whose loved ones have passed away in hospice?
The number-one response we hear is that people wish they had known about hospice care sooner, and that their loved one had been enrolled in hospice care earlier. And not surprisingly, given those responses, most people are grateful for the care their loved ones and families received, both before and after the death. One man I know summed it up by saying hospice care was "a beautiful thing" that allowed his terminally ill wife to be at home with him and their children through the final phase of her illness. Those are the kinds of things we hear about hospice care.