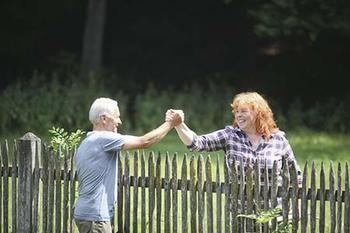 All Rights Reserved
"It was a given." That's how Adair Lara describes the decision for her and her husband, Bill LeBlond, to move in and care for Jim Heig, her ex, in his last years as he battled Parkinson's. Adair is not alone. Many people find themselves in an unconventional care situation, caring not for an aging parent but for someone unexpected -- a church member, a neighbor, or even someone they barely knew before their lives found a new connection through caregiving.
Unconventional care is not as unusual as you might think. It's actually quite natural, even in nature. According to research conducted at the University of California at Berkeley, we're not as selfish as we have been led to believe. Social scientists now have evidence that we are compassionate and value and seek out a greater sense of community in our day-to-day lives. They call it "survival of the kindest."
Next Up: What to Do When Caring Is Met With Resistance
We've Survived Because We've Cared
"Human beings have survived as a species because we have evolved the capacities to care for those in need and to cooperate," states Dacher Keltner, psychologist and codirector of U.C. Berkeley's Greater Good Science Center. As the author of Born to Be Good: The Science of a Meaningful Life, Keltner and his fellow social scientists are proving that humans actually thrive not in spite of but because of our nurturing nature.
Would You Care for Your Ex?
Adair Lara, author of ten books, celebrated San Francisco columnist, and currently a columnist for Grandparents.com, did something most ex-wives wouldn't jump at -- she and her husband decided to take care of her ex when his Parkinson's worsened. (They already lived downstairs from Jim; they decided to move upstairs.) Adair and her husband, Bill, spent two years caring for this gentleman, who was the father of her children Morgan and Patrick, grandfather of Morgan's children Ryan and Margaret, and who also happened to be gay. Jim had continued to wear his wedding ring even though their marriage had ended, and he shared his 1892 Victorian home in the Lower Haight area of San Francisco. Their home, filled with good memories, was the place their kids spent their childhoods, running up and down the back stairs. Adair's husband, Bill, once sent Patrick, his stepson and Jim's son, upstairs with note asking Jim for a turkey baster. Jim sent the note back saying that if Bill was making a turkey, he had some peppers and fresh green beans to go with it. That's the kind of man he was, so it's no wonder that all his generosity and kindness would be returned to him tenfold in his last years.
Embracing the Great, Big, Unconventional Life of Family
Living upstairs those last two years, Adair would button Jim's left sleeve, and Bill would tie his shoes -- just a few caregiving acts the two of them remember. Jim was such a part of their lives that it shocked her the day their daughter Morgan was married and Jim couldn't smile, even though he was filled with joy. Jim was surrounded by Adair, Bill, and his children and grandchildren during his last weeks. Patrick, his son, read Jim's memoir to him in the ICU, "realizing why so many people loved him and how unimportant it was that he was gay," says Adair. This family reflects what so many families are facing today -- the choice to embrace their great, big, unconventional lives and meet whatever challenges come their way.
We "Get It" -- Nothing Beats the Meaning Caring Brings to Our Lives
Most caregivers "get" that it feels good to be needed, even when we don't receive anything in return (such as financial compensation), other than the realization that helping someone, even a stranger, adds meaning to our lives. Compassion benefits society, and people respect altruism. The ability to reach out, to move past our own busy lives and do something big or small for someone else, makes the kind of person most of us strive to become, and the kind of person most of us admire.
Meet Jim: Caring for a Neighbor -- a Friend -- With No One Close
Jim Midzinski found himself in his own unconventional care situation when his across-the-street neighbor, Joie Yourbrough, asked if he would cut her grass. "I noticed she had a difficult time walking . . . so I started just cutting her grass, and then she asked me to get some groceries for her. . . . At first doing things for her (Joie) seemed like a job, but after getting to know her I'm proud to say she is a friend of mine," says Jim, a lab tech who lives in Jacksonville, Florida.
It turns out that Joie needed a knee operation and struggled with other health conditions. Her daughter had recently passed and she had no near family to call. James drove her to the hospital and took care of her house and fed her cats while she recovered. He began driving her to doctor's appointments. Joie has returned James' kindness. He borrows her truck when needed, she watches his house when he's away, and many afternoons they can be seen meeting in one or the other's front yard just to chat. "What surprised me the most is that only a short time ago she was healthy, working, and doing fine. Now, even with the loss of her daughter and her health issues, she still has a positive attitude," Jim says.
We're Hardwired for Sympathy
"Sympathy is indeed wired into our brains and bodies, and it spreads from one person to another through touch. This new science of altruism and the physiological underpinnings of compassion is finally catching up. . . . Sympathy is our strongest instinct," Keltner says.
Adair Lara and Jim Midzinski, and their families and communities, are just two examples of survival of the kindest -- that in us is the natural inclination to care.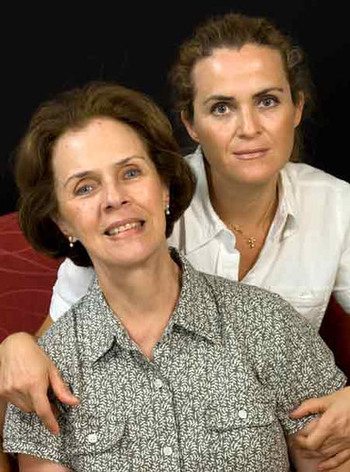 Sometimes I Hate My Mother | When Caring Is Met With Resistance