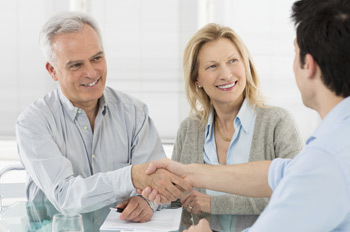 All Rights Reserved
Public policy issues and public service are at the heart of the University of Massachusetts, Boston's Gerontology Institute. The Pension Action Center there helps families access their cost of living, particularly those caring for an aging loved one. The Center assists workers, retirees, and their families with their financial concerns, including access to pensions and 401(k)s, pension denials, and access to survivor benefits. The Center's focus is primarily to care for the residents of New England and Illinois, but they encourage others to check out the National Pension Lawyers Network, a no-cost referral service. They also feature another program, the Elder Economic Security Standard, which enables communities to develop policies that help elders age with dignity and independence. This helps distinguish UMass Boston as a strong advocate for the aging community.
Ellen A. Bruce, JD, at the Gerontology Institute and Department at UMass Boston, shares how they are reaching the aging population.
Ellen, can you share with our readers a little about your UMass Boston Gerontology Programs?
Ellen A. Bruce, director: At Gerontology at UMass Boston, we are very interested in the quality of life of people as they age, and policies that can improve that quality of life. We have two masters programs and a PhD program in gerontology, conduct research on a variety of aging topics, and have service programs to understand the actual experiences of older individuals.
The Pension Action Center provides direct help to people who are having trouble finding and claiming their employer pension or 401(k) monies. The Center also provides policy analysis of laws, regulations, and practices that affect retirees' income.
We also have the Elder Economic Security Standard, which is a tool developed at UMass Boston in cooperation with Wider Opportunities for Women. It measures the amount of money a retired individual would need to live modestly and independently in their community. It takes into consideration where you live and what your living situation is (renter or homeowner, single or couple). By measuring the minimum, necessary expenses on a geographic basis, we can compare that figure to the income levels of retirees in a state or county to determine how many people may be experiencing economic hardship.
Your Pension Action Center is, in part, about empowerment. How do we lose power over our retirement as we age and, most important, how do we get some of that power back?
EAB: Power over your own finances is often a function of your knowledge and ability to interact with the professionals who are holding your money. Luckily, in the pension area there are laws meant to protect individual retirement funds, but with the increasing prevalence of 401(k) plans replacing traditional pension plans, an individual is shouldering more of the responsibility of managing those funds and assuming the risk of loss. Unfortunately, this responsibility puts many older individuals who either do not have the knowledge or the cognitive ability to make financial decisions at risk. The more you know, the better off you are. Pension counseling projects around the country help people understand their rights to a pension and help them claim their pensions as well. A list of counseling projects can be found at http://www.pensionrights.org/find-help.
What impact has the Pension Action Center already had on your community?
EAB: The Pension Action Center has recovered over $45 million dollars in benefits for retirees, older workers, and their families in the seven states it serves. Across the nation, more than $150 million has been recovered. Often it is a caregiver or family member who has to assume the responsibility of asserting the older individual's entitlement to a pension.
For example, we recently helped a 91-year-old, incapacitated Massachusetts resident whose husband had passed away. Her husband had been collecting a pension, but when he died the company said that she was not entitled to a joint and survivor benefit (a continuing benefit in her name). Her daughter contacted us and we worked with her to prove her mother was indeed entitled to a benefit of about $500 per month for the rest of her life.
Your Elder Economic Security Standard program is vital to aging Americans. What policies in particular are you addressing? Have you started to notice some impact from this program, and if so, what has happened?
EAB: The Elder Economic Security Standard (Elder Index) is being used by a number of agencies and advocacy groups to understand who is at risk of financial hardship. Massachusetts formed a special Commission on Economic Security of older residents and is using the Index to gauge what are the areas of greatest need. The costs of housing and healthcare out-of-pocket expenses have been highlighted as areas of most concern. California is seeking to have the Index used as a benchmark for Area Agencies on Aging planning purposes.
Why is economic security so important as our elders age?
EAB: Economic security is important at all ages. It enables us to buy what we need and provides peace of mind. The difference for an older person is twofold: One, their ability to add to their income is limited by their not being in the workforce; and two, they have a shorter time frame in which to recover any losses in their savings caused by market fluctuations. Healthcare expenses are a larger expense for older individuals and, importantly, long-term care expenses are a wild card. If an elder needs long-term care, the expense can be catastrophic and there is very little the average person can do to protect against these expenses, other than buying long-term care insurance, which may be too expensive to afford or may not be available at all.
From our work, we found that the average Social Security benefit in every state fell short of what was needed to live modestly in that state without government support. The implication is that retirees can't rely just on Social Security but will need pension income and savings to support them. Nationally, we found that in 2011 the average costs varied significantly for elders, from $19,104 a year for a single person living in their own home without a mortgage to $39,204 for a couple living in a home with a mortgage.
What do you hope to accomplish in the next three to five years as a result of these projects?
EAB: Our goal is to assist individuals and policy makers to understand the challenges we have in ensuring the economic security of our older generation. We also hope to make suggestions for steps we, as a society, can take to make people's lives easier as they age and are confronted with a host of health and disability challenges.
For more information on UMass Boston's Gerontology Programs, visit:
* Pension Action Center, http://www.umb.edu/pensionaction
* Center for Social and Demographic Research on Aging, http://www.umb.edu/demographyofaging