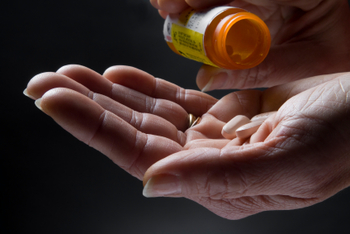 All Rights Reserved
An overview of type 2 diabetes drugs
If a patient has type 2 diabetes, sometimes lifestyle changes -- healthier eating, becoming more active, and losing weight -- aren't enough to keep his blood sugar in his target range. If that's the case, he may need one or more types of prescription pills to help control his condition.
Several classes of oral diabetes drugs are designed to help keep blood sugar in check:
Biguanides
Meglitinides
D-phenylalanine derivatives
Thiazolidinediones
Sulfonylureas
Alpha-glucosidase inhibitors
DPP-4 inhibitors
Here's what you need to know about each of them:
Biguanides
Metformin (brand name: Glucophage) is a biguanide (by-GWAN-ide) that acts in several ways to control diabetes. It helps a patient's body use insulin better, and it helps the liver make less sugar and lowers the amount of sugar his body absorbs from food. This inexpensive drug, available since the mid-1990s, is commonly taken twice a day. A once-a-day, slow-release pill is also available. Metformin may also decrease LDL or "bad" cholesterol and triglycerides. This is often the first choice of treatment for older adults with type 2 diabetes.
Potential side effects: Metformin may trigger nausea and diarrhea, though this is less likely if a patient takes the drug with food or if he starts with a low dosage that's gradually raised as needed. This medication isn't recommended for people with certain kidney or liver problems, and those who take it should have regular kidney function checks, especially since the elderly are more prone to reduced kidney function.
It's not recommended for people over the age of 80 unless they've had a kidney function test. "I'm cautious about using metformin in my very elderly patients because of kidney problems," says endocrinologist Karen Earle, medical director of Center for Diabetes Services at California Pacific Medical Center in San Francisco. "When I do prescribe it to patients over 80, I make sure they don't just have a blood test but a more precise urine test to check kidney function."
Some people develop anemia (a blood disease) as a result of taking this drug, so a blood test in the first few months of therapy is also wise. Metformin may not be suitable if a patient has severe heart disease or drinks alcohol to excess.
More drugs for type 2 diabetes
Meglitinides
Repaglinide (brand name: Prandin) is in a class of drugs known as meglitinides (meh-GLIT-in-ides). This relatively new, considerably more expensive prescription medicine helps a patient's pancreas make more insulin and is typically taken before breakfast, lunch, and dinner.
Potential side effects: This drug, as with any blood-sugar-lowering medication, may make blood glucose go too low and cause hypoglycemia, which the elderly are already more prone to experience. It may also cause cold- and flu-like symptoms, upset stomach, joint ache, or headache.
D-phenylaline derivatives
Another newer, more costly class of drugs, D-phenylalanine (dee-fen-nel-AL-ah-neen) derivatives, help a patient's pancreas produce insulin more quickly. Nateglinide (brand name: Starlix) is an example of this class of drugs, which can be taken in combination with some other oral diabetes drugs. The pill is taken right before meals, does i ts job, and then quits, which helps avoid mealtime blood sugar spikes.
Potential side effects: Common side effects include mild cold- or flu-like symptoms, back pain , dizziness, and joint ache.
More drugs for type 2 diabetes
Thiazolidinediones
Among the newest remedies for diabetes, thiazolidinediones (THIGH-ah-ZO-li-deen-DYE-owns) help a patient's body become more sensitive to insulin by using the hormone better and producing less sugar. There are two types of thiazolidinediones: pioglitazone (brand name: Actos) and rosiglitazone (Avandia). These medications, which are relatively pricey, may slightly raise HDL ("good") cholesterol.
Potential side effects: The first drug in this class, troglitazone (Rezulin), was pulled off the market because it led to serious liver problems in a small number of people. To date, the two available thiazolidinediones on the market have not shown the same problems, but patients are still closely monitored for liver trouble as a preca ution. Thiazolidinediones are not recommended for people with congestive heart failure. Both may cause swelling of the feet or lower legs. And one of them, Avandia, may increase the risk of heart attack.
Concerns specific to older adults: Water retention isn't good for an older adults with heart or liver disease. If a patient is at risk of either, his doctor may prescribe these medications at a lower dose or prescribe them to be taken every two days to avoid this problem. Due to the potential higher risk of heart attack from Avandia, San Francisco endocrinologist Alan Rubin, author of Diabetes for Dummies, says he only prescribes Actos to his older patients.
More drugs for type 2 diabetes
Sulfonylureas for type 2 diabetes
This drug, which has been in use since the 1950s, helps patients with type 2 diabetes make more insulin by stimulating the pancreas. Common examples of sulfonylureas (SUL-fah-nil-YOO-ree-ahs) include acetohexamide (brand name: Dymel or), chlorpropamide (Diabinese), glipizide (Glucotrol), glyburide (Diabeta, Glynase, Micronase), glimepiride (Amaryl), and tolbutamide (Orinase). These low-cost drugs are usually taken once or twice a day before meals.
Potential side effects: This class of drugs can cause blood glucose to dip too low and lead to hypoglycemia. People who are allergic to sulfa drugs should avoid these medications, and some people gain weight on these medicines.
If someone also takes nonsteroidal anti-inflammatory drugs (NSAIDs) or has reduced kidney or liver function, he may not be able to take sulfonylureas.
Potential drug interactions: Sulfonylureas and alcohol don't mix. Vomiting and flushing can result from combining the two. If a patient drinks and has been prescribed one of these medications, discuss this with his doctor.
Concerns specific to older adults: Due to the especially high risk of low blood sugar, chlorpropramide, a so-called first generation sulfonylurea, should never be taken by older adults, according to the American Geriatric Society Foundation for Health in Aging. In general, sulfonylureas isn't the drug of first choice for the elderly, since this age group is particularly hard hit by hypoglycemia. It's typically added when a third drug is needed after first trying Metformin and Actos, according to Rubin.
As a precaution when a sulfonylurea is introduced, doctors may prescribe it at half the usual dose and raise it slowly over a number of weeks. Or a physician may recommend using a shorter-acting sulfonylurea such as glimepiride or glipizide.
Alpha-glucosidase inhibitors
These prescription remedies help the body absorb sugar more slowly, slow the absorption of starches such as pasta, bread, and potatoes, and also slow the breakdown of some sugars. These pills are taken with the first bite of a meal. The two kinds of alpha-glucosidase (AL-fa-gloo-KOS-ih-days) inhibitors are acarbose (brand name: Precose) and miglitol (Glyset).
Potential side effects: Commonly reported side effects include gas, bloating, and diarrhea. People who have bowel disease, intestinal conditions, or kidney or liver disease should avoid these drugs.
Concerns specific to older adults: Since acarbose has a limited effect on blood sugar and several stomach-related side effects, it isn't usually recommended for use by the elderly, according to Rubin.
More drugs for type 2 diabetes
DPP-4 inhibitors
This new class of medicines works by enhancing the body's ability to lower blood sugar when it's too high. It does this by preventing the breakdown of a naturally occurring compound in the body known as an incretin hormone, or GLP-1. Sitagliptin (Januvia) is currently the only DPP-4 inhibitor on the market (another similar drug, Galvus, is currently under Food and Drug Administration review), and it comes with a hefty price tag. Sitagliptin prolongs the activity of proteins in the body that increase the release of insulin after blood sugar rises, such as after a meal. The drug, taken once a day, blocks an enzyme called dipeptidyl peptidase 4 (DPP-4), which breaks down incretin hormones, leading to better blood sugar control.
Potential side effects: This drug may make bl ood glucose go too low and cause hypoglycemia if taken with a sulfonylurea. It may cause upper respiratory tract infection, stuffy or runny nose and sore throat, headache, and occasionally stomach discomfort and diarrhea.
Concerns specific to older adults: There are two schools of thought on this drug. As a general rule, says Rubin, who was an assistant clinical professor of medicine at University of California Medical Center in San Francisco for 20 years, the elderly is not a group you rush to try the latest drugs on. Since this is a very new drug with little in the way of safety data from clinical research trials available, he says, he doesn't prescribe it much to his senior patients. Earle, on the other hand, says that given the limited number of diabetes drugs that are safe for seniors , she's found Januvia a welcome and beneficial new addition to her repertoire for her older patients.
Combination pills
Sometimes two types of medicines are given together in one pill. Common combinations include glyburide combined with metformin (brand name: Glucovance), glipizide combined with metformin (Metaglip), and rosiglitazone combined with metformin (Avandamet). One benefit of taking a combination pill is there's one less pill to remember to take. A potential downside: There's no control over the dosage of the medications in a combination pill.
A doctor may first prescribe one type of pill. If it doesn't control blood sugar, the physician may recommend taking more of the same medication, adding another pill or insulin to the treatment plan, or changing to a different oral drug or insulin.