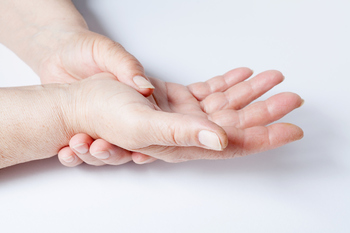 All Rights Reserved
Decades of constant joint use and tissue pressure can often result in arthritis. It's degenerative and persistent, and the pain and inflammation associated with it can make ordinary tasks challenging. If you're all too familiar with this, don't fret, as these amazing arthritis aids will help you cope hassle-free. Make sure to talk to your doctor about what arthritis aids might be best for you.
1. MagnaReady Dress Shirts
Getting dressed can be tedious and time-consuming when you have limited joint mobility and pain. Shirts designed with this in mind these makes dressing a breeze. The MagnaReady dress shirt has a magnetically infused button closure feature. It's also stain-resistant and wrinkle-free, which means you'll spend less time ironing out creases, and struggling to remove stubborn stains. The cuffs also close magnetically, making dressing even more stress-free.
To order: Magna Ready
2. Reaction Knee Brace
If you've ever suffered from the debilitating effects of arthritis in your knees, the Reaction knee brace may be for you. It's an innovative alternative to a regular knee brace, and ideal if you want to play sports despite your arthritis.
3. Glasstic Water Bottle
Painful arthritic hands can sometimes result in one too many broken glasses on the floor. Specially designed water bottles like this one make it easier to enjoy your favorite beverages without having to worry about breaking anything. It has a super thick shatterproof exterior that protects the glass inside. These stylish water bottles are also dishwasher-friendly.
To order: Glasstic
4. Zeel On-demand Massage
Many think of massage as a form of indulgence, but it's more than just that. It's beneficial for arthritis, as it assists with stiffness, pain, motion range and joint function. It can also help strengthen your hands. However, discomfort associated with arthritis can make it difficult for you to drive to a spa for a massage. In that case, at-home massage services like the one provided by Zeel make it possible for you to receive a same-day massage from a professional masseuse, in the comfort of your home or office.
To order: Zeel.com
5. Gravity Defyer Shoes
Don't allow pain and discomfort to stop you from living your life fully again. Gravity Defyer shoes are designed with VersoShock technology, which serves as a cushion, and can also improve your performance during exercise. The shoe has a shock absorption feature that reduces the amount of strain felt in your joints and back, which is beneficial for arthritis. Graveity Defyer shoes come in a number of styles for both men and women.
To order: Gravity Defyer
6. Imak Arthritis Gloves
These Imak compression gloves have been commended by the Arthritis Foundation, and are ideal if you need to relieve arthritic stiffness and pain in your hands. The compression feature assists with circulation. The gloves are fingerless, so as not to get in the way of your day-to-day activities.
To order: Imak Products
7. EZY-Dose Pill Reminders
Excruciating pain and lower mobility in your hands can make it nearly impossible to open a pillbox with ease. EZY-Dose Pill Reminders have earned the Arthritis Foundation's Ease of Use stamp of approval too. You'll be able to open the container with the simple push of a button, making it easier for you to remove your pills.
To order: Amazon
8. One Touch Can Opener
When you have arthritis, opening cans is a real challenge at times. The dangerously spiky edges and numerous twists and turns can make this everyday task feel insurmountable.. The one-touch opener allows you to lift the lid hassle-free, and open your favorite canned foods. It opens cans of all sizes and is automatic, so you can say goodbye to wrestling with a manual opener and straining arthritic wrists. Plus, it runs on rechargeable batteries, so you can save on time and trips to the store when it needs recharging.
To order: One Touch Products
9. Fiskars Easy Action Scissors
Have you always been a lover of arts and crafts, but are forced to stop due to arthritis-induced hand strain, pain, limited movement, and tiredness? If so, Fiskars Easy Action scissors can help you tkeep up with your creative projects more easily. The scissors' spring-action technology makes it simpler for you to open them, and the micro-tip blades help you cut through small spaces without over-exerting your joints.
To order: Fiskars
10. A Paraffin Bath
There are a number of heat packs, wraps and similar products to relieve the aches and pains associated with arthritis. Perhaps one of the most indulgent options is a paraffin bath. The Gigi Paraffin Digital Bath is a digital-controlled bath that allows you to dip your hands or feet in warm wax for a calming, comforting effect on your joints.
To order: GiGi