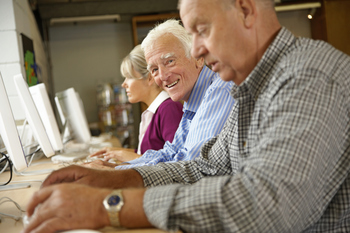 All Rights Reserved
As an industry on the periphery of the public consciousness, advances in senior living don't always get a lot of attention. Yet, senior living providers have quietly evolved and transformed as quickly as any industry. A decade ago, the senior living industry could justly claim that quality of life at the typical senior community had risen dramatically since the 1970s and 1980s. But today, the advances that have occurred in the last 10 years alone are as dramatic as changes that took decades to manifest themselves.
Technology and personalization (or a resident-centered approach) have driven some of the biggest and most transformative trends in independent senior living. Independent living communities are very different from the staid retirement homes of the last century. Today's independent living communities -- now safer than ever thanks to new technology -- are becoming connected, vibrant homes. They're integrated with their local community and offer residents ample opportunities for personal growth. Here are five of the biggest trends shaping independent living today.
1. Adoption of innovative safety technology
New technologies designed to keep residents safe and secure in their living spaces have become game changers in the senior living world. Passive remote monitoring (or "ambient monitoring") uses pressure sensors and motion sensors in residents' apartments to detect and even prevent accidents like falls by using artificial intelligence to detect any changes from normal activity that may be red flags. The system immediately notifies members when something is amiss, and some communities even incorporate wearable technologies (like comfortable, sleek bracelets) that monitor residents' vital signs and provide early illness detection.
2. Fully connected senior living communities
Today's independent living community residents can expect fully connected communities, with Internet (often including free wireless) access in all rooms. Many senior living communities provide residents with access to communal computers. And for those lacking tech experience, classes are often available to help them stay in touch with relatives or explore the limitless online world.
3. Empowering personal growth and learning
Today's independent living communities are places where residents have numerous opportunities for personal growth. Wellness classes and academics are now routinely incorporated into the independent living model. For instance, residents can learn a new language, nutritional best practices, finally take calculus, or study French symbolist poets. Some communities are even affiliated with local colleges and universities, with professors visiting the communities and teaching classes.
4. Niche senior living communities
Each year, new independent living communities cater to a niche clientele. Demand has grown for communities that cater to residents with similar religious backgrounds or national origins. Independent living communities with mostly LGBT residents have also flourished in recent years, especially in areas with significant LGBT populations.
5. Integration with the greater local community
Independent living communities are increasingly being designed and operated with the aim of serving the greater public in some way, fostering opportunities for intergenerational interaction. For example, independent living communities may allow local groups to use their common areas. Some communities, particularly in cities, may have outdoor areas like a plaza with a cafe and newsstand that are open to the public.
---
New technologies and original, innovative approaches to senior living design have combined to transform the independent living community into the ideal place for holistic, healthy aging. No doubt, the next decade will bring even more dramatic changes to the senior living landscape.