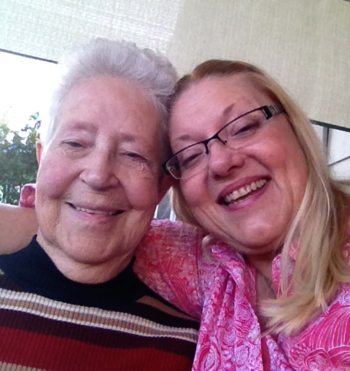 All Rights Reserved
What's it like to be a family caregiver today? According to Caring.com's annual 2015 Usage & Attitudes Family Caregiver Survey, the word is, more or less, "complicated." For many caregivers, more stress, time, tasks and money are required with less financial security, long-term planning and peace of mind.
Russ Malone, 65, has retired twice but is now back working part-time as a school bus driver in Rapid City, SD, to pay for his wife's adult day care. The stress of taking care of his wife, who has early onset Alzheimer's, is so enormous, "they would need to come up with a new word to describe it," he says. Even though Malone, who retired from the Air Force, and his wife, a 63-year-old former waitress, have saved for their retirement "and done everything right," he thinks the next step—moving her into a nursing facility to the tune of $6,000-$7,000 a month—will "ruin" him and is likely to occur in six or seven months. "It's getting to the point where I just can't take care of her anymore," he says. Malone has unintentionally lost weight and just picked up a prescription for an anti-depressant.
His experience supports many of the findings of this year's survey, culled from 2,098 respondents.
Here are some highlights:
• Caregivers are spending increasing amounts of time in their role. Nearly four out of ten family caregivers, or 39%, spend more than 30 hours a week on caregiving tasks. This year, 31% report spending more than 40 hours. (Only 22% of respondents to Caring.com's 2010 survey say they spent that much time on caregiving tasks, and in June, 2014, that figure was 26%.)
• Close to half have spent more than $5,000 on caregiving expenses in the last year; 15% pitched in up to $10,000 and 9% paid $50,000 or more. Those who reported spending $50,000 or more on caregiving rose 7% compared to four years ago.
• Fewer caregivers are in the workforce today versus in 2014. This year, 35% of respondents are employed (20% full-time) and 52% are retired. Compare that to 39% in 2014 (25% full-time).
Who Are These Caregivers?
Three-quarters of survey participants are women, a figure that's relatively consistent from past Caring.com surveys. What has changed is the number of male caregivers. (In the May 2010 report, just 18% of respondents were male compared to 24% this year.)
The largest group of caregivers is in their 60s (35%), followed by ages 50-59 and 70-79 (each age group represents 23% of respondents). Survey respondents are also trending older, with more in their 70s and fewer in their 50s compared to years past. (In 2010, for instance, 41% of survey participants were in their 50s—there were 18% fewer fifty-somethings this year.)
Who are they caring for? Most carees are either the caregiver's parent (32%) or spouse (24%). Over the years, the number of respondents caring for a mother or father has always surpassed those taking care of a spouse, relative or friend, but today nearly one in four now report caring for a spouse. (In 2010 that number was just 14%.)
Multi-Tasking is the Norm
The average caregiver rarely has just one or two related responsibilities. "Multitasking" might as well be her middle name.
Consider Caring.com's 2015 survey results:
• Shopping for food and personal care items take the cake (85%) as the most popular caregiving tasks. Other top responsibilities include attending their loved one's doctors' appointments (82%), managing finances or paying bills for the caree (81%), providing transportation (77%) and communicating with friends and family about the loved one's condition (74%). These figures are all up from the past three years. In 2012, for example, 73% of caregivers said they managed their loved one's money; today that number is 81%.
The list of common caregiving tasks also includes giving or keeping track of medications, preparing meals, cleaning the house, bathing or personal hygiene and visiting a loved one who lives elsewhere.
This year's report shows caregivers have taken on more labor-intensive tasks, from bathing and personal hygiene (42% this year versus 32% two years ago) to dressing, (42% compared to 31% in 2013), and helping the caree use the toilet (29% compared to 20% two years ago).
Working Caregivers Getting Slammed at Work and at Home
Without question, even if caregivers don't hold down a professional job, they've got a full-time personal one. But more than a third of respondents say they do both – with 20% working full-time and 15% who are either working part-time or are self-employed.
Working caregivers tend to face job distractions, schedule disruptions, absences and even reluctant departures from the workplace.
Consider this eye-popping figure: 71% of survey respondents say caregiving has had a negative impact on their job. That number is up 11% from 2014.
The survey uncovers significant impacts on working caregivers:
Most (88%) have felt some work repercussions related to caregiving
Two-thirds say they're distracted on the job due to their caregiving responsibilities
More than half (55%) have had to change their work schedules
Nearly a quarter (23%) have arrived late or left early, 19% have missed substantial amounts of time and 19% think they may need to leave their job permanently because of their caregiving obligations
Up until last year, 57-year-old Kathryn Camille Bunch was a special education teacher in Austin, Texas. "It was too hard remaining at work and dealing with issues by phone with Mom's hired caregiver," she says. Bunch was paying the caregiver $2,400 a month from her mother's retirement savings and her own funds.
"My school district supported 'family first,' but it upset my boss that I had to take off or miss work due to Mom's issues," she recalls. As her mother's health declined, Bunch decided to leave the classroom altogether.
Retirement Planning on the Backburner
When caregiving is all-consuming, it can be hard to focus on anything except getting through the day. Of course, it can also have the reverse effect, prompting others to think about their own future and make a plan.
Before she stopped working three years ago, 74-year-old Roshan Khaki was an Atlanta, GA, dietician and diabetes educator. Today, she cares full-time for her husband, who has both degenerative arthritis and Chronic Obstructive Pulmonary Disease (COPD). "I often think, 'What if something happens to me?' but I haven't had time to consider my own future," she says. "I'm worried but at the same time, I will cross that bridge when I come to it." Perhaps, she says, she will move in with one of her two children or live in a condo, but she has yet to explore her options.
Khaki's situation is consistent with other respondents who don't have plans in place for their older selves. Caring.com's just-released survey points to a lot of caregivers in the same boat:
The majority (78%) don't have long-term care insurance
Close to half (49%) have no life insurance or burial insurance
Nearly 50% haven't planned for retirement
More than half (55%) haven't tackled estate planning
Very few have made plans to move to a retirement community (8%) or to independent living communities (7%)
This year's survey findings illuminate how caregivers are faring—and the far-reaching impact that role has on their lives. The financial costs are higher than ever – with caregivers spending larger sums on their loved ones—in some cases, a whopping $50,000 or more a year. Meanwhile, more caregivers are having to make workplace sacrifices, sometimes calling it quits altogether. And when they're home? They're busier than ever tending to their parent or spouse, and performing tougher tasks. Theirs is hardly an easy place to be.
Can you relate to any topics in the study? We want to hear how they apply to you. What questions would you like us to ask in 2016?
Photo of Camille Bunch with her mother, Nan Howard.
Senior Care in 2015 | Next: The Emotional Costs of Caregiving