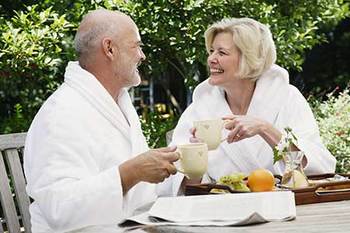 All Rights Reserved
Stroll through a modern continuing care retirement community (CCRC), and you'd be forgiven for wondering if you'd strayed onto the grounds of a college campus or wellness resort. That group of people talking animatedly on benches under a tree—is that a book group? And that water yoga class in the pool; don't you wish you could join in? Then you notice what appears to be a neighborhood pub—are those mojitos the bartender is pouring from that icy pitcher?
Next: Understanding Costs of Continuing Care and Retirement Communities
This is certainly not your grandparents' idea of a nursing home. In fact, with clusters of cottages, single-family homes, and elegant apartment complexes, many CCRCs look much like any other well-planned modern community—except perhaps prettier, better organized, and more walkable.
But it's not the landscape that stands out. It's the people. They aren't all in wheelchairs. Most aren't walking with an aide. Looking around, it's easy to see that you don't have to give up your independence when you move to a CCRC. In fact, these modern senior living communities can give you more independence than you're likely to have living on your own as you get older.
Independence in Senior Living
Freed from worries about home maintenance, transportation, and personal safety, you're able to participate fully in a busy, active life surrounded by like-minded people. Finding the right fit is an important part of the senior living search. Some communities are large and bustling, some quiet and serene, others cozy and intimate. The flavor will depend largely on location, who lives there, and what types of living, dining, and lifestyle options are available.
To figure out where you'll feel most at home, think about what's important to you. Some CCRCs are fitness and wellness oriented, with extensive sports facilities, health centers, and even golf courses, tennis courts, and playing fields. Some have active community theater troupes, musical groups, or choirs, or they offer dance classes and sing-alongs. Others are perfect for people who prize education, with classes and lectures led by visiting teachers or by fellow community members who like to share their interests and talents.
If community service is important to you, many CCRCs offer opportunities for volunteering with community organizations, schools, and churches. And if you're a homebody or prefer to walk in the woods, there are communities where privacy, nature, and quiet are prized.
Senior Living: Eating Well
Food is another area where there is wide variety. Whether you prefer homestyle cooking or your tastes are a bit more eclectic—running to Asian, Mexican, Indian, or other ethnic cuisines—you can find it. Then there are dining preferences. Do you typically like more formal fine dining with attentive service, or are you most comfortable in relaxed, casual settings? Or maybe you prefer to cook for yourself much of the time and want a well-equipped kitchen. When visiting communities, be sure to sample the various dining options and check out the residential kitchen facilities to find a situation that caters to you.
One thing CCRCs have in common, though, is that families tend to notice their loved ones "coming out of their shells" and discovering new interests, or rediscovering hobbies they let slide. Adult kids may marvel at a new fascination with art history or WWII battle tactics, or wonder when Mom or Dad took up tennis, ceramics, or hula dancing. Gardeners who gave up when their yards became overwhelming may rediscover the joy of planting and tending when they have help from the maintenance crew. If you once enjoyed neighborhood gatherings, card games, or concerts but have found your social life falling away, senior living can bring all that back into your routine.
And if you have a medical condition or worry about what will happen if your health declines, the additional levels of care and onsite medical services available in CCRCs can help you maintain your independence while getting the treatment you need.
A Chance to Connect
One myth many people have about senior living communities is that they will be isolated from other age groups. But with so much to do in a community, you may find your adult kids joining you for an art class, and your grandkids visiting to swim in the pool, grab an ice cream in the soda parlor, or play a game of ping-pong. Many people find that thanks to the availability of transportation, they actually go into town to shop, walk in the park, and attend local events more often than they did before moving. And not only are pets welcome in many CCRCs, you may find yourself joining a dog walking group or sharing care of a community cat.
The best way to dispel myths is to see for yourself. Visit a community, take a class, share a meal with residents, and ask them what they love about living there—when you find your future home, you'll know.
Learn More About Senior Living