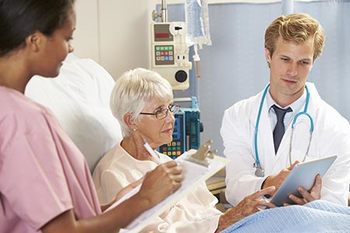 All Rights Reserved
For more than half a century, The Gerontological Society of America has been at the forefront of research and education related to aging. Based in Washington, DC, the GSA played a key part in the establishment of the National Institute on Aging and has helped plan every White House Conference on Aging. The GSA's many publications include such peer-reviewed and widely cited sources as The Gerontologist and the Journals of Gerontology. GSA Executive Director and CEO James Appleby explains why the GSA's work is more important than ever now, in a time when the baby boomer generation includes both caregivers and, increasingly, those who are themselves approaching their senior years.
Tell us about The Gerontological Society of America.
James Appleby: We were founded in 1945 and are the oldest and largest interdisciplinary membership organization devoted to advancing innovation in aging. With a focus on research, education, and practice, we disseminate knowledge among scientists, public and private organizations, policy makers, the media, and the general public.
We currently have approximately 5,400 members and provide a professional "home" for them -- whether it be through networking opportunities or outlets to present or publish their research. We hold a major Annual Scientific Meeting every November and publish some of the highest-ranked journals in the field. Our structure includes an educational branch; the Association for Gerontology in Higher Education; and a policy institute, the National Academy on an Aging Society.
GSA is a multidisciplinary organization, because solutions to complex problems require a broad approach. Thus, we foster collaboration between biologists, health professionals, policy experts, and behavioral and social scientists, and many others. Gerontology encompasses all these facets of aging, as well as aging across the life span -- not just among older adults, as some may think.
The Gerontological Society of America and its members are on the cutting edge of research into the myriad facets of aging. What new findings have encouraged you the most?
JA: It's known that perhaps 70 to 80 percent of the variation around average life expectancy is due to environmental factors rather than genetics. Through the work of our members, we're learning to what extent healthy behaviors can improve our quality of life as we age. So not only does this mean we're unlocking the path to people living longer, healthier lives but we can also be finding ways to save hundreds of billions of dollars in annual health care costs. And this further strengthens our resolve to find the root causes of the aging process that we can't yet control.
The average life expectancy in the U.S. reached 78.4 years of age in 2012. Biologically, psychologically, or socially -- what is the impact of people living this long?
JA: The impact of an increased life span is multidimensional. However, one thing is clear -- our increase in life span is a blessing and the result of hard-fought advances in public health, medical discoveries, and new research funding. Many of the issues have already become part of our national dialog. For example, how can people adequately fund their retirements if they're living longer? And what will their quality of life be like, both physically and mentally? But I want to state emphatically that it's not all worries. Long life also means that older adults will continue to be able to make meaningful contributions to their families and communities. We're already seeing increases in rates of senior volunteering and entrepreneurship. And the aging demographic is creating large global opportunities in areas such as finance, technology, nutrition, healthcare, architecture, travel, and leisure.
As a society, why is investing in gerontology research important?
JA: Take a look at the many institutes encompassed within the National Institutes of Health. You'll realize that the National Institute on Aging is one of the very few that studies issues impacting the entire population. Regardless of whatever health conditions a person faces, everyone ages. And as we discussed above, the average American life expectancy is at an all-time high. By 2030, the Census Bureau expects that nearly a fifth of the country's population will be 65 or older. That also means we need to make sure that we have an adequate care workforce in place to handle this demographic shift.
In what areas of gerontology research are we finding the most success?
JA: The dozens of journal articles we publish each month are a treasure trove of new information. We're making progress in learning the early origins of adult health. Many conditions and experiences in childhood are shown to be related to problems in later life. Similarly, research also is tying lifestyle factors such as diet, exercise, and smoking to cognitive performance among older adults. And as the large numbers of baby boomers age, there will be increasing calls for data relevant to this population. Disasters in the past decade have already spurred interest in how to aid older adults in times of crisis. We are also seeing quite a few studies that document the full extent of caregiver burden.
Conversely, what area of gerontology research is most in need of funding and awareness?
JA: All areas are equally important. Part of GSA's mission is to fight for adequate funding for research on aging, whether it be for well-known issues like Alzheimer's disease and other dementias or emerging topics that investigators are just beginning to explore. For example, GSA just held a summit where we addressed unanswered questions on how older adults utilize over-the-counter medications. We also recently launched a project aimed at increasing awareness of the benefits of adult immunizations.
What is the conventional wisdom as to why women, on average, live longer than men?
JA: Our members have looked into this in a number of studies. And the answers they've found may just be symptoms of larger processes. Women tend to see the onset of problems like heart attacks and strokes later in their lives, for one thing, but the underlying causes are a little tougher to pinpoint. Women being more iron deficient than men, on average, is a possible explanation for this delay in cardiovascular disease. There may be some genetic factors as well, but behavioral factors likely play a bigger role. Studies show that men have higher rates of smoking, eat foods higher in cholesterol, and are worse at managing stress.
There is a billboard off the highway near Caring.com's office here in the Bay Area that says, "The first person to live to 150 is alive today." What are your thoughts on the issue of life extension?
JA: It's important to distinguish between life span, which is how long a person lives, and health span, which is how long a person lives in good health. In any case, extending a person's health span is of utmost importance to us. Many of our members would argue that human longevity has a definable limit, while others hope to prove that scientific research can lead us to break this limit.
How can people get involved with GSA?
JA: There are many ways. Those with a strong interest in gerontology can join our Society. Others may wish to attend or present at our Annual Scientific Meeting. We rotate each year throughout major U.S. cities, and it's a great way to meet the people who are leading cutting-edge research in our field. This year we'll be in New Orleans from November 20 to 24. Our journals are always accepting new submissions, too. We also welcome support for the GSA Innovation Fund, which is an annual giving campaign used to develop new programs, products, and services for our members. Our website, www.geron.org, has much more information on all that we do.