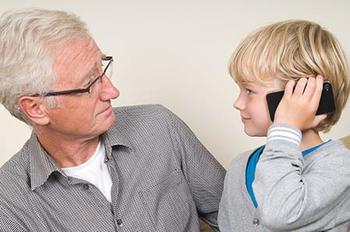 All Rights Reserved
If you're between 20 and 40, you're probably not thinking much about taking care of others -- you're learning to take care of yourself at this time in your life, or you're starting a young family of your own. But the truth is, you may have a lot of family and friends who will need your help in that not-so-distant future.
Trends reported by the World Health Organization say the proportion of older people requiring support from adults of working age is increasing, from 10.5 percent in 1955 to 17.2 percent in 2025. At the same time, people less than 20 years old will fall from 40 percent now to 32 percent of the total population by 2025.
If your parents think you spend too much time looking at that smartphone, you can tell them that sooner or later it may save their lives. You are the caretaker of the future, and your smartphone will be essential to the task. We asked Robert Scoble, leading technology visionary and coauthor with Shel Israel of the book Age of Context, what the future of caretaking might look like. He says, "Contextual services using mobile devices will monitor all sorts of health indicators, including whether or not you have fallen and need medical attention." There are a wide variety of digital devices seniors can wear that will continuously report essential health data such as temperature, blood pressure, and blood sugar levels for diabetics, and even give data about physical mobility.
The caretaker of the future will need digital data to be sure multiple aging family members are being monitored and to link to medical professionals enabling them to live well in their senior years.
Here are a few tips to get you to thinking about your future role as a caregiver and what to do to prepare now.
Teach older family members about smartphones.
Get your senior family members and friends comfortable with using a smartphone and tablet computer now; sharing photos of yourself and of their grandchildren helps get them hooked.
Explore the option of genetic testing.
This can be a difficult topic to broach, but you may be able to bring up genetic testing in the context of your own family planning. They won't balk at helping you plan your family. When deciding to go this route, be aware that genetic testing is not completely predictive. These options are genetics analyzed with painless tests such as 23andMe or ancestryDNA. It may make planning for their senior years and predicting what care they may require much easier. No one wants to know they're looking at a future of a difficult and debilitating illness, but genetic testing will allow the family to discuss plans together before elders are physically sick or mentally disabled.
Encourage them now to use a health monitor -- while they're healthy.
Buying them a gift of a pedometer or new digital monitoring device like Fitbit, which keeps track of daily activity, can help them get ready for using them more in the future.
Open a conversation about where they'd like to grow old.
Most parents don't want to burden their children with their future wishes for themselves. Your parents may be far from being in a nursing home, but you can help create a healthy precedent about this tough issue by starting the conversation early. With the help of the Internet and consumer reviews, it's easier than ever to see what senior living options through the online Senior Care Directory. You can inform yourself about nearby communities, care options and read reviews long before your parent even needs it. Estate planning has always been a part of senior caregiving, but where they live now and how to organize housing that connects them to others is important to solving future caregiving challenges.
Seniors are living longer and healthier lives, but they will still require caretaking. In the 1950s, average life expectancies meant your parents might have needed care until they were about 68 years old, but not much beyond. Now your parents may be part of the fastest growing senior sector -- centenarians. Yes, they may need care from retirement at 65 until they reach 100. With digital mobile devices, help is on the way.

Previous: The Digital Caregiver | Next: Full Caregiver Identity Series