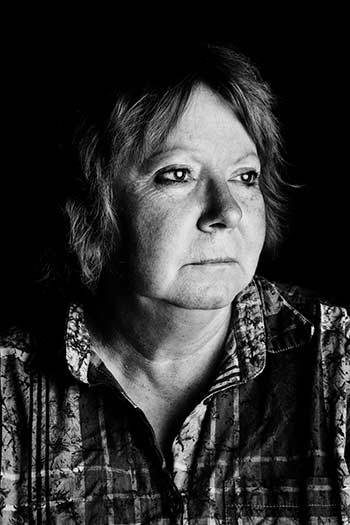 All Rights Reserved
It started when she was in her early 40s. Shirley was recently divorced and raising her teenage son while also helping her older parents with doing light housekeeping, navigating insurance claims, filling prescriptions at the pharmacy, cooking the occasional meal, and acting as a taxi service so her parents could attend church services (her mother never learned to drive and her dad had recently given up the keys due to macular degeneration). Although her brother lived in the same community, he was "too busy" with work and his wife and kids to offer help to his parents or to Shirley.
Her caregiving carousel began simply and slowly, but as the years progressed and her parents' health began to deteriorate, Shirley found herself overwhelmed and on a ride that kept whirling faster -- and that she felt she couldn't get off.
Shirley is one of the nation's 24 million "sandwich generation" caregivers -- those squeezed between caring for children while also caring for older parents. She was also part of a certain segment of caregivers -- those caring for multiple loved ones at the same time, which in Shirley's case lasted for more than 25 years. And while a Pew Research study found there has been an increase in men as caregivers -- 45 percent now, up from 34 percent just a few years ago -- women are still perceived as the natural nurturers. Women become the default caregivers more often even though shifting family dynamics and economic realities are closing the gender gap.
We've identified common characteristics of the female caregiver and simple tips to help you cope.
SEE ALSO: Find In-Home Care Help Near You
You don't ask for help when you need it.
"We tend to think women would naturally ask for help as caregivers. After all, they seek help with childcare -- for everything from carpooling to play dates. But the opposite is actually true when it comes to caring for our parents," says Carol Abaya, a nationally recognized expert in elder/parent care and aging issues who writes and publishes the Sandwich Generation magazine. "Maybe it is because they don't want to admit their parents are becoming 'needy' and don't want to admit times are tough."
Tip: Arrange breaks from caregiving. You can find respite care help in several ways. Professional respite is where a companion can sit with your parent to give you a break to run errands or take care of yourself. You can also create your own private online volunteer community, giving family and friends who offer help a chance to sign up for a task through free services such as LotsaHelpingHands.com or CaringBridge.org.
You have a hard time saying no.
Caregivers like Shirley have a hard time saying no or setting boundaries, since their role in the family has been the "good daughter." But the slippery slope for caregivers, especially women, is the health risks associated from taking care of everyone except themselves.
Tip: Join a support group. Support groups are great "boot camps" where caregivers learn to find their voice. A Caring.com survey found 41 percent of caregivers join social networks or online discussion groups or forums -- the most used source of support for caregivers. The survey also found 57 percent of those caring for an older parent report feeling guilty. Being able to talk to others about the emotional side of caregiving can not only help alleviate stress but also feelings of guilt and depression when you learn you aren't alone in your feelings. At the encouragement of her now 39-year-old son, Shirley finally reached out and joined an online support group for caregivers of Alzheimer's patients when her mother was diagnosed with the disease. It became her lifeline, and her new online friends encouraged Shirley to find time for herself -- to get her hair done or just go for a walk.
SEE ALSO: Find In-Home Care Help Near You
Your own health has taken a toll.
A Commonwealth Study found that caregivers are twice as likely as the general population to develop chronic illness earlier in life due to the stress of caregiving. For women, the risk is heightened, as illustrated in a study conducted by researchers at Bowling Green State University. Observing both men and women who were caring for an older parent, researchers found men take a "block and tackle" approach to caregiving. Researchers found women overanalyze their caregiving performance all day long, adding to their stress levels.
Tip: Learn to "block and tackle." While women are more natural nurturers, they are also worriers. Men are more likely to check off daily responsibilities and move on. Learn to let things go -- tell yourself it is enough that you are providing the care and try not to dwell on your caregiving performance. What can help is to keep a checklist of all the things you have accomplished during the week -- it gives you a sense of fulfillment for what you have done for your parent and helps you go from "guilty" to "grateful."
You're stressed out by all your responsibilities.
The National Alliance for Caregiving reports caregivers who provide care for five years or more report higher stress levels than those who care for less time. For those caring for a loved one with Alzheimer's, stress is reported by 60 percent of caregivers as "high" or "very high," and one-third report also suffering from depression.
In the book So Stressed
, by Stephanie McClellan M.D. and Beth Hamilton, studies show the evolution of women's biology over the last 100 years has not caught up with the expanded roles that women play in today's world, including motherhood, careers, and caregiving. In addition, the authors found advances in communication technology negatively impacted female bodies' defenses to protect and heal. Constant disturbance of peace with chiming texts, e-mail notifications, or ringing cell phones puts caregivers on high alert at all times and actually creates isolation rather than connection.
Tip: Learn how to relax. Learn to "unplug" -- turn off the cell phone, TV, and computer for 15 minutes every day and sit quietly, or take 10 deep breaths to clear your mind. Yoga and meditation are also great "healers," helping the body relax. A UCLA study found that 12 minutes of yoga or meditation daily for 8 weeks helped strengthen the immune systems of caregivers of dementia sufferers by reducing their response to harmful inflammation and lowering their blood pressure.

Previous: The Family Caregiver | Next: The Male Caregiver