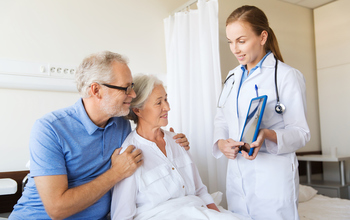 All Rights Reserved
Over the last three years, new laws in support of family caregivers have swept the country, and there's now some variation of the CARE Act in effect in nearly three-quarters of the U.S.
Individual states have been passing these new laws -- dubbed the Caregiver Advise, Record, and Enable or CARE Act -- which requires hospitals to work more closely with family caregivers when admitting and discharing their loved ones, in order to ensure a smoother transition of care. These laws are based on model legislation developed by the American Association of Retired Persons (AARP). AARP has been lobbying states to participate and has found broad support.
What Does the CARE Act Include?
Though the specific provisions in the laws vary from state to state, the CARE Act generally institutes three basic reforms:
It requires hospitals to let patients identify a family caregiver when they're admitted.
It requires hospitals to notify the family caregiver in advance when the patient will be discharged.
It requires hospitals to instruct the family caregiver about any necessary ongoing treatment.
Caregivers aren't limited to family either -- they can be a friend or a neighbor too, as long as they're identified by the patient. The legislation is designed to help keep caregivers in the loop on hospital stays, give them time to prepare, and be more confident in administering ongoing care.
Where is the CARE Act Available?
If you are a caregiver in the following states, you are protected by the CARE Act:
Alaska
Arkansas
California
Colorado
Connecticut
Hawaii
Illinois
Indiana
Kansas
Kentucky
Louisiana
Maine
Maryland
Massachusetts
Michigan
Minnesota
Mississippi
Montana
Nebraska
Nevada
New Hampshire
New Jersey
New Mexico
Ohio
Oklahoma
Oregon
Puerto Rico
Rhode Island
Texas
U.S. Virgin Islands
Utah
Virginia
Washington
Washingon D.C.
West Virginia
Wyoming
To see where your state stands, check out AARP's CARE Act map.
Why is the Care Act Important?
"It's kind of a blockbuster story of bipartisanship," said Elaine Ryan, vice president of government affairs at AARP.
"Research found increasingly people were being discharged to family caregivers, doing medical tasks like giving injections that at one point had only been performed by medical professionals," Ryan said. "The CARE Act is really a commonsense piece of legislation that we would hope would result in fewer re-hospitalizations."
A 2012 study by the AARP Public Policy Institute and the United Hospital Fund found that 46 percent of family caregivers were being asked to take on difficult tasks like injections, wound care, managing multiple medications or operating special equipment.
It also concluded that many weren't receiving enough guidance on how to perform these tasks and were fearful of hurting the loved ones under their care.
Ryan, once a caregiver herself, said she remembers well the challenges that came with it.
"I had experience of learning on my own how to operate a respirator, how to administer a nebulizer," she said. "The idea that prior to discharge you should be shown how to operate a medical device that you, hours later, will be operating on your own is what we're trying to achieve here."
The Evolution of the CARE Act
Oklahoma passed the first iteration of the CARE Act in May 2014. Since then, some version of it has been passed in 39 states and territories as of July 2017, and it's on track to become law in six more states.
Many lawmakers drew on their personal experiences in choosing to support the bill, including the sponsor of the first CARE Act in Oklahoma, Republican state Sen. Brian Crain.
Now termed out of the state legislature, Crain is back in private practice with the Hanson and Holmes law firm in Tulsa, which focuses on probate and guardianship actions. He looks back on the passage of the CARE Act as something he accomplished in the state legislature that had a real impact on people like his father.
"It was too late in coming," Crain said. "If we were farsighted enough we should have been doing something like this 20 years ago. At least other people who are following have the benefit of these opportunities."
Crain's father became the caregiver for his elderly mother more than 20 years ago, when she was washing the windows outside on a hot summer day and fell off a ladder, suffering a brain injury. She recovered but was never the same. Four or five years later, she was showing signs of dementia, Crain said.
"It was incredibly hard on my father," Crain said. He became her primary caregiver for the last five years of her life and was lucky to get out of the house for an hour a week.
"That experience made me recognize all the challenges that come with age. We need to provide for caregivers, we need to provide some help," Crain said.
His father had a difficult time understanding the complex instructions in the documents provided by the hospital.
"He was left with, in many circumstances, getting the paperwork that was given my mother who was not really capable of fully understanding it on even her best days," Crain said. "My father would take that and he would get on the Internet and try to reason his way through what he understood they were saying."
Years later, when he chaired the state Senate Health and Human Services Committee, Crain says he immersed himself in health care issues, studying the issues facing hospitals, nursing homes and home caregivers.
"I knew that unless the hospitals were faced with some sort of statutory responsibility for including the caregiver in the treatment plan, we're missing a trick," Crain said.
Some hospitals in Oklahoma were reluctant to sign on, primarily because of potential conflicts with federal medical privacy laws like the Health Insurance Portability and Accountability Act or HIPAA, which sets strict limits on who can see medical records and why. Oklahoma had to tweak the legislation to assure hospitals they wouldn't be running afoul of federal law.
Implementing the law
There's been some pushback from hospitals in various states, Ryan said, but either because they objected to new regulations or at times argued that they were already doing what the legislation proposed and that it didn't need to be mandated. In those cases, state or AARP officials might work with the hospitals and determine how to improve communication with caregivers.
With the law now passed in so many states, that kind of education campaign is the main challenge facing AARP at this point.
To that end, AARP and other policy researchers are monitoring how the CARE Act is implemented in hospitals, visiting them, talking to administrators and nurses, and making sure that the policies are being followed with an eye out for any innovations to suggest to other hospitals.
The state-by-state approach has led to innovation or improvements on the CARE Act in various states. New Jersey, the second state to pass the legislation, allows for caregivers to have either a live demonstration of required treatment or to view an instructional video. It also requires hospitals to provide a phone number in case any questions come up.
To bring better instruction and education to family caregivers, AARP also launched a new campaign last year called the Home Alone Alliance in collaboration with the United Hospital Fund, the University of California, Davis School of Nursing and the Family Caregiver Alliance.
The Home Alone Alliance aims to coordinate research and outreach campaigns, but also offers direct education to caregivers through a series of instructional videos on a variety of topics that might vex caregivers, like how to help someone from a car to a wheelchair, prepare a home for mobility or what to do in case of a fall.