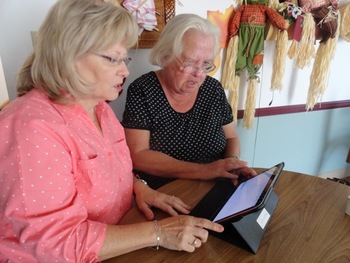 All Rights Reserved
Caregivers of Central Jersey volunteer Dori Prejs helps Katherine, 85, learn to use a tablet.
Daniellah Salario's late uncle Isadore "Spin" Salario was known throughout the Chicago suburbs as one of the most successful and well-liked Illinois basketball coaches of his time. His decades-long career was punctuated by several high school and college championship titles, and his ceaseless passion for the game led to a celebrated tenure as Northwestern University's athletic director.
But as he got older, Isadore's health and mobility declined, and by age 89, the former courtside regular was completely homebound. It was a trying circumstance that would have left him feeling entirely socially isolated, but something that many younger generations today take for granted gave him a crucial lifeline to the outside world: email.
"My uncle never married or had kids. His life was pretty much dedicated to basketball," says Salario, owner of Assisting Hands Home Care in Arlington Heights, Illinois. "And even though he couldn't drive on his own, he was able to stay connected with former players through email. He was like a father figure to some of those guys and he looked forward to those emails every day. It's what he woke up thinking about and it fulfilled him in very significant ways."
Online interactions keep seniors connected, despite generational differences
The late basketball coach's experience with technology is becoming increasingly common among elderly adults. According to Salario, contemporary technology and social media platforms have helped many of her clients feel a sense of connectedness that otherwise wouldn't be possible.
"I've seen clients Skype with grandkids halfway across the country and build valuable social networks online," says Salario. "And for someone who is homebound, those little glimmers of social interaction are a big deal and a bright spot in their day."
These are precisely the types of anecdotes social worker and therapist Robert Weiss had in mind when he wrote an online essay for the University of Southern California earlier this year, titled "Understanding and Combating Social Isolation in the Digital Age."
According to Weiss, contemporary technologies and the ubiquity of social media are often framed as socially isolating innovations that draw us away from personal interactions with friends and family. But for seniors, outlets like Facebook, Skype, and email can be invaluable tools for combating the social isolation that sometimes comes with aging.
"Despite generational differences, older people can learn to enjoy, trust, and connect in meaningful ways through technology," wrote Weiss, whose published work includes the recent book "Closer Together, Further Apart: The Effect of Technology and the Internet on Parenting, Work, and Relationships."
"In fact, older individuals, if they are taught to use technology effectively, can benefit from digital interactions as much as if not more than younger people," he says.
Weiss points out that the Internet not only allows otherwise lonely and isolated seniors to video-chat with grandchildren and distant family members, but also that learning digital skillsets like emailing, text messaging, and web searching expands an older adult's ability to reconnect with old friends and discover new outlets for creativity and stimulation.
"You see time and time again that the most troubled among us are also the most isolated. It's social interactions that heal our souls," says Weiss. "In older individuals, social isolation can play a role in contributing to or worsening illness and even addiction. So finding ways of bringing them into connection with others is critical."
Weiss admits this may be easier said than done, as generational differences between seniors and younger caregivers can present obstacles to using technology as an antidote to social isolation. And the barriers, he says, come from both directions.
First, older Americans are often resistant to or fearful of learning and embracing new technologies, despite their obvious benefits.
According to a 2015 survey conducted by Brookdale Senior Living — the nation's largest senior housing provider — 58 percent of seniors over 80 believe technology can improve communication with family and friends. However, 47 percent of those surveyed said new technology takes too much time to learn, 46 percent said it's too difficult to keep up with recent tech trends and 41 percent said new technologies are simply "too complicated."
Secondarily, Weiss points out that younger Americans are often too impatient and dismissive of older Americans' fears and frustrations surrounding new technology.
"This is where young people need more empathy," says Weiss. "We need to make access easier. We need to find ways of raising their interest. And it's ultimately about making technology less scary for older people while also not infantilizing them or being condescending as we try to help them connect."
Indeed, the benefits of technology and online social media are virtually limitless for older, socially isolated Americans, says Lynette Whiteman, executive director of Caregiver Volunteers of Central Jersey, a nonprofit that helps homebound elderly adults in Central New Jersey remain independent. And Whiteman has seen these benefits firsthand.
Help from younger generations can make an impact
In 2015, Whiteman's organization was awarded a grant from the National Council on Aging and the Verizon Foundation to teach 25 of her homebound care recipients to use a tablet and to incorporate the Internet into their daily lives. The seniors who volunteered for the program were between 70 and 87 years old, and none of them had ever used a computer or been online.
Every week over the course of a year, caregiving volunteers taught these care recipients how to do things like send and receive email, conduct Google searches based on their interests, navigate Facebook, and go on Skype calls with distant friends and family.
"One of the women who participated in this program was 87 and used Skype to chat with her grandchildren in Texas. Because of her health issues, she had never met them before, but now she was able to see them for the very first time," says Whiteman. "This was one of the most exciting and successful programs we've ever run."
What's more, Whiteman says the program's participants began making discoveries based on their own unique interests, which included everything from streaming National Public Radio to watching YouTube videos of favorite musicians or scouring websites of popular art museums that they would never have had an opportunity to visit in person.
Whiteman admits that at first, many of the participants were fearful and intimidated by the tablet and their unfamiliarity with the Internet. With the patient, persistent help of volunteer coaches, though, the initially steep learning curve became less of a roadblock.
"Exploring new technology takes a certain degree of bravery for older people, and if you're responsible for teaching them, it's so important to be patient," says Whiteman. "Go slow. Find out what interests them. And don't make them feel like a burden or that they're asking stupid questions. Know that it's going to take time before they're comfortable."
Like Weiss, Whiteman sees vast potential for technology to play a crucial role in easing the pervasive problem of social isolation among senior populations, which she notes is "almost as detrimental to people's health as smoking 15 cigarettes a day."
"We're now starting to ask seniors if they're connected to the Internet, because it's one more tool to help people connect with one another and decrease their isolation," says Whiteman. "And I want to encourage seniors out there to not be afraid...You have no idea what you might be able to discover or who you might connect with."