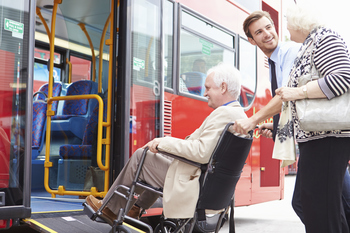 All Rights Reserved
The American population is graying: by 2050, about one in five Americans will be seniors. With this in mind, cities across the U.S. are finding ways to adapt and become more "aging-friendly." That can mean many things, from re-designing communities to include better housing and transportation options, or safer, more easily navigable streets to creating more opportunities for seniors to participate in community life and maintain strong social networks.
But according to Dr. Andrew Scharlach, Professor of Aging at the University of California at Berkeley's School of Social Welfare and co-author of the recently published "Creating Aging Friendly Communities," most U.S. cities are failing at this.
We sat down with the professor to find out what makes a place "aging-friendly" and what cities and individuals can do to promote better environments for seniors. Below are some interview highlights.
On what makes a community aging-friendly
When we talk about being responsive to the needs of community members as they age, there are a number of parts of that. One is for people to be able to be safe and secure in their homes and in their communities at any age, but particularly as they grow older. Another part of that is being able to get where they need and want to go easily, and another part is to be socially engaged in their communities with friends and social networks. And then finally it's well being -- physical, psychological and social well being.
On how communities are changing to accommodate seniors
There are now about 60 communities in the U.S. that have declared themselves aging-friendly communities in a network with the AARP. There's much more conversation about aging-friendliness, and a lot of it is driven by the recognition that populations are changing and the community infrastructures are not well prepared. And some are frankly driven by the realization that some of those older folks have discretionary wealth and they would like those folks to spend it [in their city] rather than moving somewhere else.
On community planning to combat social isolation
People, as they age, start to become invisible. The majority of older adults live in suburban settings where people are very automobile-dependent. As driving becomes more difficult, and cars are not well designed for older drivers, it's easy to become much more socially isolated. So part of aging-friendliness is having older adults be visible and able to get where they need to go.
On the role of government in creating aging-friendly communities
In some ways, some of the more interesting things that have developed are…where there are either private or non-profit sector efforts being developed, then government plays the role of a partner. For example with the Integrated Transportation Network, local government can help pay for it and help make it available throughout the community.
Government can play a leadership role in terms of getting public attention as well as providing support that makes things available, not just for the haves, but for everybody in the community. Part of the problem is that many of the innovations fall outside of existing silos, they're not just transportation, or just housing or social services, they really combine a number of these. So sometimes government gets hamstrung because it doesn't have the right pot to put things in. Another thing is that there's so much pressure to respond to the current crisis, rather than doing the developmental, long-term preventive work that's needed to really transform a community.
On how senior living facilities factor into aging-friendly communities
There is a history of differentiating between "the community" and "residential care." I think what's happening now is that we're moving beyond that false dichotomy to understand the community as being a geographic and social environment that can include residential care facilities and senior living communities so that as we get older but as get older, we can maintain those social connections, and maintain our ability to go to our church or synagogue or mosque, to go to our hairdresser, to the store, to the restaurant, to see our friends, all of which is geographically defined.
So whether we're living in the home we've lived in for last 30 years, whether we're living in an apartment or a CCRC, an assisted living facility or a nursing home, we still want to maintain those connections. So ideally, every community should have opportunities for different kinds of supportive living environments so you can transition without losing your social connections.
On "aging in community"
If we change the focus from what has been called "aging in place" to what's been called "aging in community," I think that's what's needed. There's examples of that, but we don't give enough value to people's psychological and social well being, we seem caught up in people's physical well being but as we get older, there's only so much we can do about people's physical well being but a lot we can do to help socially and psychologically.
One of the real advantages of senior living communities is that they do provide an easy way to make those social connections. It's frankly one of the reasons people move to senior living communities, not just for the physical care but it really is for the social – in a way what it demonstrates is how weak those social supports are for people living on their own, so that they end up moving to an age-segregated environment so they'll have those social supports that aren't available where they are currently living.
On making aging-friendliness part of the conversation
It's going to take all of us to really recognize that we have choices to make. We can choose, when buying a house, to ask, "Is this going to be a good place for me to live in the next 20 or 30 years?" And what would it take, if you're remodeling, to ask, can you put in a railing, or when you're buying a car, to say, these bucket seats look really cool, and they remind me of days gone by, but am I really going to be able to sit in these seats for 5 hours?
And by the way, car dealers, do you have a seat for someone who looks like me rather than someone half my age, but a car that still looks spiffy? I think we as individual consumers have an important role to play in the choices we make in terms of products…there' s a lot more we can do to make our environments more aging-friendly.