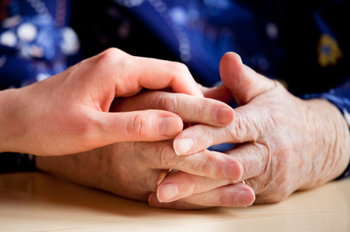 All Rights Reserved
You're not the first person to sit down to write a sympathy note -- and then wonder what to say. Sympathy note messages need not be long, but they are important, and welcomed by grieving family members. Before you pick up a pen -- and a handwritten note is far preferable to sending an e-mail or leaving a voicemail message -- here are some time-tested tips to help make the task less intimidating.
Don't wait. Sending a sympathy card or note that lets a family know they're in your thoughts is always better than silence. This is true whether the death has just occurred or you're only learning about it months after the fact. It's never too late to write a condolence note. But avoid including an explanation or an excuse for your tardiness; being busy at work or away on vacation will sound inconsequential in the context.
Be as brief or as long as feels right to you. Your note need not be lengthy; the most effective expressions of sympathy are often brief. The key ingredient is sincerity. The aim is simply for you to convey to the recipient the soothing message that you're thinking of him or her and sending support. But there's no hard-and-fast rule. If you have more to say that's focused on the person who died, you might enclose a longer condolence letter with your card.
Keep yourself out of it. Even if you haven't seen or contacted the recipient for a while, concentrate the content of your note on the matter at hand -- extending sympathy -- rather than on updating him or her about news of your life and other events. Also, resist the common tendency to inject recounting your own loss in the note such as: "I remember how bad I felt when my dad died" or "I will never get over losing Michelle." That can have the effect of feeling annoying or belittling to the person who has suffered the most recent loss, and who will need to mourn it in his or her own way.
Rely on common conventions if you don't know what to say. Wondering what to write in a sympathy card doesn't mean you need to reinvent the wheel. Phrases often used:
With deepest sympathy,
Our heartfelt condolences,
My heart goes out to you and your family.
I'm so sorry for your loss
____ will be sorely missed.
Your family is in my thoughts and prayers.
If the person who died wasn't well known to you, it's appropriate to simply include an expression like one of these and your signed name. For further inspiration, see our sample sympathy note for situations when you don't know the deceased well.
Get personal. Use the deceased's name rather than just a description of the relationship, such as husband, mother, or brother. For example: "I'm so sorry about John's sudden death" or "We'll all miss Maryann," rather than "Accept my condolences regarding your husband's death."
Don't be afraid to talk about the deceased. Some people think they're being more sensitive by not mentioning the fact that someone has died, or that doing so will only contribute to the mourner's sadness and grief. But many survivors say their favorite sympathy note messages contained specific comments about the person who died: an anecdote that captured the person's personality, comments on how the person inspired or taught them or made them happy. Celebrating the legacy of the person who died is always appropriate when you write a condolence note.
Skip the unpleasantries. This isn't the forum to dredge up past disagreements, mentions of sums owed, comparisons to other relatives' deaths, apologies or explanations for having been out of touch, or less-than-flattering words about the deceased.
Avoid platitudes about death. It's common to fall back on oft-heard clichés that go beyond expressing condolences but risk offending. These include: "God is watching over Adam now" or "Katherine is in a better place at last." Such clichés can be presumptuous and insensitive. There may be an exception if you know the bereaved through church or temple or a religious group or are a close friend and well acquainted with his or her religious beliefs. But it's still wise to proceed cautiously, as even the most devout religious adherents may find that their beliefs are shaken or broken for a time after someone close to them dies.
Let the words come from your heart. Think about how you're truly feeling, and say it in your own words: "Aunt Sarah was my favorite aunt because she taught me everything from how to knit to why I should read Jane Austen. I will miss her so very much." Or, "Mr. Smith was such a man of integrity and good humor; he was a wonderful example to every employee, and I feel proud to have worked for him." Not sure what to say? That's fair. Try: "I don't know what to say, but please know I'm here for you. I'm so sorry for your loss." Or, "I can't pretend to know what you're feeling, Susan. I'm so sorry."
For some extra help, you can see our template and sample sympathy note for situations when you knew the deceased. Or, if you weren't acquainted with the deceased but still want to express your sympathies to the bereaved, see our template and sample for that situation.
Mark your calendar. Some people choose to remember the grieving family on the anniversary of the death (or on a birthday, wedding anniversary, Mother's Day, Father's Day). Sending a card or flowers is appropriate. You can be sure you won't "stir up painful memories," because the grieving family will be remembering and will be touched by your thoughtfulness. Also, consider suggesting a specific date to get together. Be careful, though, to avoid being vague or leaving the onus of organizing a get-together on the griever. For example, rather than offer the open-ended "Call me if there's anything I can do," you might try: "I'm planning to make a batch of French onion soup, which was Larry's favorite. Let's share a bowl in his memory on Tuesday night." Or "The leaves are changing color. Let's take a walk through the park on Sunday afternoon."
Include your contact information. Although etiquette doesn't demand thanking or acknowledging someone who has sent a sympathy note, many mourners opt to do so and even find it therapeutic to reach out to others during the grieving process. Make it easy for them to find you by including your return address -- and be sure to include your full name if the recipient might not easily recall it.