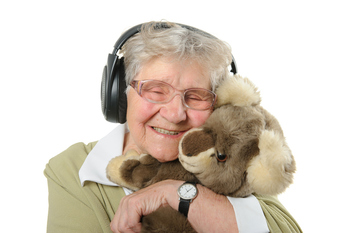 All Rights Reserved
As kids, most of us had a favorite teddy bear, stuffed kitten or other furry faux pet who comforted us through thunderstorms, difficult homework sessions and even first broken hearts. And in most cases, sometime between high school and having kids of our own, those fiber-filled toys are relegated to the back of closets, the donation pile or a long-forgotten box in the basement.
But geriatric mental health experts suggest that these child-like mementoes, or perhaps updated versions of them, can have a very specific and beneficial place in the lives of dementia patients.
Stuffed animals can represent an important connection for those living with dementia to the experiences of joy, comfort and even love, says Sharon Roth Maguire, a nurse practitioner and chief clinical quality care officer at national BrightStar Care.
"It is important to provide someone with memory or cognitive issues a sense of comfort and connection," she says, and notes that stuffed animals can help provide this reassurance.
"Studies have shown the use of stuffed animals with persons living with dementia can have a calming effect on individuals that might be experiencing anxiety or even agitation," says Maguire. "I have found that the use of such a comfort object like a stuffed animal can be very therapeutic."
It's All in the Senses
Much like the attachment a toddler experiences to his or her stuffed animal, seniors can feel that same sense of comfort and helpful support during distressing moments such as being unable to recognize a visitor, having trouble recalling a name or word or not remembering why they live where they do (for example, in assisted living instead of their own home).
"Stuffed animals can be powerful tools that prevent tantrums in children, and that same benefit can occur in seniors who are on the verge of an emotional meltdown because of dementia-related paranoia, fear, anxiety or confusion," says Susan London, director of social work at Shore View Nursing and Rehabilitation in Brooklyn, New York.
The sensory experience of touching or seeing a stuffed animal can trigger nostalgia that soothes and calms seniors with cognitive issues. The soothing nostalgic effect is similar to why listening to a certain song from childhood, or smelling a perfume that your mom once wore can bring feelings of elation and contentment. "In general, any positive memory from childhood is what "brings one back" to a happier time and place, and can assist the person with dementia in reliving certain moments that are no longer within their grasp," says London.
Family members can increase the effect with a stuffed animal that "talks" to its owner via a personalized message. Teddy bears made at national chain Build-A-Bear can have a sound box inserted in part of the toy that holds verbal or musical messages. "Customers can record a personalized message of love, inspiration, a memory, etc., on a sound box we embed in part of the animal during the stuffing process," says Maria Lemakis, a spokeswoman for Build-A-Bear Workshop, Inc.
London says that this addition can increase the therapeutic effects of stuffed animals for dementia patients. "Sound recordings of a family member's voice can further help trigger positive memories and bring upon a sense of calm," she says. "Should the family choose to create a personalized message such as 'Hi Dad, don't forget to eat lunch,' this can act as a helpful reminder to the person who may be frequently forgetful."
Those in the middle and late stages of Alzheimer's disease or other types of dementia may not be aware that the stuffed animal isn't a real pet and find great comfort interacting with the stuffed animal as though it was a beloved former pet. "They may wholeheartedly believe that the toy laying across their lap is a real puppy or kitty, and they make even think it is their duty to take care of their 'pet,'" says London.
Maguire adds that this can be a wonderful experience for many people, particularly those who may have been pet owners in the past. "For them, there may be nothing more soothing then being able to pet and care for their beloved 'Sparky' or 'Fluffy' one last time," she says.
Finding the Right Stuffed Animal
Keeping your loved one's interests in mind is the best way to choose the stuffed animal that's most likely to generate rewards. Maguire stresses focusing on the person's preferences; for example, consider whether Dad is a dog person or if your mom always had cats.
Another option is giving your loved one a clone of their favorite pet. Companies like Cuddle Clones and Petsies offer custom, handmade plush replicas of a dog or cat (other animals available by seller) for around $200 (prices vary by species, size, etc.).
And don't be afraid to have some fun accessorizing with collars, feeding dishes made for stuffed animals and even pet beds. "While interacting like this might seem juvenile, confusing or disorienting for an adult, to the person living with dementia it actually is quite the opposite," says Maguire. "This proves to be part of the interaction that produces happiness and joy when a senior cares for their pet."
No matter what type of animal you choose, Maguire says it's important to be patient and keep your expectations in check when offering a stuffed animal to someone with dementia. "Never force a stuffed animal on a person who doesn't want it," she says. And to increase a person's comfort, let them observe you interacting with the stuffed animal.
Just don't be surprised if you start to see results. You may even find yourself wanting to snuggle up with your own furry friend to stir those warm feelings of childhood, too.