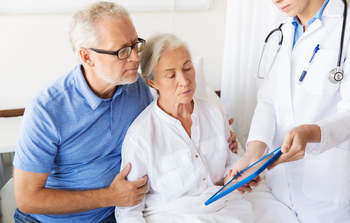 All Rights Reserved
America is aging--and it just might be taking a physical toll on everyone--especially spousal caregivers.
According to the U.S. Administration on Aging, there were about 50 million people 65 or older living in the U.S. in 2013, the last year for which figures are available.
By 2060, that number is expected to double.
The needs of older Americans are well documented, and the government has invested heavily to establish programs and services to protect their health, finances and dignity. There's an office for Elder Justice and Adult Protective Services. There is the Older Americans Act and Aging Network, and the Administration on Aging. All are designed to promote the well being of older individuals.
But there's an adjacent group that needs support and services, too – the people who provide care for aging loved ones.
Right now, there are more than 43 million family caregivers in the U.S., many who provide unpaid care for aging loved ones. Many have reduced the hours they work professionally or quit their jobs all together. More than a third report that they have difficulty finding time for themselves and as a result experience emotional and physical stress, according to the Centers for Disease Control and Prevention. Many of these caregivers are caring for an aging spouse. And it turns out, these caregivers may be at higher risk of having a stroke than those caring for a parent or other aging loved one.
According to new research, spouses who care for their husbands and wives and experience physical or emotional stress have a 95 percent higher risk of stroke than people who were similar to them based on 16 demographic categories including age, lifestyle and risk factors for stroke who do not need to provide care for a spouse.
The Study
The study, which was lead by Sindu Lakkur, a postdoctoral fellow with the University of Alabama at Birmingham's Department of Biostatistics, took place between 2003 and 2007. It included data from more than 6,000 caregivers and non-caregivers. Participants were at least 45 years old and included both men and women.
Caregivers were categorized as those who provided ongoing care to a spouse or family member suffering from chronic illness or disability. They were asked to track the amount of care they provided for their loved one as well as the amount of physical or mental strain they experienced as a result--either choosing none, some or a lot.
Then, researchers spent nearly nine years tracking the stroke rates for both caregivers and non-caregivers. What they found was that caregivers who reported moderate or high levels of strain while caring for their spouses had a much, much higher rate of stroke than non-caregivers and caregivers of other loved ones who experienced little strain.
Researchers found that in addition to physical and emotional stress, depression and isolation may have contributed to the higher risk of stroke.
Key Takeaways
The study concludes that there's a direct correlation between caregivers' perceived emotional and physical strain and their risk of stroke--especially for those caring for a spouse. Researchers also found that spouse caregivers may need targeted support.
While the increased risk of stroke may be news to spousal caregivers, the need for additional support probably isn't surprising.
The Centers for Disease Control reports that more than half of all caregivers say their personal health worsens while caring for a loved one. In addition, many caregivers say they don't visit the doctor for their own needs as often as they should because they're dedicated to putting the needs of their loved ones first.
This is admirable, but not sustainable in the long term. And that's why it's crucial for caregivers to find effective ways to manage their stress.
Managing the Stress
In addition to an increased risk of stroke, the stress of caring for a spouse has been shown to lead to an array of health problems, including high blood pressure, diabetes, high cholesterol, heart disease and weight gain.
To avoid these issues, caregivers need to manage the strain they're under. Experts recommend the following:
Take breaks. While many caregivers feel compelled to provide 24/7 care for their loved ones, breaks are essential. Time away allows caregivers to detach mentally and physically, and there are many government and non-government programs available to provide opportunities for breaks. In addition, many senior living communities offer respite care, which allows caregivers to take breaks knowing that their loved ones are in good hands.
See the doctor. Regular checkups are essential to identifying and addressing emotional and physical problems before they get worse.
Exercise. Many of the health issues associated with being a caregiver are heart-related. Exercise is critical to getting the heart pumping, maintaining physical strength and reducing stress. Finding time to exercise may seem difficult, but it's a long-term investment in health.