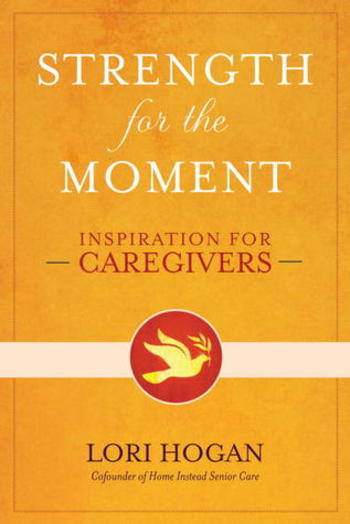 All Rights Reserved
While the role of caregiver can be rewarding in many ways, it can also be physically, emotionally, and psychologically exhausting. In her new book, Strength for the Moment: Inspiration for Caregivers, Lori Hogan, cofounder of Home Instead Senior Care, combines inspiring stories, faith-based lessons, and practical advice to provide encouragement and support to the many people in the role of caregiver.
Why this book now?
Lori Hogan: I wrote Strength for the Moment because there are approximately 65 million caregivers caring for senior loved ones right now in the U.S. That is about 1 out of every 3 adults tending to the needs of seniors. Every day at Home Instead Senior Care, we see the challenges family caregivers face, and caregiving can be a daunting task -- especially if the person has no one to assist them. I wanted to salute the unsung heroes in our communities and households who go unrecognized for their hard work, compassion, and devotion to seniors and special-needs loved ones. My hope is to offer those people inspiration and encouragement for their caregiving situations.
What is the inspiration behind the book's title, Strength for the Moment?
LH: I wanted to explore the emotional and spiritual side of caregiving. I found from listening to caregivers over the years that caregiving can be an emotional roller coaster. One moment you feel joy and contentment, the next moment you may feel guilt or resentment, then frustration and exhaustion. These feelings are absolutely normal. I realized that for every situation caregivers encountered throughout their day, many caregivers turned to the Lord at that moment for strength, guidance, and comfort.
Faith is a constant theme throughout the book. What role does faith play in caregiving?
LH: Faith played a major role in most of the stories told by our contributors. Many people shared their God lessons they learned throughout these pages to help inspire other caregivers to give the best care possible for their loved ones. I included Scripture and prayers to encourage caregivers to lean on the Lord for His strength and guidance to get them through those challenging times with an elderly parent or special-needs child, and to celebrate the joys and rewards that God sprinkles throughout our day as well.
Of the many caregiver stories told throughout the book, which are most inspirational to you?
LH: There are so many stories in this book that have inspired me to be a better caregiver for my family or made me look at a situation from a different perspective. I love the story "Butterfingers" and "Laughter Is a Precious Gift," because they both taught me to use God's gift of humor to lighten some tense moments. I heeded the warning in a story contributed by a woman named Danielle -- "The Caring Doesn't End" -- to have the difficult conversation with my parents around their senior care wishes. And I was so touched by a story contributed by Jim -- a great example of a loving, devoted husband as he cared for his wife who was dying of cancer in his story, "God Is Good and Does Right." He relied on the Lord for hope and comfort every step of the way and knew God would bring something good out of his terrible circumstance.
What is the most important advice you would give to someone who is just starting out as caregiver for a loved one?
LH: For first-time caregivers, it is important to know that you are not alone -- there are many others who are experiencing the same emotional roller coaster. As Rosalyn Carter once said, "There are four types of people in the world: Those who have been caregivers, those who are caregivers, those who will be caregivers, and those who will need caregivers." I believe we will all be in one of those categories sooner than later. To get started on your caregiving journey, it is important to know your senior care options within your community of family, friends, church or synagogue, social or professional services. An informed caregiver is a more successful caregiver, and it is important to reach out to these resources when help is needed. It is also important to remember to care for yourself and turn to the Lord when the challenges seem too difficult to handle.
Having such deep insight into the challenges caregivers face, at what point are they most vulnerable? That is, when are they most in need of strength and inspiration?
LH: Caregivers are most vulnerable when they try to care for a senior or special-needs loved one by their own strength and provision. When a caregiver is in need of strength and inspiration, I encourage them to go to the throne first and ask the Lord for patience to deal with a mother with Alzheimer's, pray for energy to make it through the challenges of the day, pray for wisdom to discern the best medical treatments for a father with cancer, or pray for the Lord to reveal the joy and blessing of someone so special to us before they pass away. Strength for the Moment is a book of inspiration and encouragement for family caregivers to remind them to turn to the Lord for comfort, guidance, and strength, because you are never alone -- the Lord is with thee!
Where can your book be purchased?
LH: Christianbook.com, amazon.com, and most Christian bookstores.