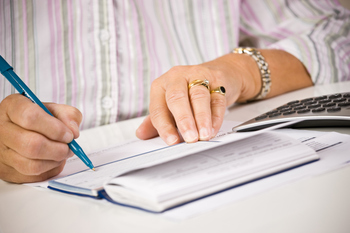 All Rights Reserved
Student debt isn't just a young person's problem anymore. As the cost of education rises, more Americans are carrying student loan debt later in life, either because they haven't finished paying off their own loans or because they're borrowing on behalf of their children or grandchildren.
According to a January report by the U.S. Consumer Financial Protection Bureau, the number of people 60 and over who are carrying student loan debt quadrupled from 2005 to 2015, the fastest growing age segment of the student loan market. Not only that, the average amount that each older American still owed nearly doubled over that time, from $12,100 to $23,500.
As of 2015, as many as 2.8 million older Americans owed an estimated $66.7 billion in student loans, according to the report. Most are helping family pay for school: in 2014, 73 percent of older American's debt was for a child or grandchild's education rather than theirs or their spouse's.
Some 62 percent of U.S. households have had to delay retirement to pay down student debt, according to Betsy Mayotte, the director of consumer outreach and compliance at American Student Assistance, a nonprofit that provides consumer financial education and debt counseling to students and colleges.
What's behind the growing student debt load for older adults?
After extensively researched the topic, Mayotte has found that older Americans holding student debt has escalated in recent years for various reasons: student loan repayment plans were extended in the 1980s and 90s, income-driven repayment plans extended them further, and the cost of education has skyrocketed as state assistance dwindles. Meanwhile, many families just don't have the resources they once did.
"We're finding families aren't saving as much for college as they used to," Mayotte said.
Patrick Simasko, an attorney with Michigan-based firm Simasko Law who has specialized in elder law for 25 years, said that in his practice he's encountered more and more older Americans struggling with student loan debt, most on behalf of family members.
"The lion's share of it is not their student debt, it's their kids and their grandkids," Simasko said
He said that those who have their own debt are usually people who changed careers at some point and borrowed money for new training. But most are people who co-sign on loans for their kids or grandkids to go to college or trade school. If the student doesn't end up earning enough to help pay back the loan, their co-signer is stuck making the payments.
Unsurprisingly, surveys showed that people holding student loan debt later in life also tend to owe other kinds of debt. As of 2013, 63 percent of older student loan borrowers also still owed mortgage debt, 67 percent owed credit card debt and 45 percent owed auto loan debt, according to the CFPB.
Student loan debt can have lasting impacts on older adults' financial health
"While the key driver of the debt for older consumers remains mortgages, student loans are becoming more common among the 62 and older population," said the bureau's report. "Student loan debt among older consumers has increased, in large part, due to the growing number of parents and grandparents participating in the financing of their children's and grandchildren's college education."
But unlike other forms of debt, borrowers are often unable to free themselves of student loans no matter how dire their situation, according to Simasko.
"For student loans typically they're not dischargeable. Even if it's horrendous, you can't get rid of them in bankruptcy," Simasko said.
Carrying so much debt can significantly complicate a borrower's financial situation later in life. Late payments for older Americans is on the rise: as of 2015, 37 percent of student loan borrowers 65 and older are in default, leading to potentially crippling consequences for federal borrowers, such as having their social security payments offset. Many seniors holding student loan debt have skipped basic health care needs like prescription medicine, doctors' visits and dental care because they couldn't afford it, according to the CFPB.
Sometimes in a co-signing situation, there may be a child or grandchild exploiting their elder and not only asking for help to pay for school, but potentially for credit cards, cars, or other debt, perhaps with the intention but not the means to pay it back, Simasko said. He recommends that no one co-sign a loan that they couldn't afford to pay back on their own to help avoid the situation and for families to look out for each other and make sure that their relatives aren't being taken advantage of.
But for those who do find themselves in a bad debt situation, they might end up on the receiving end of unscrupulous debt collection practices while not being made aware of potential avenues for recourse.
The CFPB has fielded hundreds of complaints from older Americans about student loans over the last year, including many reporting that lenders continue to attempt to collect debts that are not owed and others reporting aggressive and hostile communication tactics by collectors. There have been complaints that some seniors weren't allowed to adjust their payment plans after moving from a regular salary to a fixed income and that others who co-signed some loans had other loans they didn't sign allocated to them.
Protections for older adults with student loan bills
Some consumers might not be aware of protections available to them and may be facing unnecessary consequences like having their social security benefits offset. For someone in default who receives all of their money from social security, consolidating and rehabilitating defaulted student loans could allow them to pay nothing, according to the CFPB.
American Student Assistance has a website to help borrowers facing student debt burdens understand their options.
"There are options that are out there, I think it's important for people who are facing social security garnish to understand there are things that they can do," said Alle Lanza-Cosgrove, an ASA spokesperson.
Complaints to the Consumer Financial Protection Bureau can be made either online at www.consumerfinance.gov/complaint or by phone to (855) 411-CFPB.
The bureau's student loan ombudsman can be reached at students@cfpb.gov and the Office of Older Americans can be reached at CFPB_OlderAmericans@cfpb.gov.