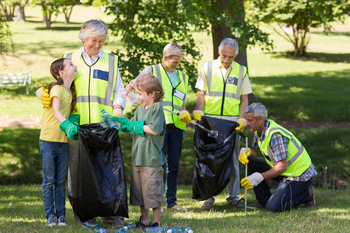 All Rights Reserved
As the year draws to a close, we want to salute unsung heroes who have donated time and energy to help their community. We were inspired by the stories of these eight seniors. May their acts of kindness inspire all of us to do good in the coming year!
Alice Carter, 87, Massachusetts
After years tutoring inner-city kids and helping with her church, Alice Carter expanded her scope this past year, moving to Morocco and becoming one of the oldest volunteers in the Peace Corps.
Her interest was sparked after meeting graduates of the Peace Corps at a party. The grandma and mother of six found out there was no age limit and signed up immediately. Though she can't always match the physical demands of the younger recruits, she holds her own and does more than expected.
"I like being very active, I like being with people, and my whole life has been forming relationships," she told her local National Public Radio affiliate. "In the Peace Corps I've made a lot of friends of younger people and the people ... in their 60s and 70s who are here."
Pat Morehouse, 87, Indiana
Pat Morehouse spends time four days each week volunteering at her local Salvation Army. She orders food, works with other volunteers and stocks and preps the shelves at the food pantry – part of which goes toward a program she created that delivers food to shut-ins and disabled individuals.
Morehouse began volunteering shortly after she retired more than two decades ago. She is inspired by knowing people are able to get the food they need and by keeping herself busy in the process.
"I don't like to be sitting around," Morehouse told the Associated Press. "I needed something like my job that I had. Not physical, but not sitting."
Sue Hoyt, 71, Maine
One program out of Bangor, Maine helps seniors give back to the communities while making a small amount of money. Sue Hoyt is part of the Senior Companion program at the University of Maine which provides a stipend and gas money for volunteers 55 and older who connect with socially isolated seniors.
Through the program, Hoyt has become and friend and companion week with a nearby 97-year-old. She spends a couple of afternoons a week doing light housekeeping, leaf-peeping or shopping – whatever her friend chooses.
"I usually just go over for tea," Hoyt told the Bangor Daily News. "We just sit and talk."
Dale Stoner, 86, California
Stoner, who made much of his fortune in the real estate market, realized this past year that he had more money than he or his family could ever use. He decided to let his excesses be of good use to the community by funding the full college tuition of eight nearby high school students – previously complete strangers to Stoner.
He reached out to local schools, which helped him identify students with good grades who could use the assistance.
"To me it's all very simple," Stoner said in an interview with the GoodNewsNetwork. "The money is there; there is no need [for it] on my side for my kids."
Susan Calhoun, 74, Arizona
When Susan Calhoun's daughter began going to a La Tierra Community School, she noticed cracks in the sidewalk and an overgrown yard out front. She decided the school's appearance needed an upgrade and volunteered to do something about it.
Calhoun, who has no formal training, acts as a landscape designer and does the weed whacking, tilling, planting and maintenance. The stone-lined space is now filled with an array of flowers, benches and other decorative touches. Though her granddaughter no longer attends the school, Calhoun continues to spend time there and work on the space.
"We believe it takes a village to raise a child, and so we welcome volunteers," the school's director, Lenka Studnicka, told the Daily Courrier newspaper. "And Grandma Susan has created a beautiful garden, not asking for anything. It melts my heart."
Stan Wielinski, 76, Minnesota
Twice a year, Stan Wielinski comes out of retirement to volunteer for the full-time job of directing plays at a nearby middle school. He has a knack for working with this age group after teaching for 35 years and then substituting and teaching homebound students.
His endeavor began more than 13 years ago when Wielinski approached the school's principal to see if she wanted to start putting on plays. Since then, he has been directing, scripting and preparing costumes, sets and props for the schools' comedies and tragedies.
"The name of the game is to try to help these young people develop who they are or who they are working toward being," Wielinski told the Morrison County Record. "Becoming a teenager is a difficult process."
Morrie Boogart, 91, Michigan
Although 91-year-old Morrie Boogart spends most of his time in his room at an assisted living facility, that doesn't stop him from giving back to his community. For 15 years, he has been knitting hats and giving them to homeless people in his area. He averages about one hat every two days and has amassed 8,000 of them in total.
He is so dedicated to his efforts that his assisted living home accepts donations of yarn to keep Boogart knitting.
"Why do I do it? It just makes me feel good," Boogart told his local Fox television affiliate.
Carol Dunn, 81, Florida
You won't find 81-year-old Carol Dunn simply painting when she volunteers for Habitat for Humanity. She prefers to spend her time drilling on top of ladders and nailing a home's frame, even in the heat of summer.
For 20 years Dunn has volunteered on Habitat homebuilding crews and worked on a committee finding prospective homeowners and guiding them through the program. Dunn keeps going because she enjoys what she's doing.
"I don't see any reason to stop," she told a local television company.
Know other notable seniors in your community? Share their stories in the comments below.