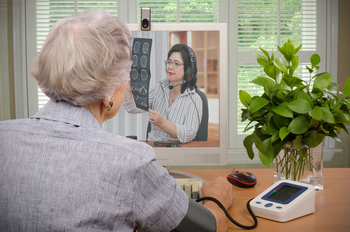 All Rights Reserved
Imagine receiving medical advice about an uncomfortable rash or monitoring your AFib without having to leave the comfort of your home. Or even better, getting peace of mind about a medical issue while visiting with family across the country or on an international trip.
This once futuristic vision is now a reality for many seniors in the U.S. who are joining the telemedicine movement – a health care trend that's gained significant momentum in the past decade.
Often called telehealth, The World Health Organization defines telemedicine as "the delivery of health care services, where distance is a critical factor, by all health care professionals using information and communication technologies for the exchange of valid information for diagnosis, treatment and prevention of disease and injuries, research and evaluation, and for the continuing education of health care providers, all in the interests of advancing the health of individuals and their communities."
Depending on the technological channel you prefer, those medical services may be performed via a specific online portal managed by your doctor's practice, via text messages, apps on your phone or other options. Telemedicine visits are conducted by a doctor, nurse or other health care professional, and may be diagnose a number of less serious health issues such as rashes or sinus infections, or to monitor previously diagnosed conditions like high blood pressure, heart arrhythmias, diabetes and other chronic illnesses.
What's Old Is New Again
While it sounds modern, telemedicine isn't all that new. Early in the 20th Century, electrocardiograph data was transmitted via telephone. In the1960s, something more closely resembling the current form of telemedicine was implemented in military and space exploration programs, using televisions to communicate between doctor and patient.
"Today, telemedicine can be anything from texting and/or emailing a picture or description of a symptom to your physician, having a video consultation via computer, tablet or phone, using a portal to update progression of symptoms or treatment or have a consultation or attend a support group using the television in your home and a simplified remote," says Richard Della Penna M.D., chief medical officer of Independa, a software-based system that allows caregivers and family members to use a web portal or app to video chat, send Facebook messages and photos, set up appointments and medication reminders and play games with their aging loved ones.
Besides the convenience, there's another important benefit to telemedicine that Della Penna says may not be as obvious. "While various aspects of this type of health care can help with medical issues, it's often also dealing with one of the biggest problems seniors face—social isolation," he says.
The loneliness experienced when children or other family members live far away, or a health issue finds a person unable to participate in social activities they once did can worsen or lead to many health problems, including depression.
"Engaging with loved ones regularly through video chats, messages or photos can bring relief," says Della Penna.
The same goes for attending support groups for health issues, grief and other scenarios via your television, laptop or other favorite type of electronic device.
"Telemedicine often places a heavy emphasis on social engagement, which is ironically often missing from technology," the doctor says. "Being able to use your TV or tablet on a snowy or rainy and cold day to participate in peer support groups or for a conference with your medical team can be the difference between a person seeking care or support, or not."
Tapping into telemedicine can also give seniors—and their families—peace of mind.
No one—regardless of their age—wants to feel ignored or forgotten – or as though they're a bother to well-meaning loved ones, notes Della Penna. "Older people often fear being a burden to their loved ones if they're reliant on them for transportation to medical visits. That can lead to staying silent about an issue and not receiving care that can extend their lifespan and quality of life. Now technology is able to address those concerns while providing the necessary care."
Loved ones who worry that their family member might not be taking their medication or who serve as a second set of eyes to track health changes may also find tele-medical technology helpful.
"An adult child whose parent has heart failure can help track any weight gain, which can be a sign of a complication, from just about anywhere in the world using smart scales their parent steps on that delivers information to the child's phone via an app," Della Penna says. "Having the chance for not only a doctor or health care professional, but a family member to intervene when a slight change is noticed can optimize care and also prevent a trip to the emergency room because a health issue escalated to a dangerous or acute level."
Reducing Costly Trips
Telemedicine is also being used to reduce trips to the ER and hospital admissions and readmissions.
"The ability to now deliver high-quality health-related information on dietary restrictions or needs, wound care, and so on helps prepare people to leave the hospital and stay healthy once they are discharged," adds Della Penna.
Potentially Avoidable Hospitalizations (known in the medical community as PAHs) are admissions to the hospital that could have been avoided had the condition been treated outside of an inpatient hospital setting. Many PAHs occur after hours or on weekends, when a primary health care provider doesn't hold office hours or is not available at a skilled nursing facility.
According to a 2013 report from the U.S. Department of Health and Human Services, nursing homes transferred a quarter of their Medicare residents to hospitals for inpatient admissions and Medicare spent $14.3 billion on these hospitalizations in 2011. A separate report by the Kaiser Family Foundation says "studies indicate that 30 to 67 percent of hospitalizations among facility residents could be prevented with well-targeted interventions. Others have identified factors that contribute to preventable hospitalizations, including liability concerns, limited staff capacity, financial incentives, and physician preferences."
At care facilities like The Heights HealthCare and Rehabilitation Centre in Peoria Heights, Illinois, those targeted interventions are occurring through the implementation of telemedicine that's minimizing costly and inconvenient hospital trips. The Heights relies on TripleCare, a telemedicine service whose teams of local board-certified and state-licensed geriatricians, internists and nursing facility experts are available whenever a senior care facility's physician or nurse practitioner is off-duty.
Using Medicare to Pay for Telemedicine
Telemedicine is more than just a trend -- 52 percent of hospitals already used remote technologies to deliver clinical services as of 2013, according to a January 2015 report from the American Hospital Association.
As a result, in 2015, the Centers for Medicare & Medicaid Services (CMS) added seven new payment codes covering additional telehealth services, including annual wellness visits and psychotherapy.
To bring telemedicine to all Medicare recipients, organizations like the American Telemedicine Association continue to press CMS and Congress to eliminate existing restrictions that continue to limit tele-coverage.
According to Medicare.gov, "Medicare Part B covers certain services like office visits and consultations that are provided using an interactive 2-way telecommunications system (with real-time audio and video) by a doctor or certain other health care provider who isn't at your location."
In most instances, that includes using smartphone apps like Doctor on Demand, which offers 24-7 access to U.S.-licensed physicians specializing in internal medicine, pediatrics, gynecology, and more.
Medicare also stipulates that those living in some rural areas may only have telemedicine covered if the patient is located at a hospital, doctor's office, skilled nursing facility or community mental health center.
Seniors using telemedicine will pay 20% of the Medicare-approved amount for the doctor or other health care provider's services.
Protecting Your Security While Using Telemedicine
Personal security and identity theft expert, Robert Siciliano notes that accessing any type of telemedicine portal or device requires the same attention to protecting your identity as online banking, shopping and similar habits.
"Password consideration and management are of utmost importance," he says.
"Whenever you're accessing any type of online medical care via a portal or app, you should designate a password that's different from others used for email, banking, etc.," he says. "Reusing a password is bad cyber hygiene."
Siciliano says a specialized password doesn't need to stress your memory. A password manager can help keep track of the websites you frequently visit and their related passwords.
For added peace of mind that your identity and medical data are protected, he suggests talking to your doctor's practice manager, an app or software company's customer service representatives, or the representative at the doctor's office who manages the portal before your first use.
How to Find a Telemedicine Doctor
If you're interested in trying out telemedicine for yourself, start by asking your doctor whether he or she offers virtual appointments. A number of websites and mobile applications allow you to search for a telemedicine doctor online.
In addition to Doctor on Demand, services such as MDLIVE, Teladoc, HealthTap and LiveHealth Online can all connect you with telehealth health care providers.
Would telemedicine be useful for your loved one? Have you used telemedicine in the past? Let us know in the comments below!