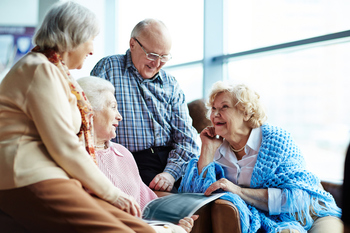 All Rights Reserved
There are many benefits of choosing to live in a senior living community, but one of the biggest is the opportunity to learn new things among friends. The different activities, amenities and events organized by most senior living communities present an array of opportunities for personal enrichment that can be tough to come by otherwise.
When you move into a senior living community you get to leave behind responsibilities like maintaining a home, grocery shopping and household chores. This gives you more time for the things you enjoy and for learning new things. What follows are some key examples of how senior living can help make you a lifelong learner.
1. There's a built-in social calendar
Moving to a senior living community means having a built-in network of neighbors in your age group with whom you can to learn new things. Those new activities could be anything from new dance moves, a new language or even video games.
2. There are lots of opportunities to read
Most retirement communities offer libraries and comfortable reading rooms and nooks, as well as book clubs and discussion groups for residents. Curling up with a thought-provoking book is that much better when you have friends nearby to discuss it with.
3. Guest lecturers come to you
Many senior living communities have guest lecturers come speak on certain topics, or organize special trips to universities and community centers. This can be a great way to learn new information and have amazing new and inspiring experiences!
4. There are plenty of outings to cultural events
Most senior living communities organize group outings to take residents to local museums, musical or theater performances and other cultural attractions in the area. That means more chances to discover new art exhibits, go back in time at a history museum or take in a symphony with friends. Afterward, you can gather in your community's lounge to discuss what you saw that day over coffee.
5. Volunteering is encouraged
Volunteering is a wonderful way to learn about what's going on in your community and connect with new people. It prompts you to get out, meet new people, and do some good for the world - and for yourself.
Luckily, many senior living communities today make volunteering a part of their activities calendar – whether it's forming a group to knit hats for the homeless, assembling care packages for soldiers overseas or helping local school kids learn to read.
---
Holiday Retirement's activities calendars are packed with daily opportunities to learn and grow, such as sign language classes, brain games and museum visits.