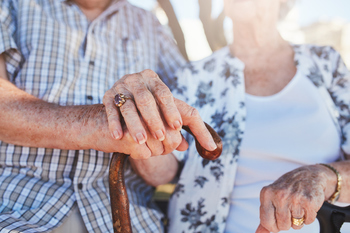 All Rights Reserved
It might be clichéd but it bears repeating – there's no age limit to love. For the luckiest among us, love can last well into old age, beyond retirement and maybe even into senior living communities.
"You can find love in assisted living," says Joan Newman, Executive Director at Fremont Hills, an assisted living community in San Francisco's East Bay Area.
Indeed, the frequent opportunities to interact – either in a communal dining room, or at one of many mixers or activities found at senior living communities today – make it easier for residents to find companionship and even true love.
But for couples lucky enough to make it into old age with the one they love, a senior living community can also be an ideal setting to enjoy their golden years together.
"You want someone there who can push your wheelchair," says Newman. "It's all about 'In good times and in bad, in sickness and in health.'"
The couples on this list embody that credo. Some care for a partner who suffers from mobility issues or other health problems. Each of these couples has a love story that's spanned continents and created multi-generational families.
And when asked how they've made their marriages last – in some cases for more than 60 years – the common refrain was "Love."
1. Hui Wen Liu and Jia Kai Chu
Residents of Eskaton Hazel Shirley Manor, El Cerrito, CA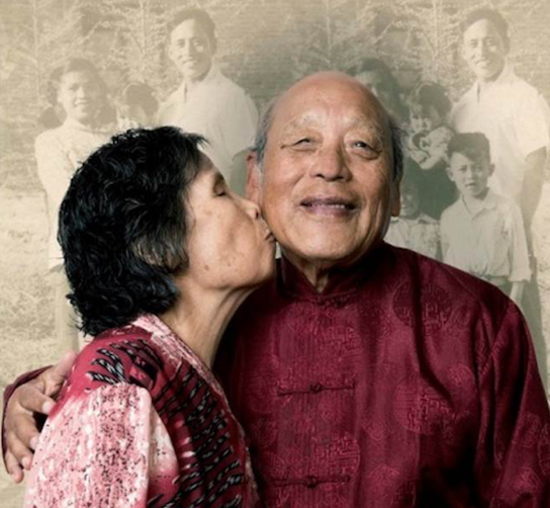 Photo courtesy of Eskaton Hazel Shirley Manor
"Love. L-O-V-E," says Jia Kai Chu, 84, when asked to share his thoughts on what it takes to make a marriage last.
During their 60 years of marriage, Chu and his wife, 83-year-old Hui Wen Liu, have been through a lot together. The couple is originally from the city of Harbin in northern China, where they said life was not always easy when they first got together in the 1950s.
"We worked together and supported each other," said Liu, speaking through an interpreter. "We had a lot of hardships but we still held hands to go forward."
Those hardships included a 7-year separation after Chu moved to the U.S. and waited for his wife to get the necessary immigration documents to come and join him. The pair opened up a pizzeria in Berkeley, which they ran together for many years.
"I made the pizza, and she sold the wine," Chu recalled.
But the couple say they are proudest of their family – their three children, three grandchildren, and two great-grand-children, most of whom live nearby in the Bay Area.
These days, the now-retired couple enjoys going for walks near their home at Eskaton Hazel Shirley Manor, and watching some of their favorite TV shows and Chinese movies together.
"She is a very good wife, she takes good care of me," Chu says, looking at Liu. "I'm very lucky."
2. Ming Hua Pan and Shu Zi Xie
Residents of Eskaton Hazel Shirley Manor, El Cerrito, CA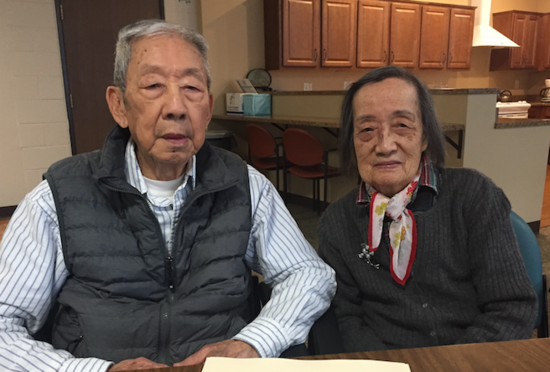 Eighty-six-year-old Shu Zi Xie says that when she and her husband of more than 64 years first met, it wasn't exactly love at first sight. Relatives introduced Xie to her husband, now 89-year-old Ming Hua Pan, and they didn't like each other at first, she recalled.
But things changed, and the couple went on to marry and have four children. Xie explained that life in China at the time was difficult, and that she and her husband had to support each other and stand together to overcome hardships and raise their children.
Together, the couple later moved to the U.S. and settled in the Bay Area, where they now live close to their adult children as well as their five grandchildren and three great-grandchildren.
Xie giggles when asked what advice she would give to younger couples about how to make a marriage work.
"No one is perfect," she says, speaking through an interpreter. "Everyone has strong points and weak points, but you have to love each other, support and accept each other."
3. Monireh Yazdani and Ahmad Norouzi
Residents of Eskaton Hazel Shirley Manor, El Cerrito, CA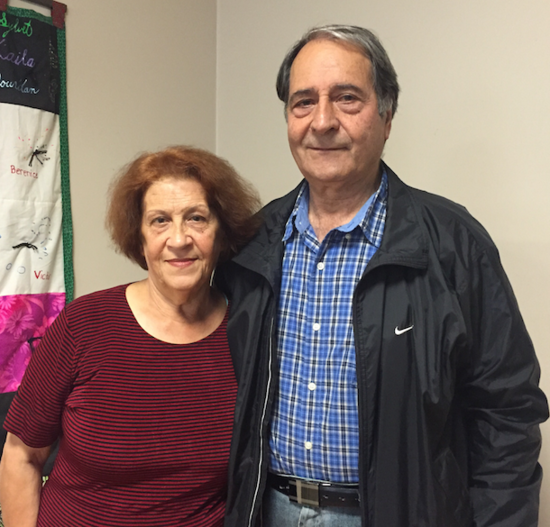 After more than 50 years of marriage, 72-year-old Monireh Yazdani and her husband Ahmad Norouzi, 77, still love spending time together.
Among their favorite shared activities are eating, praying, visiting family, shopping and watching TV.
Life wasn't always easy for the couple, who says they immigrated from their native Iran to the U.S. in order to enjoy more religious freedom and to give their three children more opportunities.
Now, the pair also has two grandchildren, and a number of other relatives living nearby. That suits them well, as they count their family as their proudest accomplishment. Both said that if they had to choose a favorite memory together, it would be the birth of their first child more than 50 years ago.
Norouzi says one important element of their union has been communication. "You have to talk and you have to listen," he says.
He added that they also try to be good-tempered with each other and avoid fighting.
When asked what makes their marriage work, Norouzi seemed almost confused by the question, as if the answer were obvious.
"We love each other – she loves me and I love her," he said.
4. Lilian and Jose Andalis
Residents of Fremont Hills, Fremont, CA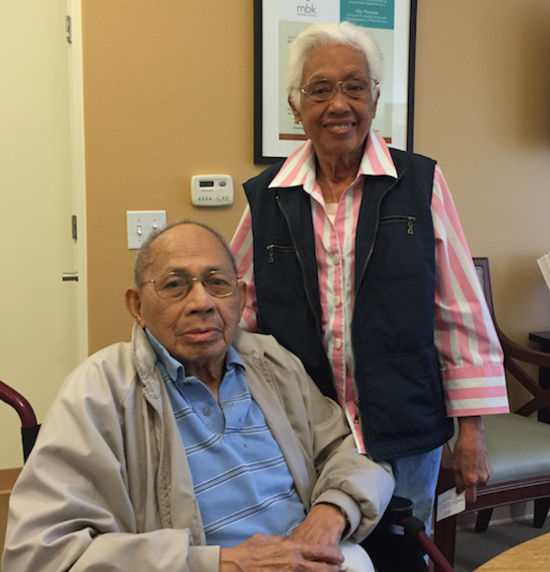 Lilian and Jose Andalis have decades of travels and adventure to look back on. Originally from the Philippines, the pair "were practically neighbors," and Lilian's mother was one of Jose's schoolteachers, she says.
Although they had different groups of friends and a nine-year age gap between them, the two eventually fell in love, Lilian, 79, says.
The couple married in 1959, and Lilian followed Jose to Japan, where he was serving in the U.S. Navy. Over the years, they had four children and moved from Japan to Guam.
"All we had was each other," she says. "We had to make the most of it."
The family later moved to the mainland U.S., settling in the San Francisco Bay Area.
Lilian says she cherishes the memories of their many travels, not only in Asia and throughout the U.S. but also to Canada and Europe.
She says she's not sure if she and now-88-year-old Jose, who uses a wheelchair to get around, will ever return to the Philippines.
"At our age, it is a long airplane ride," she says.
However, the pair have more than enough to keep them occupied, keeping up with their four children and eight grandchildren. In 2009, about 100 family members and friends celebrated the couple's golden wedding anniversary, Lilian recalls fondly.
When asked what marriage advice should would offer to younger couples, Lilian smiles and says, "Support each other and be there for each other."
5. Songzhang and Xiuzhen Wang
Residents of Eskaton Hazel Shirley Manor, El Cerrito, CA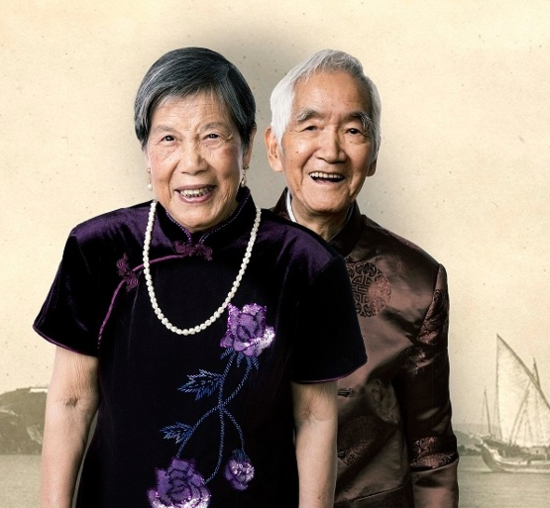 Photo courtesy of Eskaton Hazel Shirley Manor
For Xiuzhen Wang, 83, and her 85-year-old husband Songzhang Wang, the importance of family has been a through line in their 62-year marriage.
The couple was introduced through Songzhang's sister in the port city of Ningbo, China, Xiuzhen says, speaking through an interpreter. They went on to marry in 1955 and had three children.
Decades later, after their children had moved to the U.S. and settled in the Bay Area, the couple also decided to make the move.
Initially the Wangs lived with their son and then with their daughter, but they wanted to have their own space nearby, and ultimately chose Eskaton Hazel Shirley Manor.
Today, the couple not only has their adult children nearby, but also five grandchildren and 1 great-grandson.
Throughout the years, the pair has taken seriously their commitment not only to one another but to their entire family, including their parents, children and grandchildren, Xiuzhen says.
When they are not visiting family, some of their favorite things to do together include watching "ancient Chinese stories" on TV and sharing meals – especially seafood.
"The most important thing is to love each other," says Xiuzhen.