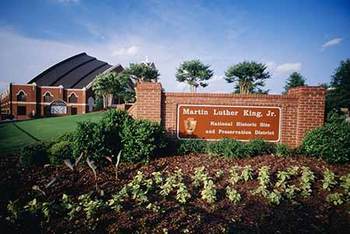 All Rights Reserved
Want a great way to spend time with an elderly loved one who lives in assisted living? With a little planning in advance, you can organize senior-friendly outings that make enjoyable day trips for everyone in the family.
To inspire you, we've found outings in eight major cities around the U.S. Take a moment to see what we found, then ask your loved one's assisted living activities director for more suggestions near you.
Atlanta, GA
Charlotte, NC
Dallas, TX
Denver, CO
Jacksonville, FL
Nashville, TN
San Antonio, TX
Tampa, FL
SEE ALSO: Find Assisted Living Near You
Senior Day Trips in Atlanta, GA
In Atlanta, Georgia, plan a day trip with your loved one to the Martin Luther King, Jr., National Historic Site and Preservation District. Relaxing, inspiring, and sobering, the 70-acre site includes the Sweet Auburn neighborhood of King's birth home; Ebenezer Baptist Church, where he was pastor; and the memorial park that houses his gravesite. Tours of the area provide perspective on King's life and work and help put Atlanta's role in the civil rights movement into context.
If you'd rather go at your own pace, you can rent an audio tour. This option is particularly appealing for seniors who have extra needs that may require attention during the tour.
Learn more: Martin Luther King, Jr., National Historic Site
Senior Day Trips in Charlotte, NC
If you're in Charlotte, North Carolina, visit the NASCAR Hall of Fame. Whether or not you or your loved one are NASCAR fans, you're sure to enjoy the tour. The hall boasts interactive exhibits (tire-changing stations, race simulators, a broadcast booth), historical collections (including 31 spit-and-polished automobiles from a 70-year period), and a Kids' Zone in case you've also got younger ones in tow. You can get a snack and some time to sit down in the café, then browse the souvenir shop.
SEE ALSO: Find Assisted Living Near You
The NASCAR Hall of Fame offers senior discounts and is wheelchair accessible.
Learn more: NASCAR Hall of Fame
Senior Day Trips in Dallas, TX
The Dallas Arboretum is a 66-acre wonderland that boasts more than a dozen separate gardens; collections of Japanese maples, azaleas, and spring-blooming bulbs; a concert series overlooking a lake; and exhibits that include a whimsical display of playhouses highlighting the works of artists Monet, Picasso, Seurat, Van Gogh, and O'Keeffe. Eating options include picnicking, a café, elegant teas (make reservations), and a restaurant.
The arboretum is wheelchair accessible. Senior Citizen Thursdays offer reduced admission and a discount at the gift store for those 65 and older. There's even a horticultural therapy program, with some activities geared specifically toward seniors.
Learn more: Dallas Arboretum
Senior Day Trips in Denver, CO
If you enjoy classical music and find yourself in the Denver, Colorado, area, go with your senior loved one to the Arapahoe Philharmonic. Founded in 1954, this volunteer group is one of the oldest orchestras in Denver. It performs fall through spring, bringing in guest conductors and often commissioning new music. It also holds children's concerts and outreach programs at local elementary and middle schools. Arapahoe's quality performances are held in the Mission Hills Church, easily accessible in Littleton (just outside Denver).
The venue includes a coffee shop. Senior tickets are discounted.
Learn more: Arapoe Philharmonic
Senior Day Trips in Jacksonville, FL
Jacksonville, Florida, with its large population of retirees, is a particularly senior-friendly city. A standout option is the Jacksonville Jazz Festival, where seniors can enjoy some of the best jazz performers in the world. In 2012, Bela Fleck and the legendary saxophonist Sonny Rollins performed, among other acts. Held downtown on Memorial Day weekend, this street festival is free -- though seating options are available for a price and may be preferable for some seniors.
If you can't make it to the festival, try the Jacksonville Fire Museum, known as the "hottest museum in Jacksonville." Free to the public, the museum details the progression of the city's fire-fighting service from the "bucket brigades" of 1850 to its current status as the 14th-largest fire department in the U.S. The museum holds hundreds of items and exhibits, including photos from the Great Fire of 1901, a fully restored 1902 American LaFrance horse-drawn fire engine, and a working 1926 American LaFrance fire engine.
Learn more: Jacksonville Jazz Festival Jacksonville Fire Museum
Senior Day Trips in Nashville, TN
What better way to spend a day with your loved one than by visiting the Country Music Hall of Fame and Museum? Take a tour of the historic RCA Studio B, where thousands of American artists, including the Everly Brothers, Elvis Presley, Charley Pride, and Dolly Parton (to name only a few), recorded their hits. Ever-changing exhibits highlight musicians past and present. Buy tickets in advance, plan to eat brunch or lunch, and visit the museum gift shop.
Then head on over to the Grand Ole Opry, the country music concert stage that began hosting a weekly radio program in 1925 and ultimately became the venue of the genre's biggest stars. See a show, take a tour, eat onsite, and look for souvenirs in the gift shop.
Both attractions are senior friendly, and the Country Music Hall of Fame provides senior discounts.
Learn more: Country Music Hall of Fame and Museum Grand Ole Opry
Senior Day Trips in San Antonio, TX
One of best places for seniors -- or anyone interested in history -- to spend time in San Antonio is the Alamo. A complex on more than four acres, the historic site commemorates the Battle of the Alamo, famous in the history of the Texas Revolution. In March 1836, a small band of Texans held out for 13 days before succumbing to Mexican troops led by President General Antonio López de Santa Anna. James Bowie, David Crockett, and William B. Travis were among the famous fighters at Mission Alamo. Today visitors can walk through the Shrine, the Long Barrack Museum, a gift shop, and gardens while soaking up Texas history and lore.
Open daily except Christmas, the Alamo is senior friendly and accessible to the handicapped. Admission is free, and senior discounts are available for guided tours.
Learn more: The Alamo
Senior Day Trips in Tampa, FL
The Lowry Park Zoo is an especially senior-friendly zoo. It offers your loved one a chance to see more than 1,000 different types of animals, without the frantic pace of nearby Busch Gardens. The zoo boasts animal exhibits and habitats, shows and talks, dining areas, and a gift shop. Best of all may be the interactive opportunities (feed the white rhinos or the lorikeets) and the educational programs, including some that are just for adults.
Lowry Park Zoo offers senior citizen discounts.
Learn more: Lowry Park Zoo