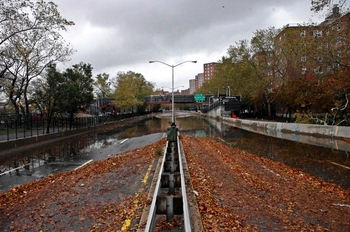 All Rights Reserved
For many families around the U.S., Sandy's approach brought frantic worry about elderly loved ones in harm's way. We've been reaching out to assisted living communities and in-home care providers in the area to find out how they prepared, and how they're faring now.
Stories of extraordinary measures are commonplace up and down the East Coast.
Sunday, October 28
As natural darkness began to blanket the New Jersey shoreline, directors of senior care facilities were confident that the procedures they'd put in place would protect their elderly residents as Sandy punched the coastline. They had been battle-tested by severe snowstorms and previous hurricanes that have been increasingly extreme in the last five years, as Arctic ice melts and the Atlantic has been warming and rising.
"Over the last couple of years, there's been a lot of severe weather. It keeps everybody focused," explained Chris Guay, a senior vice president at Emeritus Senior Living. For all the Emeritus assisted living communities -- including 13 in New Jersey -- plans included extra orders of food and setting up backup generators.
Near Long Beach Island, New Jersey, at the Emeritus at Stafford assisted living community, resident care directors came in on Sunday to prepare. They reached out to residents' family members to let them know the plans and to reassure them that residents were all still being fed, bathed, and showered. "Three or four residents' family members came to stay overnight with us," said Executive Director Frank Evegan.
In Cape May, New Jersey, the Emeritus at Cape May community was contacting area seniors who were at home and whose family caregivers couldn't get to them. "We had some people come stay with us over the weekend," said Michele Hughes, vice president of operations. "Our teams continued to call on folks in their homes to ask if they wanted to come stay with us in our community."
Monday, October 29
On Monday, D-Day for assault by Sandy, calls to the office of Visiting Nurse Service of New York went unanswered. The office was closed. But while 3,200 patients waited at home for cyclonic winds and drowning rains to lash the area, VNSNY managers were calling from their homes to assure distant families that sound emergency measures were in place.
Partners in Care, an affiliate of VNSNY, sent home health aides to move in with high-risk patients and sleep over for the next several days. Managers phoned from their homes to make sure postoperative patients had all the supplies they needed, from flashlights to backup oxygen machines. A wide safety net was cast over the five boroughs of New York and the 118-mile length of Long Island, to keep high-risk patients safe, fed, bathed, medicated, and with company for the next five days.
As Sandy slammed into New Jersey beaches, assisted living community staff tried to keep routines as normal as possible. "We're making it like a hurricane party," said Hughes in Cape May. "Sing-alongs, trivia contests. Fireside chats -- without the fire." Meanwhile, Hughes kept worried family members informed about the community's status through her company's website.
Near Long Beach Island, Evegan was also keeping spirits bright. "We lost power but kept resident engaged with activities so they didn't get too stressed about the wind and damage. Families who stayed overnight with us were saying, 'Wow' -- none of residents got agitated. Everyone seemed to be having fun. At break, lunch, and dinner, I told residents how we were going to keep going."
In Delaware, a state of emergency was declared -- no one was to be on the roads except emergency personnel. Staff caregivers called Sharon Powell, director of Comfort Keepers of New Castle and Kent Counties. They were worried that they might get tickets while driving to see clients. "You are essential personnel and are authorized to be on the road," she told her caregivers. "Show them your badge and tell the police you're going to a client who needs services."
On the Rockaway Peninsula, the mighty Atlantic had breached the barrier land strip and joined with the bay to lift cars like toy boats. Nurses began to call Eloise Goldberg, the VNSNY supervisor of half of Long Island and the Bronx, to report that downed electrical lines had started a bonfire that was licking at houses. Police had cordoned off most streets.
A nurse contacted Goldberg and said she was parking her car on high ground and wading in to reach trapped patients. She walked seven blocks through knee-high water to get to a group home and found medicines had been washed away. She would get prescriptions refilled and return, she promised. But by afternoon, 60 houses had been torched by downed electrical wires. By nightfall, more than 100 homes were consumed by fire.
Heaving seas crashed into roiling rivers and spilled over onto the avenues of a city that never sleeps. But it did sleep on Monday night, with so many in darkened apartments inside the blacked-out strike zones of Lower Manhattan and New Jersey's coast. The East River came up over the lowest-lying part of Manhattan Island and drowned Tomkins Square Park, then continued across Avenues D, C, B, and all the way to A.
Tuesday, October 30
On Tuesday, as dawn's light revealed the devastation, sirens began screaming up and down the East Coast, where 6.5 million people were reported to be without electricity. Manhattanites, usually complacent about hurricanes and blackouts, were stunned.
Richard Rothstein, vice president in charge of public relations for VNSNY, stepped out on the terrace of his apartment on 11th Avenue and 42nd Street. His view to the Hudson was a relief. The waves of charged water had stopped one block from his building. But the view downtown gave him a sense of déjà  vu. It looked like 9/11 all over again. This time it wasn't only the World Trade Center towers that were erased from the skyline. There was no city visible below 30th Street to the Battery, only a silhouette of what used to be lower Manhattan. Not a light anywhere. He began walking the city. The most unsettling sight was at subway entrances. Water was gurgling up from their depths. The seawater in these great tubes, lifelines for millions who depend on them to get to work every day, had risen to street level. Who knew what salt water would do to corrode this most extensive subway system in America.
Goldberg stepped out of her home to supervise the emergency care. She found that her husband's car was a metal pretzel under a big oak tree.
"That hunka-junk found its just end," she joked to her husband. She then jumped into her own car and began commandeering the 11,000 home health aides and 3,500 clinicians who needed to get to their patients. "We had been preparing our field staff for several days so they would have cell phone connections with their patients, but now we were up against massive flooding and blackouts and fires."
Lainie Messina, a vice president with Partners in Care, had been sleeping in her office in midtown Manhattan for five days. She is in charge of 7,000 chronically ill patients dependent on long-term care and another 700 private-pay patients who may need acute care. One of her nurses, Allison Chisholm, reached a client in Chinatown by cell and learned he couldn't inject his medications by himself. Chisholm drove her own car from Park Slope in Brooklyn on Tuesday morning and ignored barriers at the entrance to the Brooklyn Bridge.
"I'm providing essential emergency services," she told police. She walked up 12 flights to administer the medicine and calm the patient, who, like tens of thousands of others, was sitting in the dark with no TV, no phone, and no water or gas service, completely detached from communication with the outside world.
Meanwhile, in a Caring.com online support group, relieved relatives were sharing their feelings. "Any guilt and second-guessing that my sister and I had about placing my dad in a nursing home in August has been lessened these past few days," posted "daughrds". "We were without power for 24-hour period during Hurricane Sandy, but we called the home this a.m. and they never lost power; he has no idea what had gone on. . . . We both thanked God today that he was no longer living with us and was safe, sound, and happy. Weather is better tonight and I'll be visiting him tomorrow."
Wednesday, October 31
Now the real test began. Many patients who had refused to evacuate were now desperate to escape flood waters that were climbing past first floors. Every nurse on Goldberg's Long Island team was reporting that they couldn't find several patients. Staff was sent to shelters to look for them. Accountability lists were being pulled together. Nurses with blackout problems in their own neighborhoods couldn't recharge their cell phones and tablets at home. Goldberg made arrangements with local hospitals so that her teams could recharge their devices effectively.
"The majority of our patients have been very calm through the hurricane," Goldberg said on Wednesday. "But if this continues -- the blackouts, the lost power for communication, no water supply -- I anticipate a very different reaction." Patients who were remaining in their homes under these conditions would have no food, no light or heat, no water, no electrical pumps to bring water up to higher floors of apartment buildings or to flush waste down toilets. Goldberg said they would have to be rescued by family or moved to shelters. And most shelters were already at or near capacity.
Thursday, November 1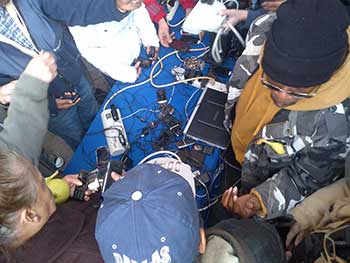 VNSNY Charging Station
VNSNY usually served homebound and nursing home patients, but this day they were serving all residents. Large vans belonging to VNSNY CHOICE moved into areas of the city still without power south of 23rd Street. They set up charging stations for cell phones and iPads and began distributing water, batteries, and flashlights to residents in need.
Officials warned that power might not be restored to the half of Long Island still in the dark for another week or more.
Irina Fain, Owner of Bonjour Home Care, recommends that distant families with loved ones in this isolating situation call a home care company to get a live-in aide for a week or two, until restoration of essential services. The cost for private pay with Bonjour Home Care is $145 for a 24-hour home health aide, or $1,015 for a week. Aides are trained to shop, cook meals, do light housekeeping, give baths or showers, and help with activities of daily living for people who have trouble walking. People with cognitive impairment and Alzheimer's are easily confused when normalcy is interrupted. "They may become paranoid or aggressive. Our caregivers know that their dementia clients make up their own world. We can support them to experience a hurricane or a blackout with less stress. We engage them in an activity we know makes them comfortable, maybe just a conversation. One patient, whenever she gets upset, the caregiver knows to get out her family album. The lady calms down and tells the story behind every picture," Fain said.
Rothstein summed up the day this way: "We're on our second day of the aftermath and it's nonstop action."
Friday, November 2, 2012
On Friday, semi-normalcy began to return to fortunate pockets of Long Island and New Jersey. Friends of mine lost in the dark below 30th Street in Manhattan were sick and tired of no lights, no showers, no television, no running water, and they began running out patience. One couple fled to a hotel in Williamsburg, Brooklyn. Affluent residents repaired to their college or university clubs or, if they were fortunate enough to find gas, got the hell out of Dodge and drove north to visit their kids at boarding schools or to camp with friends in New England.
Hoboken, the city of Sinatra that sits on the lips of the Hudson across from Manhattan, had been almost totally flooded from the beginning. For five days I had been calling Visiting Nurse Association of New Jersey to find out what emergency solutions they had been finding to rescue elderly and chronically ill residents. The same answering service gave the same cheerful, dehumanized message, but no one ever called back.
My able assistant, Elaine Rooney, lives in an apartment building about 50 yards from the river. The last word I had from her was a "sayonara email," sent Monday night. "Just lost power and my cell is dying -- be in touch when I can and see you (someday) soon!" We all saw images of four feet of water making Hoboken appear like a giant tub with a stuck stopper. Elaine's account of her five days in captivity follows:
"Our dog was too terrified to let us take him out during the storm. He held it for 15 hours, from Monday evening until Tuesday morning, when he braved eight flights of darkened stairs to get outside. We were on one of the lucky blocks in Hoboken that didn't get totally flooded, and we were able to walk around a little bit. Tuesday afternoon, the sights were somewhat apocalyptic: people wandering aimlessly, hoping to see other humanity on the street and also assess the damage. Within moments of being outside, we were shouted at by police, blaring through megaphones from their cars, 'GO BACK INSIDE, CURFEW IS STILL IN EFFECT.'
"Friends from the submerged part of town were told to evacuate at 6 a.m. Tuesday morning due to a gas leak. They were taken to the high school-turned-evacuation-shelter, where some of the elderly removed from upper windows by emergency service responders had also been taken. They were given a cot and couldn't wait to get out. As soon as they learned streets were passable, they made their way to our apartment, arriving by about 8 a.m. We sat in the dark and played the movie game for the next several hours before falling asleep, since no one had slept well. On Friday, desperate for the 'opportunity' to get to work, I caught the ferry from Hoboken to 42nd Street and walked 30 blocks to the office. I've never been so glad to sit down in front of a working computer."
The newest and most frustrating return to primitivism is the scramble to find and save gas. Just about everyone in New York, New Jersey, and Long Island thinks now in terms of, "Can I make one long trip to search for a station with power and gas, or one short trip on the fumes I have left?" Some of us are searching the skies hoping to spot the 40 Air Force planes that President Obama has ordered to bring tankers of the stuff from California to their backward neighbors on the East Coast.
FDR Drive image by David Shankbone used under the creative commons attribution license.__Charging station image from Richard Rothstein, VNSNY.