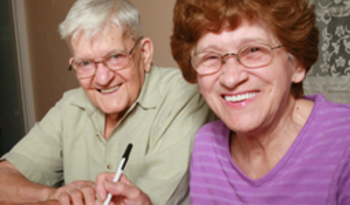 All Rights Reserved
There's a reason health insurance is such a hot topic right now -- health insurance costs are taking an enormous bite out of everyone's budget. But it doesn't have to be that way.
According to insurance experts around the country, most of us are much too passive about health insurance costs, assuming we have to bite our tongues and pay up when our premiums rise or we're slammed with increasing co-pays for prescriptions and other services. Not so fast, they say; there are many ways to cut costs and keep more of our hard-earned cash for ourselves if we just ask the right questions and get help from the right people. Here are the top 12 expert-tested tips for slashing your health insurance costs.
1. Shop around.
Even if your insurance is provided by an employer, chances are you have a choice of more than one provider or more than one type of plan. Several months before the open enrollment period, sit down with your HR representative and go over the available plans with a fine-tooth comb, making sure you understand the differences.
If you get your insurance independently, start by finding a local broker or agent. Start with the National Association of Health Underwriters (NAHU) "find an agent" service to look up independent brokers in your zip code. You can also use www.ehealthinsurance.com to survey the available options, but using a broker gives you an important advocate to call on if you run into problems. Choose an agent who's not "captive" to one insurance company but instead represents a number of insurers, so that you can choose from the widest possible range of options.
Compare how each plan handles specific scenarios: preventive care, lab tests, hospitalization, drug costs. If your family has any changes on the horizon -- a hoped-for pregnancy, a teenager going to college, a family member retiring -- ask how coverage for that situation varies under each plan.
2. Read the fine print on your coverage.
Lower cost doesn't necessarily equal worse coverage, says Chicago-area insurance broker Robert Slayton. What you want is the most coverage at the lowest annual cost -- with guarantees that you won't be abandoned if you get sick. Here's what Slayton says to look for in a good policy:
A lifetime limit of at least $2 million; $5 million is better. Starting in 2011, the new health insurance law bans lifetime caps altogether.

A cap of at least $1 million in any one calendar year.

Coverage for prescriptions, not just a discount card.

An out-of-pocket maximum per calendar year. (A good plan should have a maximum out-of-pocket amount that you're required to pay per calendar year. Once you reach that limit, the plan should pay 100 percent for covered services from contracted or in-network providers.)

No artificially low caps on major services such as hospitalization and surgery. (Beware a plan that caps what it will pay for services, leaving you caught between the insurer and the provider's fee structure.)

A guarantee of "lifetime renewability." This will cease being a concern by the start of 2011, because the new health reform law specifies that insurers can no longer cancel on policyholders who get sick.
Red flags and HSAs
3. Beware red flags that cost you money.
Changing policies is often the best way to save money in the long run. But many people have been surprised to find they have higher overall costs in the end because they didn't understand how their policy worked. Beware these red flags that can lower premium costs but can lead to higher costs if someone becomes ill:
Waiting periods. Some plans have delays in coverage activation; you begin paying before coverage actually begins and must wait to use services.

Limits or exclusions for preexisting conditions. Make sure the policy hasn't put it in fine print that a condition they've identified is excluded from coverage.

Condition exclusions. Believe it or not, some plans actually exclude specific conditions and illnesses, such as pregnancy or cancer, and require separate riders to cover those conditions.

Benefits not listed. Chances are that if the plan documents don't mention specific benefits, such as treatment for certain conditions or prescription coverage, then it's not included. Many people have been caught by surprise when they've assumed something was covered by their plan.
4. Consider an HSA-qualified plan.
If you're healthy and never go to the doctor, consider an HSA-compatible health insurance plan. This means a plan with a high deductible that's set up to work with a Health Savings Account (HSA), which allows you to set aside pretax dollars to pay for health-related expenses. You pay less in up-front premiums, then set aside an amount from your paycheck (before taxes) each month to pay for health-related expenses should they occur; this money goes into an HSA. Remember, health-related expenses include dental and vision costs as well as medications and healthcare; even some nonprescription medications and chiropractic care can be paid for with pretax money.
To make this concrete, think of it this way: If you're in a 25 percent tax bracket and spend $100 on an office visit, you save $25 in taxes by using an HSA bank account.
Coinsurance and prescription costs
5. Compromise on coinsurance.
Coinsurance is the official name for the percentage split of costs that most health insurance policies employ. The typical policy has an 80/20 split; the insurer pays 80 percent of services after your deductible if you use in-network providers. If everyone in the family is healthy, you aren't a big user of health services (you're not someone who wants to have a lot of tests, for example), and you have savings in the bank, raising the coinsurance percentage you pay to 30 or even 50 percent can be a money saver. Do the math and see if the savings in monthly premiums offsets what you're likely to pay in costs.
But don't forget that if you choose this option, you need to have money in savings to cover your share of costs should something happen, since it ups the "rolling the dice" aspect of health insurance. According to Chicago broker Robert Slayton, if a policy has a reasonable out-of-pocket annual maximum, lowering the coinsurance percentage is a fairly safe gamble because you're likely to hit your annual maximum before your coinsurance costs mount too high.
6. Go after prescription costs.
It's a common mistake not to pay attention to prescription costs as part of your overall health insurance payout. Yet this is one of the easiest and quickest ways to lower your health insurance costs year to year.
If you're lucky enough to be healthy and don't take maintenance prescriptions, look for a plan that allows you to have a high prescription deductible in return for cost savings. If you do spend a lot on prescription medications, choose a plan that allows prescription costs to count toward your overall deductible.
Whenever your doctor prescribes a drug, ask if there's a generic equivalent. If not, ask if there's an equally effective drug that doesn't cost as much. "Don't assume your doctor's going to automatically consider costs when choosing which drug to prescribe," says Slayton. "If a doctor just saw a pharmacy presentation on a new drug, that's the one that's likely to pop into his mind, and it may well be the most expensive one."
If your choices are limited, shop your prescription around to as many pharmacies as possible, including discount pharmacies like Wal-Mart and Target. If it's a drug you're going to be taking regularly, it may be worth driving a little farther.
If you're on Medicare and pay for prescriptions under Medicare Part D prescription drug plan, you'll benefit from the new 2010 health reform law if you have high drug costs. When you reach the gap in coverage known as the "doughnut hole," you'll receive a $250 rebate from Medicare to help pay that coverage.
Clinics and COBRA
7. Use free or subsidized services.
When you have health insurance, it's easy to fall back on using your regular doctor and hospital for everything, activating your insurance each time you do. Stop, experts say -- there's a different way to think about this. Every community has many free and discount services you can take advantage of, using your insurance only when necessary.
Go to subsidized local clinics for vaccinations, medications, and other short-term care needs. Every community has at least one clinic or hospital that serves everyone, regardless of ability to pay, usually on a sliding fee scale based on proof of income. Use the Health Resources and Services Administration to find a clinic in your area.

Get dental care at university dental clinics, which are staffed by dental interns.

Use specialty clinics for women's health and other services. Gynecological services and birth control can be expensive, particularly certain brands of birth control pills. Go to your local Planned Parenthood clinic and, if you qualify, use services provided on a sliding scale.

If you're on Medicare, starting in 2011, many preventive screenings and services will be free, thanks to the new health reform legislation. Talk to your doctor and take full advantage of all paid-for tests and preventive services, since many conditions are easier and less expensive to treat if caught early.
8. Use COBRA only where it counts.
The temporary health insurance known as COBRA can be a blessing when you're laid off -- it covers the laid-off employee and family members for up to 18 months. But it can also be very expensive, as you're essentially paying for the same full-service plan your company was previously subsidizing. According to health insurance advocates Martin Rosen and Abbie Leibowitz, authors of The Healthcare Survival Guide, a solution many people don't know about is to split the family and use COBRA only for family members who are going to have trouble getting independent insurance at decent cost. That would be any family member who's pregnant or has a preexisting condition that might make it difficult or expensive to get insurance. Everyone else in the family can go on an independent plan at lower cost.
Kids and location
9. Insure kids separately.
If your family is struggling financially but you don't qualify for Medicaid, there's another government-sponsored health insurance program that might help you. It's a national mandate to insure children in order to make sure they're vaccinated and have other health services; it's called the Children's Health Insurance Program, or CHIP. If you qualify based on your family income, your children will be insured at low or no cost. The income cut-off varies from state to state and depends on family size, but in most states it's approximately $23,000 for a family of two or $35,000 for a family of four. Some states also offer a modified low-cost plan for families that make up to $55,000.
To find out more, call (877) 543-7669 or visit www.insurekidsnow.gov, which is a national website that links to each state's services. These plans are full-service plans that cover all the health needs of children, including vision and dental, and the co-pays and fees for office visits and services are also extremely low. Then you can insure adult family members separately with a high-deductible or catastrophic-care type of plan.
10. Relocate for lower rates.
Where you live has a bigger effect on health insurance rates than you might think. Urban areas typically have higher rates than suburban and rural areas, though health insurance can also be more costly in some extremely rural areas due to lack of access. Insurance brokers quote a huge range of rates and prices, with people in some areas paying $300 a month for the same level of care that people in other areas pay $200 for.
If you're considering crossing state lines, that's an even more important decision. Every state has mandates that set rules about coverage, and these have an enormous effect on costs. Right now, for example, moving from California or Texas to Illinois might cut your rates in half as a result of lower care costs and fewer state mandates. Some insurers are even pulling out of states with strong mandates because they consider it unprofitable to offer insurance there. If you have a choice of states you'd be happy living in, look closely at health insurance costs in each one.
Questions and errors
11. Ask, check, question, argue.
Don't assume that those bills and statements that come in the mail filled with fine print are correct all the time. They're not. There are many all-too-common errors that raise the cost to you, and too few people catch them. That's what the insurance companies count on, says Todd Malone, co-owner of CMA Insurance Group. For example, Malone says, charging for the wrong number of days in the hospital is a common error.
You can also save money by planning ahead and checking into the costs of services. The prices of lab tests, X-rays, colonoscopies, and other services can vary enormously. And make sure the lab or facility your doctor chooses for a procedure is in your network.
If you're running into serious problems with your insurance billing, and you bought your policy from a broker, let him or her know. Brokers not only understand the rules of coverage and billing better than you do, they have more leverage in negotiating with insurance companies. Malone recently got a client's bill down from $2,700 to $700 after the customer was slammed with bills resulting from mistakenly using an out-of-network facility for screening tests. Another option is to hire a medical cost advocate, a third party who can negotiate with the insurance company on your behalf, often at no cost other than a share of any savings obtained.
12. Check your health insurance status report.
Just as financial companies rely on credit reports to decide whether -- and at what price -- to give you credit, health insurers also use a reporting system to assess the health, insurability, and price ratings for individual health insurance applicants. And just as you can get a copy of your credit report, you can get a copy of this medical report, which is kept by the three major specialty consumer reporting agencies. It's available to anyone who asks, and it's a great way to check your status in terms of preexisting conditions, policy acceptance/rejection, and whether you're overpaying for your insurance. (If you're rated as being in good health, you should be eligible for lower-cost policies.)
The Medical Information Bureau is required to provide one free copy of this report every year to any consumer who asks for it. If you find what you believe to be wrong information, you can request an investigation to check its accuracy. If an error is found, you can have the report corrected.