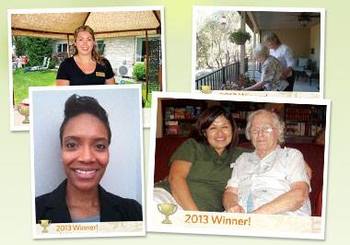 All Rights Reserved
During times of illness, transition, and worry, you want your loved one to have the type of care that provides support, cheer, and wisdom. Your loved one depends on you to maintain health, happiness, and quality of life. At some point, however, professional caregivers may step in for their specific skills and the much-needed breaks they provide for family members.
So what separates "good" from "great" care? Caring.com reached out to the providers in our directory and the members of our online community to see whom they recognize as exceptional caregivers in their organizations. This year's Caring Champions showcase the remarkable stories and diverse backgrounds of 83 professional caregivers, who attracted more than 5,000 social media votes. After following a rigorous decision-making process through our judging committee, as well as considering expert recommendations for hiring an in-home caregiver or becoming a professional caregiver, the Caring Champions program recognizes stories of extraordinary senior care -- and rewards each of the top ten with a cash bonus.
Read on to be inspired by the military veteran, "dementia whisperer," and other professional caregivers who exercise compassion and exceptional care every day for families like yours, making sure those in their care are as happy, comfortable, and healthy as they can possibly be.
Selena Brown of Rest Assured Nursing, Inc., in Marina Del Rey, California
SEE ALSO: Find In-Home Care Help Near You
Selena Brown has been caring for people long before she came to Rest Assured Nursing, Inc. Growing up, she cared for her grandmother. She then served in the U.S. Army between 1998 and 2002, and upon returning from the service she turned to senior care, recognizing the enormous need for quality care for our nation's elderly. The loyalty and dedication taught by the Army have translated into her work in caring for seniors. "Some people were born to really have the love and drive to succeed as a caregiver," says her nominator. "Selena is one of those people."
Eve Barnett of Seniority Lifecare at Home in Sonora, California
"We have so many communications from clients regarding Eve that they would probably fill a book," reads the feedback on Eve Barnett, of Seniority Lifecare at Home. Clients love Eve's cooking, as well as her willingness to go above and beyond the call of duty to make sure her clients are cared for. There is a story of her walking through snow to reach a client, and then proceeding to stay with him for three straight days to make sure he was not left alone during a storm. She is also willing to share her knowledge with others and serves as a mentor for new caregivers.
Cathy Miller of Emeritus Senior Living in Woodstock, Georgia
SEE ALSO: Find In-Home Care Help Near You
An ever-present fixture at the front desk of Emeritus at Woodstock, Cathy Miller is "the go-to person for any question that may be asked." Residents and their families rave about her cheerful, helpful demeanor, and she succeeds in making people feel at ease. She personally delivers mail to the residents every day, helps them call their families, and leads a daily exercise program for residents. The program, which started with fewer than 10 participants, has grown to almost 25 since she's been leading it.
Charity Ntim of Homewatch CareGivers in Northbrook, Illinois
Charity Ntim's journey to professional caregiving is as incredible as any on this list. Born in West Africa, she grew up with a major role in caring for herself and her 12 siblings. Her father sent her to boarding school to become a nun, but within a short time she realized that being a nun was not her calling in life. By the time she turned 18, she was working in a hospital in London, where a woman she was caring for was diagnosed with one week to live. This experience made a huge impact on Charity and helped guide her toward her life's purpose: making a difference in the lives of others. Charity works for Homewatch CareGivers in Northbrook, Illinois, and is known for her remarkable ability to empathize with anyone she works with or is caring for.
Maria Steider of Aspen House in Loveland, Colorado
Maria Steider is tasked for providing care services for up to ten women who have all been diagnosed with dementia. Her nominators note that "she is technically skilled at a level that is higher than most, but, more important, she is caring and compassionate and kind and gentle and all words that describe the perfect care partner." She is remarkable for her ability to connect with everybody she encounters, from coworkers to dementia patients. It is clear that she loves what she does, works incredibly hard at what she does, and makes a real impact on the lives of the people in her care.
Joseph O'Kelley II of Home Instead Senior Care in Huntsville, Alabama
Joseph O'Kelley II is a little different from many of the caregivers honored here in that he's only 22. His nominators refer to him as "the new generation of caregiver" and commend him for being responsible, committed, and devoted to every client he meets. He became a certified nursing assistant out of high school and has been with Home Instead Senior Care in Huntsville, Alabama, for the past two years. He cares for a client with Lou Gehrig's disease (ALS), and the client's wife calls Joseph "her lifesaver."
Abby Schroeder of Boardman Lake Glens in Traverse City, Michigan
Her nominator says of Abby Schroeder that "most residents will ask for her by name should she not be the one who answered the call light." Abby is remarkable for her willingness to go "above and beyond the call of duty," from taking newly hired employees under her wing to giving residents superior care while ensuring that their dignity is always maintained. Her nominator adds, "It takes a special person who is gifted to care for the elderly . . . you must have a heart and patience to be great at what you do. . . . Abby is all of the above."
Bunny Curry of Azura Memory Care in Eau Claire, Wisconsin
Bunny Curry's nominators think so highly of her caregiving abilities that they chose to bring their own father to Azura when he needed memory care. For the last 10 years, Bunny has worked at both the Mayo Clinic Health System and at Azura Memory Care. She has worked in memory care for so long that she has a remarkably deep understanding of the ripple effect that dementia has, not only on the afflicted but also on their family members and friends. Each time a resident passes away, she plants a perennial in the memory garden that she began. She has also helped raise more than $40,000 in the past five years for the Walk to End Alzheimer's.
Dawn Lamb of Roland Park Place in Baltimore, Maryland
Dawn Lamb has worked as a geriatric care nurse at Roland Park for the last 19 years, indicative of her commitment to the nonprofit CCRC as well as to seniors in general. "Families often comment on the excellent care Dawn provides, and residents feel a sense of trust, calm, and reassurance whenever they know she is working," her nominator comments. Her exceeding compassion, positive attitude, and depth of knowledge make her a superior caregiver and a role model to her fellow employees.
Dorothy Boozer of Autumn Cove Retirement Community in Anniston, Alabama
"Dorothy's compassion is second to none," writes her nominator. She is remarkable for her patience and gentleness in caring for patients, especially those with memory loss. There is one resident who follows her around and works as her "helper" from when she arrives to when she clocks out, as long as it's appropriate for him to be present. Families of residents give overwhelmingly positive feedback on her care and her presence, and they believe their loved ones are truly happy at Autumn Cove.