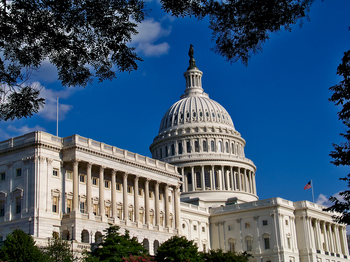 All Rights Reserved
The federal government is finally taking notice of the plight of family caregivers. President Donald Trump signed the "Recognize, Assist, Include, Support, and Engage Family Caregivers Act" or the "RAISE Family Caregivers Act," into law today after approval in both houses of Congress earlier this month. The legislation is meant to create a national strategy to assist family caregivers for the first time.
What is it?
Under the law, a caregiving advisory council will form and direct the Health and Human Services Secretary to consult with the council and the heads of other federal agencies to develop a national family caregiving strategy. The strategy will then be distributed to Congress and state agencies and posted on the Department of Health and Human Services website.
The advisory council will include at least one family caregiver, an older adult with long-term support needs, a person with a disability, a health care provider, a long-term service and support provider, an employer, a veteran and state and local officials. It will also include the heads of other relevant federal agencies.
Leisa Easom, executive director of the Rosalynn Carter Institute for Caregiving at Georgia Southwestern State University, says she thinks it's important for those voices to be heard in crafting a national policy to make sure the results meet the needs of as wide a population as possible. "You need everybody that's involved at the table," she says. "Too many times, decisions are made by people who aren't living the experience."
While this national caregiving strategy is not be binding, caregiver advocates are hopeful that it will help spur a larger conversation about how to meet family caregivers' needs. The plan is intended to influence not only federal policy, but also actions by state and local governments, private employers and health care providers.
Where did it originate?
The bill has been in the works since 2015, according to C. Grace Whiting, CEO of the National Alliance for Caregiving (NAC), an early supporter of the bill.
NAC collaborated with the American Association of Retired Persons (AARP) for the 2015 report, "Caregiving in the U.S.," which found that there were 43.3 million adult caregivers in the country. After that, AARP sought to establish a national strategy similar to those already in place in the U.K. and other countries, and NAC threw its support behind the effort.
The proposal for a national strategy on caregiving drew bipartisan support from Sens. Susan Collins, R-Maine, and Tammy Baldwin, D-Wisconsin, as well as Reps. Gregg Harper, R-Mississippi, and Kathy Castor, D-Florida, among others.
Whiting said the broad support might reflect the prevalence of caregiving, even among legislators. "I think it speaks to the fact that so many people are going through it," she said.
The RAISE Family Caregivers Act passed the House on Dec. 18 and the Senate on Jan. 8 with overwhelming support. Trump has yet to sign it but it's widely expected that he will. Since it does not establish any policy or directives, the bill has no budget impact, which likely eased its passage.
Could it work?
The advisory council that the law is set to create will be similar to the Advisory Council on Alzheimer's Research, Care, and Services, which was established in 2011 to help shape the national strategy for dealing with Alzheimer's disease.
That council does not have a budget or create binding policy, but has been influential in helping direct funding toward Alzheimer's research, says Alzheimer's Foundation of America CEO Charles Fuschillo, Jr.
"The committee has worked hard, I applaud their efforts, but Congress needs to do more in allocating research funding," Fuschillo said.
He said to meet the goal of finding a cure or meaningful treatment for Alzheimer's disease by 2025, $2 billion a year should be devoted to research. Currently, he said, there is $1.4 billion in funding for Alzheimer's research at the National Institutes of Health.
With the growing prevalence of Alzheimer's disease, Fuschillo says caregivers need further support, and the RAISE Family Caregivers Act will help. "In the absence of a cure, it's so critically important to support family caregivers," he said.
What happens next?
AARP researchers have also predicted a coming crisis for caregiving: with an increasingly older population, the ratio of caregivers to people needing care will shrink over the next few decades. While there were seven caregivers for each person needing care in 2010, by 2030 there will only be four and by 2050, just three.
While making policy recommendations is free, some implementation will undoubtedly need further funding. Caregiver advocates point out the substantial free labor that caregivers are providing, which AARP estimated at $470 billion at 2013, potentially saving the healthcare industry billions, but costing caregivers themselves substantially.
Kathleen Kelly, executive director of the Family Caregiver Alliance, says she thinks $470 billion may even be an underestimate. Caregivers' struggles need to be recognized and the government should be willing to fund better support services, she says.
"It is going to take money, even if you are putting in practice some of these improved guidelines and improved practices, there's still a cost involved in doing that, so we're going to have to come to grips with that at some point down the road," Kelly says.
One of the most important frontiers of caregiving support is on a state and local level, she says, so even if the federal government is slow to adopt the policies, they may be implemented on a state level sooner.
"Most states are very attuned to this issue and have made very big steps, faster than the federal government," Kelly said. "So hopefully we'll move ahead."
Easom says she'd like to see more funding for research and better networks of support, particularly for programs that have proven to be effective in helping family caregivers cope with their responsibilities. For example, the Rosalynn Carter Institute has programs that send coaches to homes to offer advice on Alzheimer's care and telephonic support for military caregiver families. But the reach of such programs needs to be in every community nationwide and people need to be aware that they're available, she notes.
"I'm hopeful as we move forward that there will be change," Easom said. "[The RAISE Family Caregivers Act] has passed, that tells me now that there is hope, and I'm looking forward to even more."