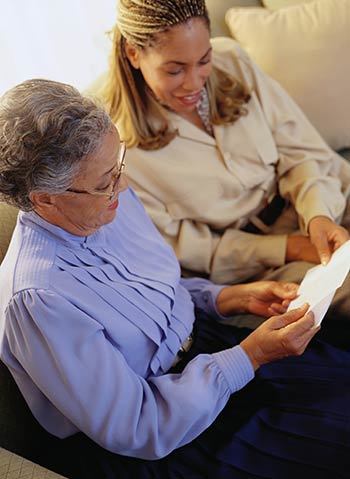 All Rights Reserved
Wouldn't it be nice to send your loved ones a photo or an e-mail when you think of them? You just know you could brighten up their day if only they could connect with modern technology.
That's where the Presto Computerless E-mail Printer aims to help. Presto is a printer device that allows you to send e-mails, photos, and other attachments to your less-than-techie family and friends, so they can print and enjoy without having to have a computer or even Internet access.
We sent Presto out to five caregiver product testers from the Caring.com community to see what they think. Here's what we learned:
What Is Presto?
Presto is designed for older folks who aren't computer savvy, and also for those who have some mental or physical challenges that would make owning and operating a computer too difficult. The size of a regular printer, Presto will print your e-mails, photos, and attachments by plugging into your landline phone jack, so it doesn't require Internet access.
Why Is Presto Important for Seniors and Caregivers?
As a caregiver, you want your loved one to avoid isolation and loneliness -- and e-mail is a great way to stay in touch. In addition, many important documents (such as tax and insurance forms and medical information) are sent by e-mail. Presto makes it possible for your loved one to receive all these messages in a familiar format -- printed on paper. And it's less expensive than any tablet or computer.
What Caring.com Users Liked About Presto
It's easy to set up and operate.
Plug it into an outlet and a landline, load the paper and ink, and you're ready to go. There's also a customer service telephone number with a representative ready to help. "Super easy! So easy to set up physically . . . and customer service was very helpful," said one Caring.com reviewer.

E-mails print out automatically and look like letters.
For you, sending a message is just as easy as sending an e-mail. You won't have to go to any special effort to keep your computer-averse loved one "in the loop." For the recipient, important family news comes in a familiar way -- printed on paper. Your loved one will receive any message you choose to send -- including birthday greetings, jokes, photographs, travel plans, and other updates. "The print quality is awesome, especially on pictures," said Cheryl, a Caring.com reviewer.

It's an economical way to stay in touch.
Presto costs $99.00, which is about the average cost for a printer, and it requires a fee starting at $14.99 a month -- which makes Presto an affordable alternative for those who want to stay in touch but don't want to invest in a computer or tablet and Internet service (which typically run considerably more). The only other costs are for standard paper and HP ink, which can be ordered through the Presto website or purchased at any office supply store.

You can avoid spam mail.
Presto allows you to input only the e-mail addresses you want your loved one to receive from, so spam is never a problem.

You decide when to get your e-mail.
You can schedule your e-mail for several times a day -- or once a day. Presto also offers puzzles, games, recipes, and other great items to print, all for free.
What Caring.com Users Didn't Like About Presto
You must have a landline phone.
Some households are choosing to go wireless and use only their cell phones, so make sure that your loved one still has access to an active landline.

The initial and ongoing cost of Presto may be too much for a budget-conscious senior.
Several reviewers mentioned that the monthly cost concerned them. Though Presto costs less than a computer and Internet service, it's an unfamiliar expense, and your loved one might not understand just how beneficial the service might be. As family members of a technophobic senior, you might want to help explain the value of getting e-mail, and you may even want to offer to pitch in and help pay for Presto service, ink, or paper.

The initial, multistep setup takes time.
One Caring.com reviewer said, "The account setup over the phone was simple. However, I also had to enter several different informational items online, and that was time-consuming. I hoped that could be done over the phone." In other words, if you decide to use Presto, you should be prepared to spend time helping your loved one with the initial Presto setup, both on the phone and over the Internet.
You Should Try Presto if You . . .
Would like to use e-mail to communicate with your loved one.
Have a loved one who's not willing or able to use a computer to get e-mails.
Need to print out legal or medical documents for a loved one who cannot.
How to Purchase Presto
Presto costs $99.00 and requires a monthly fee of $14.99. You'll also need to buy printer ink and paper. Presto Computerless E-mail is available at Best Buy, Amazon, and other retailers or directly from the website at www.presto.com.