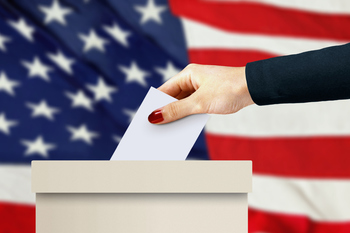 All Rights Reserved
Family caregivers today are stretched thin – with greater demands on their time and their pocketbooks than ever before. For most caregivers, outside assistance -- whether from friends and family, non-profit groups or the government -- can make a real difference in their everyday lives.
So when both of the major party presidential candidate this year included policy proposals to help family caregivers in their campaigns, we were curious to know whether their plans might affect those caregivers' votes.
Here's what some Caring.com visitors told us, from a recent poll we ran on the site.
Candidates' Caregiving Policies Matter to Voting Caregivers
In a survey of more than 400 Caring.com users conducted last month, 76 percent said that the candidates' policy proposals on caregiving would influence their vote for president at least somewhat, while roughly 24 percent said the positions would not influence their vote at all.
While a number of factors influence someone's vote – from age, gender and party affiliation to income and education levels – it's unsurprising that family caregivers would give weight to proposals that if enacted, could affect the amount of support they receive to provide their loved one's care.
Many Survey Respondents Favor Clinton's Policies
For Marti Sladek, 70, a full-time caregiver for her 83-year-old husband with Parkinson's disease, government aid for her husband's care would be welcome.
"This will definitely influence my vote – health care policy is one of the first things I look at, both on the state and local level," the Chicago-area caregiver said.
"I think [Clinton] has a deeper understanding of how health issues affect families," she added.
Sladek says she believes the Democratic candidate's caregiving plans could help out financially.
She said that like a lot of family caregivers, she took an early retirement, shutting down her law practice to provide full-time care for her husband.
"That not only affects income, but then you don't have as much invested for later either," says Sladek. Since her husband is a veteran, Sladek gets some respite care via thrice-weekly in-home care sessions covered Veterans Administration benefits. However, finding reliable respite care for longer stretches of time has been a challenge, she says.
In Phoenix, 54-year-old Michelene Matt says she'd be happy to see either Trump or Clinton's proposed caregiving policies enacted.
Matt, who provides full-time care for her brother with early-onset Alzheimer's disease, says Clinton's proposals to support family caregivers were a factor in her decision to vote for the Democratic nominee.
A flexible employer and a local non-profit that provides adult day care during the week have been indispensible in helping her provide care for her brother, Matt says.
If Clinton's policies were enacted, she says, "There would be more things available to help with the care of my brother – like support, respite care – all of that is really, really big."
Some Caregivers Prefer Trump's Proposals
On the other hand, some 40 percent of poll respondents said they favored Trump's policy proposals on caregiving over Clinton's.
John Vann, a 73-year-old semi-retired management consultant and U.S. Army veteran caring for his wife with Parkinson's disease, says he believes the Republican nominee would make a greater effort to pass his plans to help caregivers.
"Even though [Clinton's] proposals sound good, everything would still have to be paid for," the Pinehurst, N.C. resident says, adding that he believes the Democratic nominee's plan sounds "exaggerated."
"As much as I would like the government to help me, I would almost feel selfish taking that help," he says. "I feel it's my responsibility to help my family."
Vann said he draws a lot of support for his caregiving role from members of his church, as well as from a local support group for caregivers of loved ones with Parkinson's disease.
---
See more information about Trump and Clinton's caregiving plans and head to the polls this Tuesday!
What other issues would you like to discuss with other caregivers? Let us know in the comments below.