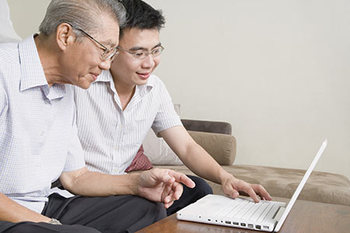 All Rights Reserved
You know it's important for your loved one to have a living will -- also known as an advance directive. If he or she should ever become incapacitated, you'll want a document that makes any medical wishes very clear.
But forms are not enough. People often do not know how to identify what is important to them, what kind of medical care they want, or how to talk about these important issues with their loved ones and clinicians. In a medical crisis, in addition to advance directive forms, it is often these prior discussions that can make a huge difference.
PREPARE is making these discussions easier. PREPARE is a free online tool. It walks you through a step-by-step process and videos about how to select a medical decision maker, how to consider what kind of care you would want in the event of a serious illness, and how to discuss this information with your loved ones and doctors.
What PREPARE Is
PREPARE is an online tool designed to help people consider their healthcare wishes and share their thoughts with others. It's easy to use, even for a senior who is not used to using computers. The interface features large buttons, videos, subtitles for those who are hard of hearing, easy-to-read-font, and voice-over text for vision-impaired users.
PREPARE takes users through a series of straightforward tasks, each of which helps users consider an important issue related to planning for an advance directive:
Choose a medical decision maker.
Decide what matters most in life.
Choose flexibility for your decision maker.
Tell others about your wishes.
Ask doctors the right questions.
For each task, videos help illuminate various aspects of the task, helping users think about different scenarios and options and showing people how to do it. Simple questions help people move through the decision-making process. When all steps are complete, PREPARE provides a printable action plan and a summary of all of your choices.
Where PREPARE Came From
PREPARE is the result of years of careful research by a leading expert, Dr. Rebecca Sudore, a geriatrician at UCSF.
In the course of her clinical work and research, Dr. Sudore realized that most people feel overwhelmed by the important task of identifying what is important in life; communicating this with family, friends, and doctors; and making informed medical decisions. The best way to address this reluctance, her studies found, was by providing easy-to-understand information in a nonthreatening format, such as videos.
Dr. Sudore's goal is to empower people to make their wishes known, to make informed decisions, and to get the type of medical care that they want.
Who PREPARE Is For
Any adult can use PREPARE at any stage of health or illness. PREPARE has been extensively field-tested with a variety of older adults, including those with low income, low computer literacy, and diverse backgrounds.
Use PREPARE to help your loved one think through his or her healthcare wishes -- and while you're at it, use PREPARE to help think through your own medical wishes, too.
Why PREPARE Is Important
Most people eventually experience a period of serious illness during which they aren't able to make their own medical decisions. This is especially common at the end of life, but it can happen in the case of accidents or other life-threatening illnesses.
The website can prepare people to make their own medical decisions, prepare a loved one to make decisions for them, and help people tell their doctors what is important to them so that this is written in their medical chart. PREPARE can also help get someone ready to fill out a legal document such as a living will or an advance directive.
Why PREPARE Was Created
Dr. Sudore: As a geriatrician and a palliative care physician, I found that many of my patients and their families were not prepared to make medical decisions during a medical crisis. I wanted to fix that. My goal in creating the PREPARE website is to empower people to make their own medical decisions with confidence. I also want to help loved ones and caregivers feel empowered to make sound medical decisions for their loved ones if they are ever in that situation. To do this, I felt it was important to provide people with easy-to-use educational materials to help them PREPARE to make informed decisions. Instead of just telling people why it was important, I wanted to show people, through videos, how to identify what is important to them, how to choose and ask a surrogate decision maker, and how to communicate their wishes to their loved ones and clinicians so that people can get the medical care that is important to them.